Jurassic World: Dominion Dominates Fandom Wikis - The Loop
Play Sound
| | |
| --- | --- |
| | For the overview of bears throughout the Fallout series, see Bear. For the disambiguation of Yao guai throughout the Fallout series, see yao guai. |
| | |
| --- | --- |
| | This is a lore summary, presenting intradiegetic or in-universe information about the subject. For game characteristics and similar data, consult the table on the right. |
"
Originally named by the descendants of those held in Chinese internment camps before the Great War, the Yao Guai is a ferocious mutated bear.
"
— Fallout 4 loading screen
Yao guai are the mutated descendants of the American black bear.[1] These vicious creatures are found in the Capital Wasteland, the Commonwealth, Mount Desert Island, and Zion Canyon. They were named by the descendants of Chinese internment prisoners after the Great War.[2]
Characteristics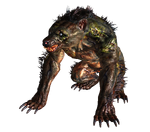 Named by descendants of those held in Chinese internment camps before the Great War,[3] yao guai are mutated black bears[4] and one of the more vicious creatures of the wasteland, sporting razor sharp claws and teeth and a nasty temperament.[5] Despite this, yao guai exhibit a gentle, familial bond toward one another when found together, and can even be domesticated.[6]
Yao guai will attack nearly any other animals or people they encounter, including deathclaws. The mutation has greatly extended their lifespan, although practical immortality has only been achieved by ghoulified yao guai, limited to remote populations on the eastern seaboard in Point Lookout and on Mount Desert Island. Some of these yao guai are bears that have been born before the Great War.[7][8]
Variants
Yao guai
An adult yao guai.
Scavengers' yao guai
A tamed variant of yao guai owned by scavengers, most likely for protection and companionship.
Ruzka
A pre-War circus bear turned yao guai found in Point Lookout.
Yao guai cub
A younger specimen of the mutant bear.
Giant yao guai
Larger versions of yao guai.
Ghost of She
A unique and mythical yao guai which can be found in Zion Canyon. It has a flaming body and a giant size, and can create several doppelgangers of itself.
Behind the scenes
In Chinese, yao guai (妖怪) simply means "monster". In Chinese mythology, "yao guai" are physical manifestations of the spirits of mistreated animals, or fallen divine animals. Although it is a partial homophone, the name is not a reference to Hanna Barbera's Yogi Bear.
Bugs
If you kill a yao guai when it rushes towards you, it is possible the body will fly away.
Gallery
References