Jurassic World: Dominion Dominates Fandom Wikis - The Loop
Play Sound
X-17 meteorological station

Site

Map Marker
X-17 Meteorological Station

Technical
Cell Name
NVDLC03WeatherStation (exterior)
NVDLC03WeatherStationINT (interior)
ref id

xx

001422 (exterior)


xx

004238 (interior)
Terminals
Terminal

Maps
X-17 meteorological station is a location in Big MT in 2281.
Layout
The X-17 meteorological station is located in the northwest corner of the map, between the construction site, the Signal Hills transmitter and the X-22 botanical garden.
The entrance leads into a small office area, with an exit leading into a large warehouse. The warehouse perimeter, catwalks and staircases are patrolled by a unique Mister Gutsy robot named Ironbelly as well as a number of Mister Gutsies Mk4 and Mk5s.
On a raised central platform a small scale model of Higgs Village can be found. There is also a lab containing a terminal which can initiate a weather test, causing rain to fall on the model village. Once the weather test has been performed the dirt underneath the model is washed away to reveal a soggy duffle bag which contains random loot. Activating the weather test will also activate the fountain inside Higgs Village.
On the east wall of the warehouse is an elevator which leads to the roof. On the roof is a large container, a table, several filing cabinets, and several Y-17 trauma override harnesses.
Notable loot
Notes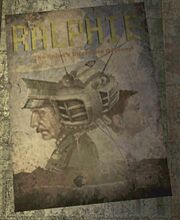 Appearances
The X-17 meteorological station appears in the Fallout: New Vegas add-on Old World Blues.
Bugs
It is possible to get permanently stuck if you move into a spot between the miniature houses with some miniature trees behind you. You will be unable to move or jump out. The only way to escape is to reload a save.