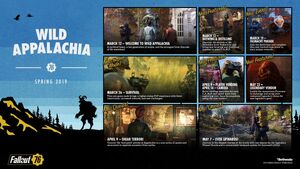 Wild Appalachia is a content drop encompassing additional events, quests, and challenges that will be added to Fallout 76. It is the PvE (Player vs. Environment) equivalent of the Survival mode intended for PvP (Player vs. Player). Wild Appalachia spanned from March 12 and May 23, adding new quests, new features, and of course, a new mode: Survival. It was followed up by Nuclear Winter.
The first patch, called Patch 7 in this series of content, was patch 1.1.0.8 releasing a day late on March 13. Patch 7.5, or patch 1.1.1.2, was released on March 26 and introduced changes to the existing Adventure mode and added Survival mode in beta. Patch 8, or Patch 1.1.2.7, was released on April 9 and further introduced the Sheepsquatch questline that culminates to the Encryptid event, as well as several other side quests exploring strange happenings around Appalachia. Patch 8.5, or Patch 1.1.3.11, saw release on April 23 after being delayed from the previous patch and included the ProSnap Deluxe camera and accompanying quest Bucket List. Patch 9, or Patch 1.1.4.3 saw release on May 7. Patch 9.5, or Fallout 76 patch 1.1.5.4 saw release on May 21, with the Wild Appalachia series of content officially concluding on May 23.[1]
Content overview
Tagline

Welcome to Wild Appalachia. A mythical beast, a lost generation of scouts, and the strongest brew this side of the wasteland.
Gallery
Content roadmap
Screenshots
Trailer
References