Obi-Wan Finale - The Loop
Play Sound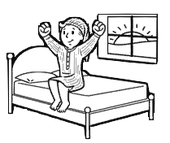 "
And I need at least ten, twelve hours of sleep to do my job. Price of excellence.
"
— Little Buster on his sleeping schedule
Well Rested is a status effect that grants the player a +10% experience boost for 12 hours after sleeping in a bed owned by the player character in Fallout 3 and Fallout: New Vegas.
Fallout 3
In Fallout 3 the Well Rested effect is obtained by sleeping in a bed the Lone Wanderer owns (Megaton house or Tenpenny Tower Suite), a rented bed (Carol's Place, Moriarty's Saloon, and/or Weatherly Hotel), or a cot in Kenny's Cave.
Broken Steel
After installing Broken Steel the perk Deep Sleep becomes available. It enables the Lone Wanderer to get the Well Rested status by sleeping in any bedding, however its duration is only for 8 hours.
Fallout: New Vegas
See also: Sleep
In Fallout: New Vegas, the effect is obtained by sleeping in a bed the Courier owns (Lucky 38 presidential suite or Dino Dee-Lite hotel room), any comped casino suite, and/or sleeping with certain characters like Sarah Weintraub or Red Lucy.
Sleeping in The King's bed in his room on the third floor of The King's School of Impersonation grants the Well Rested bonus, despite not being an owned bed.
There's also a Queen bed in the bungalow in the last row of Jacobstown, which gives the Well Rested bonus as well.
Dead Money
Due to the story of Dead Money and the Cloud the sleep schedule in hardcore mode is disabled for this add-on.
Notes
The 10% experience bonus stacks multiplicatively with all levels of Swift Learner, allowing for a bonus of up to 43%.
The experience bonus also stacks with Lessons Learned,
The Well Rested bonus will show on your Pip-Boy 3000 under Stats>Status>EFF.
You can also get this perk by telling Joana you're "here for some fun" and sleeping with her at Gomorrah.
It is possible to sleep for zero hours by canceling the sleep as soon as the background goes black, and before any time counts down. You will still receive the bonus.
The bonus lasts for twelve hours from the time you awake, regardless of how long you sleep. If you sleep in any bed, it will cancel the effect. But if it is an owned bed, it will return immediately.
Well Rested is actually listed as a hidden Perk within the G.E.C.K. Editor for PC, and even shares the same Vault boy image as Swift Learner.