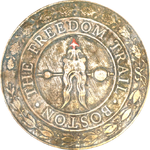 It's the 4th of July and the United States is celebrating its 241st birthday. We here at the Vault believe that it's cause for celebration - and what better way to celebrate than by walking the Freedom Trail? Yes, explosives work too, we know.
Notes on the Freedom Trail in Fallout 4
Boston is the birthplace of American independence and the Freedom Trail explores locations tied to that event. Many of them are recreated quite faithfully in the game, but there are some exceptions:
Naturally, the distances and scale are off, due to the way the world is compressed into a playable area.
Several stops on the way are omitted, including the King's Chapel and Burying Ground (there's a skyscraper roughly where they would be located).
The USS Constitution is elsewhere.
The Freedom Trail terminates at the Old North Church, rather than Bunker Hill. The stations beyond the Church, Copp's Hill, the USS Constitution, and Bunker Hill Monument, do not appear.
The Walk
The images are shown in the order the real Freedom Trail follows them, including those that aren't explicitly marked in the game itself.