Jurassic World: Dominion Dominates Fandom Wikis - The Loop
Play Sound
| | |
| --- | --- |
| | This is a lore summary, presenting intradiegetic or in-universe information about the subject. For game characteristics and similar data, consult the table on the right. |
Vault jumpsuits or Vault suits (the terms are used interchangeably) are the iconic gear of Vault dwellers and by and large the symbol of Vault-Tec Corporation. They appear in all Fallout games. However, in Fallout and Fallout 2 they are worn by the player character by default and in Fallout 3, Fallout: New Vegas, Fallout 4, Fallout 76 and Van Buren, they appear as actual in-game items. In Fallout Tactics and Fallout: Brotherhood of Steel, they are not usable by the player.
Background
Designed specifically for use within Vaults, jumpsuits are an inexpensive, easily produced solution to the age-old problem of clothing large numbers of people while maintaining a modicum of comfort and utility. Within the Vaults, they are also meant to reduce tension by providing every dweller with the same type of clothes, regardless of their standing. Marketed as a fashionable, comfortable design,[1] Before the War, they were an instantly recognizable symbol of both Vaults and the corporation behind them, featuring the iconic blue-and-yellow color scheme. The corporation deliberately exploited the recognizability, with the company mascot, Vault Boy, sporting a set of rubber coveralls, and introducing awards named after the jumpsuit, such as the Pressed Vault Suit Award for preparedness, all to get people used to the mandated uniformity and planned economy of a Vault.[2]
Once Vaults were activated, all dwellers that managed to enter the Vault would be expected to change into their jumpsuits as soon as possible.[3] However, delays could happen: As Vault suits are designed with biometric identification systems in addition to the big, bold Vault number on the back, and discrepancies in scans would delay issuance of a suit.[4] To accommodate the influx, Vaults had a stock of jumpsuits on hand, shipped ahead of time in vacuum-sealed packages, ten per box.[5] Worn-out or damaged suits would be replaced using existing stocks and later manufactured using jumpsuit extruders installed in every Vault (though some were designed to fail, as part of the Vault experiment).[6] Vault-Tec also supplied the design to the Enclave, for use within its civilian facilities, such as the Presidential rig.[7]
Regardless of generation, jumpsuits proved to be a rugged, durable piece of equipment that could be readily accessorized. Vault dwellers commonly wore them together with a variety of equipment according to their job: Durable lab coats with scientific equipment,[8] stripped-down versions for maintenance work,[9] and body armor and protective helmets for security personnel.[10][11] Dwellers who ventured into the wasteland commonly modified their suits with a variety of improvised armor or improved linings.[12][13]
Models
Extruded rubber
A form-fitting suit model manufactured as single piece coveralls from extruded rubber, easy to keep clean and quite resilient. Compared to later models, this version of the jumpsuit is quite rudimentary.[14]
This model of the suit was used by both dwellers of early generation Vaults and citizens of the Enclave on the oil rig, though those did not include a number on the back. Similarly, the denizens of Vault City used modified models without the 8 on the back, as they were no longer denizens of a Vault.[15][16] Oddly enough, despite the rubber material, the jumpsuit could be pressed to enhance its appearance.[17]
Everyman Vault suit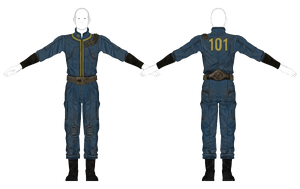 A rugged jumpsuit variant designed for heavy use among Vault-Tec machinery and infrastructure. Rather than extruded rubber, the suit uses a combination of denim - a quintessentially American material - and natural leather,[18][19][20] combined to create a particularly rugged piece of equipment. The suit is less form fitting than other jumpsuit variants, but provides a good deal of comfort. Like other versions, it's a single-piece uniform, with a zipper down the front, leather armguards, and spacious pockets on the waist and thighs. Reinforced elbows and knees give it extra durability under heavy use, with the interface port over the left breast used for a variety of purposes. Depending on the job assignment, the jumpsuit is designed to accommodate a variety of belts, including simple leather bands for children, rugged multi-purpose belts for general use, and specialized equipment for utility, lab, and security work.[21][22]
Fallout 3 variants
Fallout: New Vegas variants
Advanced Vault suit
The advanced Vault suit is a return to the form-fitting style that characterized the earliest jumpsuits, updated with the latest high-tech materials and technological solutions available to the Vault-Tec Corporation. It's a single-piece suit designed to hug the user's body shape. Various biometric sensors are integrated into the suit to interface with the Vault's systems, while the iconic yellow strip on the front is now made of gold foil, rather than dyed material, to act as a heat-dissipation strip and antenna for the biometric sensors integrated in the suit.[23][24]
Fallout 4 variants
Fallout 76 variants
Behind the scenes
"
Designing, or redesigning the vault suit meant adhering to canon, and updating the textures and tactile feel for the detail we can achieve now in games. I opted for a more durable denim like material, something quintessentially American and, suited to carrying out vault tasks involving heavy machinery and crawling through metal pipes.
Overall, the vault suit seems to represent an Everyman/Everywoman uniform of conformity, and a blank canvas for accessorizing once the wearer had escaped into the harsh environment of the wasteland. Preserving the retro 50's flavor seemed to support this, and I wanted the suit to feel at home in a classic 50's sci-fi film like Forbidden Planet. The reinforced elbows and knees seemed to introduce a bit of that flair to the otherwise oppressively Orwellian environment.
"
— Adam Adamowicz on designing the suit for Fallout 3
"
Creating a skintight costume in bright blue and yellow and not having it come across as goofy looking was a considerable design challenge. We achieved this by focusing on an interesting mix of patterns and textures for the high-tech materials and adding details that grounded the design.
For the iconic yellow stripe, we went with a metallic gold foil that serves as a heat-dissipation strip and works with the biometric sensors integrated in the suit.
"
— The Art of Fallout 4 p.15
Joanne Lynette's talking head is recycled from a version of the game where she was the spokesperson for Area 51 scientists, and thus her suit has subtle differences: A very large neckline and a hood.[25]
Gallery
Live action
Renders
Fallout 2
Fallout 3
Fallout: New Vegas
Concept art
Fallout
Fallout Pen and Paper d20
Fallout 3
Fallout : New Vegas
References