---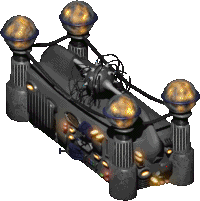 Click the computer to leave a message, but read the four points below first!
I have a family, a job, and Fallout is merely a hobby of mine. As such, I have no interest in drama or similar wastes of time. Don't bother writing if your goal is to harass or annoy me with pointless complaining.
If you think Fallout is important to your life in any way, shape, or form, grow up. It's a video game.
I've been a member and editor of The Vault since 2006, a year after it was formed. If you can't respect the fact that it's the oldest Fallout encyclopaedia in existence and want to stir up trouble because you can't deal with it, do us all a favour and don't post.
However, if you need help, have a general question, or just want to shoot me a message to get to know me better, feel free to send me an e-mail or leave a message here. I actually like talking to people. :)
Messages violating points one through three will be struck from the record. If you can't find your message here, it was likely found in violation thereof.
---
Template:Abb
Hey Tag! It looks like uploaded the Fallout 4 add-on gametitle "placards" and you know what you're doing with them, so could you make some for Contraptions Workshop and Vault-Tec Workshop when you get the chance? Thanks, Kastera (talk) 19:56, 30 July 2016 (UTC)
Vault-Tec Corporation
Do you think the "Corporation" is the nomenclature for the umbrella organization and the "Industries" nomenclature is for the various manufacturing and construction organizations within the company?
Also could you please upload some images of the "Welcome to Vault #" signs for referencing?--Ant2242 (talk) 12:07, 6 August 2016 (UTC)
Why shouldn't we call it "Vault-Tec" with nothing after it? No need to fret over whether it's "corporation" or "industries" or anything else. Unless I'm missing something? --Trifler500 (talk) 14:10, 6 August 2016 (UTC)

Ok... but the logic doesn't fit. In your Wikipedia example, "Inc." is actually a part of the company name ("and was renamed as Apple Inc. on January 9, 2007"). A true comparison would only work if the actual company name was just "Apple" and then Wikipedia chose to tack on "Inc." of their own accord. Also, I know it is not a standard practice of Wikipedia to tack "Inc." or anything else onto a company name if it is not actually a part of the company name. I mean, I don't really have a problem with it if it's something you chose, but the logic of saying it's a Wikipedia practice doesn't jive. --Trifler500 (talk) 10:21, 7 August 2016 (UTC)
Re:Images
"Super secret elite editors club" sounds like fun. :) Brantmeierz (talk) 12:27, 6 August 2016 (UTC)
Kastera said it might be helpful, so yes please from me as well. (I originally put this reply on my talk page instead of here) --Trifler500 (talk) 09:50, 6 August 2016 (UTC)

One more thing; how do I render textured meshes with Nifskope? I can only open a single .bsa at a time and am only allowed to view the plain meshes. Brantmeierz (talk) 12:39, 6 August 2016 (UTC)

Nevermind again, I just needed to add the texture archives in the resource paths. Brantmeierz (talk) 12:48, 6 August 2016 (UTC)

Last edit, I promise: how do you render full weapons if their meshes are broken into the detached modifications? Brantmeierz (talk) 13:00, 6 August 2016 (UTC)
Fallout Shelter saves
I recently had my longtime save of Fallout Shelter completely vanish. Is this a common occurrence? Do you know of a way to get it back? I had almost everything and progressed quite far with the quests. It would be a shame if it was gone forever.--Ant2242 (talk) 03:37, 3 September 2016 (UTC)
I thought that I had, but apparently that doesn't matter to a "quality" product from Bethesda. Such a shame too, I had Almost every single item in the game, completed most of the quests, and I maxed out Caps and Dwellers. At least I still have the screen saves... Figured that somewhere down the line I could upload them here, then we could cut them into what were still missing and delete the rest.--Ant2242 (talk) 23:51, 13 September 2016 (UTC)
Nuka-World Airfield?
Is this a cut location or an unmarked one?--Ant2242 (talk) 21:25, 13 September 2016 (UTC)
Communities or Settlements
We already have a category for settlements. Should we merge the communities category into it, or should we rename and move it?--Ant2242 (talk)
Gamepedia job
How did you go about obtaining your dream job, if you don't mind me asking? Was the position just offered to you after a certain point of editing on Gamepedia? It really does seem like a great job, and I was just curious. 70.199.204.244 15:31, 25 September 2016 (UTC)
New spamware?
I'm sorry to bother you about this, but I don't know how to bring this "user" to the attention of Curse. User:Njockayukeyong seems to be spamware.--Ant2242 (talk) 13:06, 27 September 2016 (UTC)
Friends of the lake mission log
I believe it to be cut content, have you found it in your playthrough?--Ant2242 (talk) 03:37, 5 October 2016 (UTC)
What about "Blank note" of Far Harbor?--Ant2242 (talk) 10:14, 6 October 2016 (UTC)
Holos and notes page update
I was thinking — yeah I know, a hopeless endeavor — anyway, shouldn't we going forward use the world object images as the icon? It would simplify the icon fiasco; no need to add more icons for the wiki when the games themselves would presumably be using the object images as the "icon" going forward.--Ant2242 (talk) 21:05, 5 October 2016 (UTC)
Logo
I was thinking of making a new logo a bit ago, but I was thinking of making a bit more simplistic instead of something really detailed. Do you think that a minimalist and timeless would be better? Shadowrunner(stuff) 01:43, 7 October 2016 (UTC)
For the record, I am really enjoying the new logo. It is definitely worth seeing what the general community thinks, too, just to make sure that we are heading in the right directions, aesthetics-wise. I can ask around social media, if you'd like - I have neglected my duties in that area, so I want to see about becoming more active again, anyways. GarouxBloodline 01:54, 7 October 2016 (UTC)
Verify
) It's already done.
) Without those script notes, The. files. are. Simply. Incomplete.
) I believe your bot removed both the Verify tags and the Games template.
) They Do work, as they bring attention to incomplete/not in confirmed format.
) The format was already created by the community. You, Me, Kastera, all of us. All I get to do is make sure it's correct to the Format.
5.1 - Just because it's quoted from the game doesn't mean that the file isn't in error – such as missing quotation marks, proper dashes, or Whole Prompts and/or Dialogue segments.
5.2 - If I Could add them I would, but A) I don't have access to that computer at the moment, and B) I'm now working roughly 14hrs a day. So I won't be editing like I used to for some time.
"
Seriously, Ant, you're doing stuff that would see anyone else blocked to cool them off.
"
I don't understand what you mean by this. I'm not doing anything with some sort of malicious intent.--Ant2242 (talk) 04:03, 13 October 2016 (UTC)
Headers
https://fallout.gamepedia.com/index.php?title=Nuka-Cola_bottling_plant_terminals&type=revision&diff=1977776&oldid=1970649
This is a good example of what I do. Nothing was deleted, just moved the sub header to where it is displayed. You're the one that completely reverted the page. Also, that template is new, almost like a format that you decided alone.
Replies
It's all still there. I never put those Verify templates on them until someone else did it. I wished to make it standard across the board. To try and help complete what I thought was to be the new standard.
And? wow. Without those scrip notes whats there is incomplete.
Could have sworn that it did.
They do, in the years since I started I've been using them to clean the up. Adding the dialogue in full context is how are references work. Not "every random bit of information." And my patience is to at an end. Especially in regards to these straight up terminal undos.
Yes. yes it does matter if its quotes correctly. Typographical errors aren't a concern when we have the files correct.
Have you even been review what I've been doing? Because that's what I've been trying to do, writing articles.
--Ant2242 (talk) 19:21, 14 October 2016 (UTC)
Headers
If it were truly organized the page biased on the Creation Kit would it not have the subheaders in the sub headings where they were. I can see the template for use when the games start showing some sort of conditional loading headers.
Replies
Again those "arbitrary colors" are to single out and format the reference in question. For example, when it's too simplified or missing lines.
And. If the script notes and full segment of dialogue is not included then the context of the quotation is not there.
It's interesting that you say that I am the one vandalizing the pages, yet I'm the one adding things your bots miss or add in error. I'm also including things like correct links and the description to the location of said terminal(s). But fine, good Frakin' luck. I won't edit another Frakin' Bot page.
--02:08, 16 October 2016 (UTC)
Sarah
Is the new Sarah page meant for Sarah Kellogg?--Ant2242 (talk) 19:22, 13 October 2016 (UTC)
Request
Could you please give me the source files for the World of Refreshment and the Vault-Tec: Among the Stars?--Ant2242 (talk) 04:29, 5 November 2016 (UTC)
Ugh
1) I always thought that our policy was to remove those templates, I have since re-added them. As for removing of redirects, could also have sworn that changing links such as "Brotherhood of Steel (Midwest)" to "Eastern Brotherhood of Steel" and "Timeline" to "Fallout timeline" was standard policy.
2) I've been cleaning up the format of the references, and have since re-added the text of the refs. I will endeavor to keep them in. Also where are you getting that Meacham loved Leavitt and that her name is really Ruth? If its their dialogue files can I have them too please?
3) The "random page" and "recent changes" buttons are not working for me. Is this some sort of error on my side?
4) Could you please email me those two announcer dialogue files, the World of Refreshment and the Vault-Tec: Among the Stars? --Ant2242 (talk) 04:28, 10 November 2016 (UTC)
Actually, I'm experiencing Ant's third point as well. I can put my cursor on "recent files", it'll underline itself and tell me the URL when I hover over it; if I do the same with "random page" and "recent changes", I don't get an underlining, nor a URL. I inspected the source code and the links are present there, but not on the actual page. With my limited knowledge on the subject, it doesn't appear to be a problem with the common.css/js either, so... sounds like something to forward to the tech team. --Kastera (talk) 16:18, 10 November 2016 (UTC)
Thank you! I've gone through them, Clensed's dialogue has 2361 lines... somehow. I believe it to be some sort of bleeding effect from other characters files. Also "dialogueExportDLC04_BottlingPlantSpeaker" and "dialogueExportDLC04GZVaultTecTalkingActivator" are blank. ...also, not to get greedy, but could I also have the files for Oswald Oppenheimer, Rex Meacham, "Ruth" Leavitt, Edmund Medford, and Kevin Benell?
A fallout themes page
I was thinking of creating a "Themes in the Fallout series" page and wanted to get some input before I started. What do you think? Do you think I should go on a game by game basis or have sections dedicated to shared themes? Shadowrunner(stuff) 17:54, 27 December 2016 (UTC)
terminals
If we're going to delete all those terminals pages, shouldn't we at least keep the descriptions of the terminals and what they access/command at those locations?--Ant2242 (talk) 12:43, 7 January 2017 (UTC)
Shouldn't they also be noted on the locations pages generic section too. Also, not to be a dick, but can you crowbar the ones you've already deleted into the walkthroughs of those locations.--Ant2242 (talk) 12:56, 7 January 2017 (UTC)
https://fallout.gamepedia.com/index.php?title=Wheaton_Armory_terminals&type=revision&diff=1996789&oldid=1817815--Ant2242 (talk)
No more graying out
I will keep "graying out" those references until their prompts are added as per format. ...and in case you were wondering I've spent hours trying to find them.--Ant2242 (talk) 13:13, 24 January 2017 (UTC)
Legion and Generics
What exactly is the point of the Caesar's Legion military hierarchy page? It seems to be a overview of the Legion's legionaries. Shouldn't it explain their organization and doctrines as well? Also why does the page have "military" in the title? Isn't the Legion itself only military, or am I missing something?
Furthermore I noticed that generic legionary dialogue (at Hoover Dam) mentions a land and slaves reward for killing Oliver. Does this imply property rights to legionaries?
Finally shouldn't we treat the generic human pages like the generic creature pages? That is to say, shouldn't we add a "variants" section with their GECK IDs denoting specific generics and a characteristics section? --Ant2242 (talk) 13:46, 24 January 2017 (UTC)
I'll do what I can but what I know of Roman military tactics, let alone Caesar's...
Is that mentioned in the article? I completely missed that as an option.
I completely lack the GECK ability an time. If this were a few years ago I could've attempted to help but I just simply no longer have the opportunity.--Ant2242 (talk) 18:16, 26 January 2017 (UTC)
US Army robotics section update
I was wondering what you think of this update to the robotics section that I drew up?
Robotics played an important role in Army operations. Apart from [[Sentry bot|sentry bots]], – designed originally for what else, sentry duties – used to carry heavy weapons into combat on a semi-autonomous unit,<ref>How the [[Sentry bot (Fallout 3)#Strike Team sentry bot|Strike team sentry bot]] was utilized in the [[Anchorage Reclamation simulation]].</ref> the Army also employed a variety of other robotic materiel. Among the materiel were [[Protectron#Military protectron|Protectrons]] and the more advanced [[Mister Gutsy]] robots (militarized versions of the popular [[Mister Handy]] utility robot), which entered service in 2077,<ref>[[Fallout 3 loading screen hints#Creatures|''Fallout 3'' loading screen hints]]: ''"The Mister Gutsy model of robot was commissioned by the U.S. Army just before the atomic apocalypse of 2077."''</ref> and the [[Assaultron]]. This [[RobCo Industries|RobCo]] design was built as a frontline wartime combatant. Fast and deadly at close range, and employs a devastating laser at a distance. Some units can even employ [[stealth technology]].<ref>[[Fallout 4 loading screen hints|''Fallout 4'' loading screen hints]]: ''"The Assaultron robot was constructed by RobCo and sold to the U.S. military as a frontline wartime combatant. It is fast and deadly at close range, and employs a devastating laser at a distance. Some units can even employ stealth technology."''</ref>

With the advancement of cyber-robotics came the development of the [[Robobrain]]. Developed shortly before the war by [[General Atomics International|GAI]], the Robobrain was uniquely designed to accept [[brain]]s as its central processor. They were intended to be a multipurpose platform, with such duties as to command units of robots, interrogation, and to fill tactically proficient combat roles.<ref>See [[Robobrain]] for references and sources.</ref> 

Despite the continuing resource crisis, the Army continued to field its extensive vehicle fleet. [[Infantry fighting vehicle]]s were commonly used on the domestic front, to contain riots and secure evacuations,<ref>[[Infantry fighting vehicle]] appearances in ''[[Fallout 4]]''.</ref> while [[heavy tank]]s provided the firepower necessary on the frontlines. Many of these vehicles would later be used for emergency relief operations, until they inevitably broke down or were abandoned by deserting soldiers.<ref>Tanks and IFVs in ''[[Fallout 4]]''. Evidence of cleanup operations is present for example in the swamp right outside [[Sanctuary Hills]].</ref> The biggest asset of the Army was the [[VB-01 Vertibird]] transport VTOL, enhancing the mobility of power armor units.<ref>See the [[VB-01 Vertibird]] article for details.</ref> A new and improved [[VB-02 Vertibird]] tiltrotor gunship was in development by 2077, with full-scale adoption planned for [[Fallout timeline#2083|2083]].<ref>[[Museum of Technology]] placard: ''"This is a scaled model of a prototype military transport vehicle being developed by the U.S. Military. The XVB02 "Vertibird" is a VTOL ("Vertical Take Off and Landing") craft with an extremely durable armored fuselage and can be armored with a variety of offensive weapons and defensive countermeasures. This is the most advanced aircraft of its kind ever developed, and the military hopes to press them into service by 2085."''</ref> Lastly, though they can hardly be considered aircraft, hundreds of orbital micronuclear platforms were also placed in orbit around Earth, to provide tactical fire support for military forces or defend the home front if need be.<ref>[[SatCom array NW-05a terminals#Log Entry #003|SatCom array NW-05a terminals; Terminal, Log Entry #003]]</ref>

--Ant2242 (talk) 23:41, 6 February 2017 (UTC)
X-01 not the APA
The Advanced power armor page seems to have the X-01 and the APA MkI merged as the same unit. This clearly isn't the case, however I am at a loss on how to separate the armors in the models section. What do you think?--Ant2242 (talk) 03:00, 11 February 2017 (UTC)
Companion dialogue sections
What do you think that the unique quest dialogue lines should all be mentioned in the "quests" section? If so should it be the same format as the unique location dialogue table? Speaking of, do you remember where the rest are? I've been working on it but I'm not a GECK editor, so my abilities are limited.
What do you think of the "unique activities dialogue table" so far (It's only on Cait's page.)? How about the table's title "activity comments"?
--Ant2242 (talk) 11:44, 14 February 2017 (UTC)
Exactly. I must admit that I've been extrapolating these (location) lines across the board due to their placement in the dialogue files. It isn't true for Deacon nor Curie.
Since I asked you I have discovered a few "Idle" lines that also seem location/environment specific. However I am unable to verify them either. So they might be part of something different.
Also I have to ask; What is going on with the "Loyalty" section? It's not complete nor is it in the same place across the companions. Shouldn't it be in a similar table and in the "Other interaction" section?--Ant2242 (talk) 17:39, 24 February 2017 (UTC)
Redirect removals
I have just completely finished the "Timeline" redirect cleanup. Now I am going to go through our "Computer" links to properly redirect them to the now "Artificial personality" page. Are you also going to give "Artificial intelligence" the same treatment? I would like to do both of those at once, seeing as they are both the same redirect.
PS Could you please send me the dialogue files for Supervisors White, Green and Brown? They have yet to get their files and since there is dialogue between them and Curie about Artificial personalities and intelligences... --Ant2242 (talk) 01:03, 5 April 2017 (UTC)
PPS Speaking of dialogue files could you also please send me Mrs. Parker and Soldier_VaultGuard so I can finish the NPC conversation for VT rep's page?--Ant2242 (talk) 18:35, 12 May 2017 (UTC)
Region sections?
Should I add the sections for the guides named and described regions into the "Commonwealth" article?--Ant2242 (talk) 22:23, 26 April 2017 (UTC)
Also what do you think we should do about the "points of interest" in the guide. A single overview page?--Ant2242 (talk) 22:43, 26 April 2017 (UTC)
Who does MUTANT2.MSG belong to?
It is not stated on the page, and the SCRIPTS.LST states only "Invisible Mutants" and "The invisible mutants."--Ant2242 (talk) 15:22, 29 April 2017 (UTC)
Betsy
What do you think of Betsy's article so far?--Ant2242 (talk) 13:01, 3 May 2017 (UTC)
Protos
Unfortunately I have had to put the computer with the game and programs in storage. Might be a while before I can get to it. However I did manage to add a bunch to the wiki. If it's already here just copy paste from a current article. If it isn't please make a note of it somewhere. I'll try to get to it when I can... whenever that'll be.--Ant2242 (talk) 17:04, 3 May 2017 (UTC)
Creation Club
https://creationclub.bethesda.net/en
What should we do with the Creation Club?--Ant2242 (talk) 21:58, 12 June 2017 (UTC)
Sorry I should have been more clear. I meant for canonicity. Should we clarify it's mods and therefore we cannot add the content. Or should we keep a caveat to include images of items already canon?--Ant2242 (talk) 21:09, 13 June 2017 (UTC)
Yeah there are a ton of good mods. However we cannot start wikiing the never ending stream of Mods. There are simply too many and none of them are official. We would end up spending all our time on the mods and nothing canon would be done. I think that for now we should just have the article on the Creation Club. That at least is known official, and latter maybe use if for high quality repairs to their bugged games. Such as with the JES mod and any images for incorrect meshes. IIRC like the bolt on the X-01 in FO4. Where it just floats off the armor.--Ant2242 (talk) 02:49, 16 June 2017 (UTC)
Images and location articles
Firstly thank you! for adding at least one main image to all FO4 locations articles. Now we (not me, I'll explain privately if you wish), can still add all the notable scenes, Map Marker maps, and Local maps to each page (which is standard across the wiki). Add all the Creation Kit editor ID and ref IDs (tried where I can, but don't take anything I add as correct), review all notable loot, and add layouts and background to all appropriate pages.
Unmarked locations
Please stop deleting the unmarked locations you can't find. They are on Youtube. Here's an annoying man with a full list, probably barring all endgame outcomes to the checkpoints. https://www.youtube.com/playlist?list=PLMhcgQ1v7o1mQ7MyneLnWgPgr39udsmSA
Mods
Why do the mods? We have enough to do with actual games. Barring Killap and JSawyer which are just the unofficial patches to the games they mod.
--Ant2242 (talk) 03:14, 21 June 2017 (UTC)
Locations
Your opinion on the locations doesn't trump the in-game locations.
Mods
All the more reason with the CC coming. We are the Canon wiki. One known for accurate lore articles. Not some fanon/head-canon site. However, if you wish to add non-canon to the wiki, fine. I only ask that you do it as a user sub page so it doesn't get confused with the actual games.
Images
I am incapable of doing images beyond croping YouTube videos (see Morton and that quest compactor in Point Lookout). My laptop is too old to handle the programs, even FO1/2 let alone FO4. --Ant2242 (talk) 00:09, 22 June 2017 (UTC)
New note image
Can you please add back the world object image for the note. The new image is very appropriate for the individual note pages, however the elder image was also being used for notes that were technically keys.--Ant2242 (talk) 02:38, 30 July 2017 (UTC)
Creation Club content
All the stuff in creation club seems to be officially sanctioned content (for better or worse), so I'm wondering if we should make pages for content from it? The stuff so far seems to be beth made stuff (to my knowledge, anyway) so it is technically official DLC. What do you think of coverage of creation club content? Shadowrunner(stuff) 02:48, 31 August 2017 (UTC)
You grabbing images of the assets sounds good. I'll try making a navbox and page for the creation club and then move on to the items, quests, and other content after. And the map looks great! Shadowrunner

(stuff)

18:13, 6 September 2017 (UTC)
Apology
Hey man, I'm sorry about my renegade editing. I just get too excited and defensive about the NCR sometimes is all. Rest assured, I won't repeat my mistakes. Happy to see you too, my friend :) Note: it won't let me comment so I have to reply back through this. Quick question: did the NCR also acquire Enclave Power Armor during the Sacking of Navarro alongside Vertibirds? Theatlascorporation (talk) 10:00, 5 October 2017 (UTC)
Apology V.2
I had no idea that I deleted developers quotes on the NCR page. Sorry about that. Theatlascorporation (talk) 10:10, 5 October 2017 (UTC)
Anarchic Independent Vegas
https://fallout.gamepedia.com/Fallout:_New_Vegas_endings
"The Courier, with the aid of Yes Man, drove both the Legion and the NCR from Hoover Dam, securing New Vegas' independence from both factions. With Mr. House out of the picture, part of the Securitron army was diverted to The Strip to keep order. Any chaos on the streets was ended, quickly. Chaos became uncertainty, then acceptance, with minimal loss of life. New Vegas assumed its position as an independent power in the Mojave."
"Supporting the ideals of independence, the Courier was recognized as the man/woman responsible for a truly free New Vegas. He/she ensured Mr. House's tyranny was broken and neither Caesar's Legion nor NCR would ever gain control over New Vegas."
"With little law left in the wasteland, the Boomers continued to defend themselves against the prospectors and scavengers invading their territory."
"Though the Wasteland became anarchic after Hoover Dam, the Boomers' display of power dissuaded fortune seekers from attempting to penetrate Nellis."
"The Brotherhood used the battle of Hoover Dam as an opportunity to retake HELIOS One, and came to control the area between it and Hidden Valley. With no organized opposition, their patrols began monitoring trade along I-15 and Highway 95, seizing any items of technology they deemed inappropriate."
"The Fiends overran Camp McCarran during the Second Battle of Hoover Dam. In the anarchic months that followed, the Fiends asserted dominance over Outer Vegas."
"After the Courier ensured New Vegas remain free, the Followers found that independent Vegas was even more unstable and violent than before. Old Mormon Fort became excessively burdened by the influx of patients, struggling to provide even the most basic of services."
"The NCR, battered by the loss of the Dam, were unable to devote any troops to retaking the Correctional Facility from the Powder Gangers. As a result, Powder Ganger raids on caravans became an unfortunate fact of life in the Mojave for years to come."
I'm sorry but how on Earth do you get "the Courier is cemented as the Emperor of New Vegas" from any of the endings in F:NV? Even in the event that the Securitron Army is activated and the Courier has good Karma at the end of F:NV the Independent Vegas endings still more than prove that both New Vegas and the Mojave Wasteland as a whole dissolve into absolute chaos and total anarchy. Theatlascorporation (talk) 05:54, 7 October 2017 (UTC)
Good Point
I honestly never thought to see it that way before. Murdering House and then proceeding to both destroy the Legion in its entirety and drive the NCR out of the Mojave completely would most definitely plunge the region into chaos not to mention that the fact that only Yes Man is capable of actually controlling the Securitron Army would only further complicate matters once he goes into a hibernative state. But once he comes back online the Courier can then proceed to handle affairs as he sees fit, be it actually ruling the Strip or having an extremely hands-off approach to the political environment of the Mojave Wasteland and New Vegas. Still, there's other things to consider as well. The Courier couldn't rule the entire Mojave Wasteland even if he wanted to as he just wouldn't have the manpower or resources to do so (several hundred Mk. II Securitrons is barely enough to secure the New Vegas Strip and Hoover Dam as it is) nor would he have to as the Strip and Hoover Dam are the only things worth controlling in the Mojave as whoever possesses these vital strategic objectives essentially rules the entire region in a strictly figurative capacity. Furthermore the Courier actually plans on auctioning off Hoover Dam and Lake Mead along with all of their energy and fresh water output to the NCR for a massive profit as once the Lucky 38's main reactor is reactivated and at maximum capacity the Strip becomes 100% energy independent thus it will no longer require Hoover Dam. Judging off of the endings and the above information, in the event that the Courier did decide to establish his own regime he'd most likely stick with the Strip and Hoover Dam ONLY (Hoover Dam will technically be Republic property but will be occupied by the bulk of the Securitron Army who will provide protection for the NCR's engineers and technicians servicing the Dam). All in all, you raise a fair point.
Note: could we at least replace the term "Emperor" with "Ruler", though? "Emperor" just doesn't fit with the theme of an Independent Vegas at all. Theatlascorporation (talk) 00:00, 8 October 2017 (UTC)
Appreciation
I appreciate the compliments and respect that you've granted me. You yourself are a golden addition to the Vault and are a very intelligent individual, moreso than I am. Theatlascorporation (talk) 00:15, 8 October 2017 (UTC)
Ulysses
I removed it because Ulysses' statements are anything short of bullshit. He's never been West so he wouldn't actually know how the NCR actually manages their empire and his own sentiments of the Legion "doing a better job" is a joke at best. The Republic's Core Regions are easily the safest, most prosperous areas in the entirety of the post-apocalyptic world, with the world's largest, most powerful, most booming economy to support it, the world's largest, most powerful industrial base to sustain it, the world's largest, most powerful, most bountiful agricultural centers to feed it, the world's largest, greatest infrastructural networks to compliment it and the world's largest, most powerful military to defend it. So what if Legion subjects are safer than Republic citizens, so what if Legion subjects have access to ample food, fresh water and electricity? The Legion couldn't come even remotely close to matching the wealth, industrial might, agricultural power, infrastructure, economic strength and military dominance of the Republic let alone the Republic's size. I guarantee you that if Ulysses actually saw the Republic Core Regions in all their glory with his own eyes his expression would turn right around really quick. Hell let every Legion subject under Caesar's rule see the NCR heartlands for themselves and get just a taste of what life is like for the average Republic citizen and they'd all sell Caesar out in a heartbeat. All the Legion does is cover basic necessities and provides unmatched degrees of security for their subjects but in the end the best said subjects can do is merely survive and make ends meet which is hardly a life worth living. Republic citizens, on the other hand, can actually enjoy their lives and not have to worry about mere sustenance; they have access to actual healthcare (the finest medical technologies in the entirety of the post-apocalyptic world to be exact) for Christ's sake in addition to what can only be described as the finest, most luxurious lifestyles in all the Wastes (as a citizen of the Republic I can take in a theater to enjoy a movie/show/musical number, perhaps wine and dine myself at a fine restaurant, have the freedom of speech/expression/the press/assembly/religion in addition to the right to due process and common law or Hell even get my hands on my very own fully-functional automobile if I have the money for it), lifestyles that ANYONE (Legion subjects included) out in the Wasteland could only have wet dreams about. Republic citizens enjoy very safe and highly productive lives at the heart of the world's largest, most powerful, most dominant, sole superpower all without the Legion's brutality and the constant threat of death. It can be argued that if anything, the NCR has done a vastly superior job at both building and managing an empire when compared to the Legion.
Furthermore the NCR is by no means "thinly-spread". This particular misconception, as I've explained so very many times, is the direct result of General Oliver massing troops and resources at Hoover Dam and Camp McCarran at the expense of screwing over every other NCR military outpost in the Mojave. It's not an "inability" but rather an unwillingness on the part of both Oliver and the NCR government to properly secure the Mojave so Ulysses is dead wrong here. Theatlascorporation (talk) 23:12, 10 October 2017 (UTC)
Emperor
Yeah someone had used the term "Emperor of New Vegas" for some reason. Good point I suppose. In the words of Neil "It's best not to squint at what can't be seen" :)
Emperor
Yeah somebody had put that the Courier was "cemented as the Emperor of New Vegas" before I edited it. You raise fair points, however. In the words of Neil "It's best not to squint at what can't be seen".
That's actually what I love about the Vault. It's very well referenced, has alot of references, has plenty of citations, is very well-organized, is regularly updated with up-to-date, accurate information and (most importantly) is very well policed. Had this been Nukapedia I could've put "Caesar is a one-legged lesbian" and gotten away with it. The Vault is the only source of information I'll ever trust in regards to Fallout lore and history.
Theatlascorporation (talk) 02:34, 11 October 2017 (UTC)

Securitrons
I sincerely doubt that House's Mk. I Securitrons, of which there are only several dozen, and the Three Families would have any chance against the NCR in the event of a military confrontation. House claims that his forces could kill "hundreds" of Republic troops before going down but I find that figure to be total horseshit if anything. Mk. I Securitrons are pathetically easy to kill both in-game (I can one-shot them effortlessly with This Machine) and in lore (Benny and what was the Mojave Boot Riders tribe damn near effortlessly trashed a Securitron in under a minute flat with little more than spears, knives and their fists), especially given their light armament (a 9mm SMG which wouldn't come even remotely close to penetrating NCR Trooper Armor) and light armor (a titanium alloy shell that apparently isn't a match for a handful of tribals) thus it's more than easy to assume that House's Securitron police force wouldn't stand a snowball's chance in Hell against NCR Troopers armed to the teeth with Service Rifles sporting 5.56x .44mm NATO rounds that would make short work of that titanium armor. As for the Three Families, they're even worse off given both the state of their equipment (All: suits; White Glove Society: Dress Canes; Chairmen: 9mm Pistols, 10mm Pistols, Silenced .22 SMGs, Sawed-Off Shotguns; Omertas: .44 Magnum Revolvers, Sawed-Off Shotguns, 10mm SMGs, Riot Shotguns) and they're complete lack of formal training and combat experience (neither of the Three Families would last a minute against battle-hardened, well-trained Republic soldiers that would also enjoy vastly superior equipment). Add all of this with the fact that even when combined the Three Families wouldn't even amount up to 100-strong and my point is made. That of course assumes that the Three Families choose to fight alongside House which they wouldn't. The Omertas can easily be described as a pack of shifty, deceitful rats that have absolutely no love for Mr. House (affectionately referring to him as Mr. Not-At-Home) and have already sold him out to the Legion as it is which more than proves that the Omertas would prefer NOT to engage in a suicide mission to defend the Strip from a hostile NCR takeover instead preferring to cut a deal with the Republic behind House's back. The White Glove Society has no real animosity or love for House but given their proper, first-class nature as well as their lack of firearms, I'd definitely see them cutting a deal with the NCR alongside the Omertas rather than get themselves killed over a lost cause. As for the Chairmen, they're honorable, noble nature coupled with their loyalty would make one believe that they'd seemingly fight alongside House though the awful truth is that they most likely wouldn't. Most of what would become the Chairmen opposed House's offer to help rebuild the Strip only accepting his offer because Benny became the new chief of the Mojave Boot Riders tribe. Most of the Chairmen still miss the old days and are both incredibly nostalgic and resentful to Mr. House for destroying their old identity. Throw in Benny's deceptive tendencies as well as Swank's own nostalgia (in the event he succeeds Benny as leader of the Chairmen) and you'd have the Chairmen cutting a deal with the Republic and selling House out in a heartbeat. All in all, one platoon of NCR Troopers could swiftly and decisively take the Strip by force regardless of whether or not the Three Families stand by Mr. House's Securitrons. Theatlascorporation (talk) 23:06, 12 October 2017 (UTC)
Securitrons Revisited
Fair enough on all points. Seriously though do Mk. I Securitrons have access to their Glastinghouse X-25 Gatling Lasers? If so, then that changes things entirely. A platoon would easily get massacred in that case. Still, I guess that my main point of contention is that "hundreds" of Republic soldiers would die which simply isn't true. Maybe Mk. I Securitrons are more potent than I initially claimed but I definitely don't see them being able to withstand a couple of highly potent, high-powered 5.56x .44mm NATO rounds (Service Rifles should be a Helluva lot stronger than they are in-game but for whatever reason, fucking Cowboy Repeaters are stronger than Service Rifles which is quite frankly bullshit) Hell even the Mk. IIs would have difficulty handling shots out of a Service Rifle in terms of absolute reality. Throw in some NCR Troopers armed with semi-automatic .308 Sniper Rifles (a single .308 round would effortlessly tear the living shit out of a Mk. I Securitron Hell even Mk. IIs would be hard-pressed to survive a direct hit from .308 round in terms of absolute reality) Grenade Launchers loaded up with 40mm Pulse Grenades and Pulse Grenades, which would definitely make short work of Mk. I Securitrons given their long-distance advantage as well as the fact that they'd be safe as houses at the rear of the NCR invasion forces, and some NCR Heavy Troopers armed with Plasma Casters, Grenade Machineguns chock full of 25mm Pulse Grenades and Pulse Grenades (Heavy Troopers would just be overkill in this fight to be honest) and let's just say that House's goose is cooked. Furthermore the Securitrons would find themselves gravely outnumbered, outgunned and virtually standing alone against the Republic's onslaught. Even if the Three Families stood by Mr. House (fair enough on their numbers by the way) that still wouldn't make a difference as they're simply not soldiers but mobsters and gangsters that would be mincemeat in a fight against battle-hardened Republic soldiers, the White Glove Society especially. As for the Kings and Freeside they'd hardly be consequential, especially given what Major Elizabeth Kieran and her squad are able to do to Pacer and his boys in the "G.I. Blues" quest. Kieran and her men literally SHITSTOMP the Kings in that fight, killing all of them save Pacer himself who's stuck cowering behind a bench while Kieran's squad, who haven't suffered so much as a single casualty, are taking potshots at him. And all of this was accomplished without their Service Rifles and body armor but rather with little more than ordinary civilian clothes, 9mm Pistols, 10mm Pistols and 2 .308 Hunting Rifles. Just imagine what a fully-armed, fully-equipped squad of NCR Troopers could do to the Kings; it'd be a massacre in favor of the Republic which wouldn't surprise me at all given how the Kings are just a bunch of hoodlums and punks with no actual training. Still, the Kings and Freeside would make things more difficult for an NCR that already has to contend with House's Securitron police force which is most likely the point you were trying to make. A company or two(?) (better number?) should suffice in regards to conquering the Strip. All in all, though, this all assumes that the Legion decides to play nice and not exploit this conflict to their advantage and given how they wouldn't do that, it's safe to assume that the Republic wouldn't dare attack the Strip until the Legion has been dealt with. On a side note, I'd like to apologise for yet another example of pro-NCR bias on my part. I utterly despise House and enjoy killing him which is probably why I underestimated his defenses so much.
Again I'd like to apologise for my hawkish (or bearish as you so poetically put it :)) behavior. You raised alot of good points in both your edits and revisions of my edits (especially my Hoover Dam edit which actually made me laugh when you pointed out the error in my judgement) and I'll try to be less bearish in the future. Still, I feel that I did raise a few good points, especially in regards to the First Battle of Hoover Dam. The Legion quite simply never once took the Dam and General Oliver and his Troopers managed to successfully hold the Dam throughout the battlefield and it just addles my nerves whenever people keep bringing up the whole "the Legion won the battle but Graham was drunk on victory and made a mistake" bullshit (you have no idea how annoying it gets trying to explain the truth of the battlefield to Legion fanboys and supporters). Both Chief Hanlon and Lt. Richards over at Camp Forlorn Hope clearly corroborate with my assessment.
Theatlascorporation (talk) 01:47, 14 October 2017 (UTC)

Securitrons Revisited V.2
Sorry, forgot to put this in the reply.
Mr. House actually sent 20 Securitrons to the Mojave Boot Riders after they destroyed his first Securitron. Benny himself says so.
I'd love to see your assessment of the Second Battle of Hoover Dam. You're extremely insightful, intelligent and knowledgeable in regards to Fallout lore and history thus I'm looking forward to seeing this assessment. Theatlascorporation (talk) 01:55, 14 October 2017 (UTC)
First Battle of Hoover Dam
https://fallout.gamepedia.com/Hanlon%27s_dialogue
"In big battles, Caesar deploys his legionaries in waves. Recruits up front, prime soldiers behind the recruits, old guard bringing up the rear."
"Opponents wear themselves out dealing with the first two waves, if they survive that long. When the veterans step up, there's not much fight left."
"Caesar can adapt, though, and when required, he can run any mix of legionaries as skirmishers and still retain order in the ranks."
Joshua Graham, Caesar's old legate, he's wasn't so flexible.
"When the Legion attacked Hoover Dam, General Oliver ordered his troopers back to the middle ground just after first contact."
"Graham pushed all of the legionaries onto the dam, filling the east side with recruits up front and veterans in the back, by the book."
"But once they were in, they were stuck there. Oliver's troopers were entrenched and wouldn't give a foot."
"That's when we ordered the rangers and 1st recon sharpshooters to start picking off veteran legion officers from a high ridge west of the dam."
"That only lasted about a minute before Graham ordered the back ranks to push through to the front and rush the ridge". "Caused total chaos among the younger legionaries, and Oliver's troopers fell back to the side walkways and stayed out of the veterans' way."
"By the time the veterans got to the ridge, we were already in Boulder City."
"They followed us down there, but we were out before they realized what was happening."
"We had packed the old city with C4 and dynamite. Crude, but it did the job. Those who didn't die in the blast were in no position to mount a defense."
"The ones left on the dam didn't know what to do. The troopers routed them. Graham pulled the remaining legionaries back, but the battle was over. "
"He went south, back to the Grand Canyon, back to Caesar. And that was the last we saw or heard from Joshua Graham."

https://fallout.gamepedia.com/Alex_Richards%27_dialogue
"Quite a bit actually. I was stationed nearby during the first battle of Hoover Dam four years ago. I saw a lot of what happened firsthand."
"The Legion attacked in full force. Chief Hanlon had the troopers fall back pulling the enemy in, before entrenching into secure positions."
"The Legion got bogged down and Rangers and 1st Recon sharpshooters started taking out the Legion officers."
"They sent their best men to stop the Rangers and 1st Recon, but the Rangers pulled them into a trap at Boulder City and blew them all to hell."
"After that the Legion's forces were in disarray and tried to retreat. However, our forces advanced rapidly and routed them. And that was that."
Neither Chief Hanlon nor Dr. Richards support that claim and given how both of them were eyewitnesses to the battle that experienced it firsthand and that Chief Hanlon himself both personally commanded the Republic's defense of Hoover Dam and is wholly credited with the NCR victory there I believe that I'll take their word for it. It's extremely laughable to believe that the Legion even briefly took the Dam, especially given Joshua Graham's extremely piss-poor tactical/strategic skills that make make General Oliver look like Sun Tzu in comparison (speaks volumes about the Legion's overall performance during the First Battle of Hoover Dam). Graham used what could only be described as (for lack of a better word) human wave tactics; the Legion quite literally just threw themselves at the NCR's entrenched, heavily fortified positions expecting to overrun them through brute force and strength in numbers (as if that's ever worked) and to make matters worse Graham also used the Legion's basic three-tier strategy (Recruits up front, Primes in the middle, Veterans and Centurions in the rear) which proved to be a grave strategic error. The Recruits and Primes were quite literally mowed down in droves by Republic troops not even reaching Republic lines (not surprising at all given the state of their weapons and armor) while the Veterans and Centurions made easy targets for NCR Ranger and First Recon sharpshooters operating off the western ridge overlooking Hoover Dam given their entrapped, exposed positions at the rear of the Legion's forces. And to make matters even worse for the Legion Graham exercised completely lax control over the Legion forcing them to rely too much upon their Decanii and Centurions for leadership, a fact that Hanlon and the Rangers exploited mercilessly. When the Legion's Decanii were all killed off and the Veterans and Centurions were decimated by Hanlon's sharpshooters the Recruits and Primes were thrown into absolute chaos and disarray, having devolved into little more than a hugely chaotic mass of sitting ducks by the time Graham ordered the Legion's elite forces to rush the western ridge and pursue the Rangers and First Recon into Boulder City (an act that only worsened the chaos infesting the Legion's main force). The Recruits and Primes were already target practice as it was even before the Veterans'/Centurions' ill-fated charge but afterwards, they became walking corpses that didn't even know they were dead. Judging off of this information, it's of no surprise that Oliver was able to subsequently successfully defend the Dam and both routed and decimated the Legion's main force in the aftermath of the trap at Boulder City. This isn't bias this time, these are just the facts as they are.
Joshua Graham and Ulysses disagree with you and given that Graham was a co-founder of the Legion and that Ulysses is one of the Legion's longest serving members (having been with it since it first emerged from the Grand Canyon first as an ally and then a Frumentarius) I'll take their word for it. I'd love to play out a scenario in which the Divide Incident never happened and the NCR received its reinforcements on time but I don't have the time (sorry).
That's simply not true. You assume that Caesar speaks truly whenever he claims that he rules "much of Utah and Colorado" and "all of Arizona and New Mexico" but the reality is that he's full of shit. First I'll start with Colorado. In theory, the Legion controls everything up to Denver but in practice, the Legion's actual control and influence in Colorado is purely nominal in nature, a formality if you will. Both Ulysses (who's been to Denver both before and after it fell to the Legion) and Antony (a former Hangdog that lived in Denver before it was conquered) clearly state that Denver is still completely overrun by hordes of feral hounds and Cyberdogs to this very day and will attest to the fact that the Legion's actual authority over the city is damn near non-existent. Furthermore there's absolutely nothing in Colorado worth holding, let alone conquering, especially given that there was absolutely no signs of towns, communities, tribes, villages or anything even remotely close to human life there barring the Hangdogs tribe of Denver not to mention that there was nothing to gain from conquering Denver other than occasionally being able to harvest dogs from the city streets (which hardly makes up for the tremendous amount of money, troops and resources lost to finally take the city after years of siege). The reality of the situation is this: the Legion's actual control over their Colorado territories are extremely minimal if not outright negligible (hence the term "minor holdings") thus they simply cannot be counted as part of Caesar's empire. Now on to Utah. Jed Masterson, who's been all over Utah (from the Great Salt Lake to Zion National Park, from Salt Lake City to Dead Horse Point National Park) as part of his duties as a caravan master for the Happy Trails Caravan Company, and he'll attest to the fact that the state is completely overrun with Raiders, bandits, degenerate tribes, warlords and other bad trouble that aren't just a little savage but outright feral, not even speaking English anymore. Now either Caesar sucks ass at ruling his territories or he's clearly exaggerating the actual extent of his control in Utah. Furthermore the fact that the Grand Staircase, Zion National Park, the Utah portion of the Colorado Plateau, Dead Horse Point National Park and the Great Basin area have absolutely no Legion presence despite being directly on Utah's border with Arizona definitely exposes Caesar as a liar and a fraud. Also if Caesar's presence in Utah was so large then why have the White Legs destroy New Canaan instead of just ordering a Legion assault on the city? Because the Legion has next to no actual presence in Utah, that's why. Not denying that the Legion does have somewhat of a presence in Utah (Vulpes' tribe was from there before it was conquered and Dead Sea claims to be from the Great Salt Lake) but the truth is that the Legion's actual presence in Utah is damn near non-existent thus it also cannot be counted. As for New Mexico, we know for a fact that the Legion's presence here is substantial thanks to both Siri and Dale Barton over at Fortification Hill. However, to say that Caesar rules the entire state or even half of it would be stretching the truth. There's no way on God's green Earth that the Legion would have anywhere near the time, resources and manpower to conquer all of New Mexico by 2281, especially given the state's size which is even larger than that of Arizona. The Legion would be lucky to rule 1/5 of the state by 2281 and would be hard-pressed to conquer 1/4 of New Mexico in so little time. Once again, Caesar's full of shit. Now we look at the NCR's territories, which span across all of California, all of Oregon, the entire Baja peninsula and all of Nevada with additional holdings in both Utah and Arizona. California alone is larger than Caesar's entire empire with the NCR as a whole being more than four times its size. Comparing the Legion to the NCR is truly laughable in terms of size alone.
As for the safety of Legion territory, I'm afraid that you're underestimating it. Legion territory is incredibly safe and stable, even moreso than Republic territories. It's so safe in fact that you don't even have to hire guards or carry a weapon while in Legion lands not to mention that a single Recruit Legionary could be guarding an entire trade route or town completely on his own. The reason for this is that Raiders and bandits are ruthlessly exterminated, brutalized and enslaved to the point of extinction by the Legion with those fortunate few that happen to survive the Legion's savage purge getting out while they still can and those Raiders outside of Legion lands staying out for their own safety (even Fiends wouldn't dare attack a caravan marked by the Legion). As for the reason why the Legion keeps things so safe and orderly, it's done so that they don't have to tie down large amounts of troops guarding one area but rather keeping their armies moving and headed towards a single direction. Throw in the fact that the Legion has absolute supremacy over the East and the fact that they have no enemies capable of legitimately threatening them back East and my point is made. Graham had the full might of the Legion present with him at Hoover Dam in 2277. Theatlascorporation (talk) 02:43, 15 October 2017 (UTC)
Pacific
The video wouldn't load so I couldn't watch it, sorry :(
However, I do get the basic premise: never underestimate the enemy. Theatlascorporation (talk) 02:46, 15 October 2017 (UTC)
Bias
What exactly was so "biased" about my last edit? I simply stated the truth, which is that the NCR is by no means "overextended" and "stretched thin". That the Vault deems it necessary to keep spouting this nonsense is beyond me which is exactly why I became an editor here in the first place: to correct said mistake and to set the record straight. Just because I'm biased towards the Republic on occasion does not mean that I'm biased towards them all the time. Theatlascorporation (talk) 04:07, 23 October 2017 (UTC)
Vault 8 opening date inconsistencies
Hey, I had a question regarding Vault 8 that I wanted to ask you. In Fallout 2, Lynette states that Vault 8 received the all-clear signal 2 years after it was sealed, in 2079. In Fallout Bible, however, Chris Avellone stated that it was meant to open 10 years after the war, but he also said that it opened in 2091. Should his statements about it be disregarded since they're inconsistent with the game and themselves? Vader0629 (talk) 20:18, 2 November 2017 (UTC)
The "planned" opening date isn't a point of concern as far as I'm concerned. As far as the actual time is concerned (provided it's not been changed in a later game update), I'm more of the opinion that the date mentioned in the game itself should be considered the reliable source. DSquirrelGM (

talk

) 01:37, 3 November 2017 (UTC)
As the Fallout Bible only counts second, and the games first when it comes to canon questions, it should be clear what's regarded here. Though a note on the article might be useful, including a reference. -- -- You talkin' to me? -- cCContributions -- 11:41, 3 November 2017 (UTC)
Prydwen
1. the Prydwen was constructed from parts that were primarily salvaged from other Brotherhood airships.
2. building something from scratch does not automatically indicate industrial capacity. If we're going to go off of that logic then I guess my backyard is factory given how my dad and I build things from scratch regularly.
3. there isn't a shred of evidence that the Eastern Division can manufacture its own weapons, VB-01 Vertibirds and Power Armor. Building an airship out of pre-existing parts proves nothing.
4. WTF is your problem? There's no need to be a condescending jerk, especially over an ill-proven case such as the Eastern Division's supposed industrial capacity. Theatlascorporation (talk) 11:29, 7 November 2017 (UTC)
Got me again
Good point. And sorry for flying off the handle like that. I should've known you to be better than that. Furthermore I thought that the Prydwen was capable of transporting the entire Eastern Division, which would be anywhere between 3,000 to 5,000-strong by now. Correct me if I'm wrong though. Theatlascorporation (talk) 21:14, 7 November 2017 (UTC)
No protos for randomly generated characters?
Wait. There is no set protos for randomly generated characters? ...you sure? ...How should we proceed? List them? Add this notation in the infobox with
<!-- -->
?--Ant2242 (talk) 03:42, 15 November 2017 (UTC)
Template:Interactions New
The Interactions New template page may still need an update. A new user tried to correct information related to the section. I tried as well and am having trouble with the parameters. Could you please look into the situation? Vault 13 medic--Ant2242 (talk) 01:21, 31 January 2018 (UTC)
Fallout 4 dialogue files and containers format
Containers
I've been working on and off for a while on two different formats for the overviews on the containers and storage pages. I believe that we need to merge them into one and clean them up. Including changing the format to go from game to game engine as the world objects from FO3 and NV as well as FO1 and 2 can be paired together with no loss of function.
More dialogue files
Could you please send me the files for Robert DeLuca and Rachel? I've formatted the references as best as I can with what I can remember and without copys of my own. Also can you verify that they are correct once they are complete?--Ant2242 (talk) 14:49, 27 February 2018 (UTC)
the dude who added the edits to the brotherhood of steel page
hey there man. thanks for the kind words on my edits for the page and correcting them. means alot. i did as you said and created an account on the page. if you want to add any sign of my contributions to the site you know where to find me. my username is Nasiransari123
Shelter Doc
Hey,
Thought I'd upload the recent lawsuit docs for the Fallout Shelter lawsuit, and linked em off the Fallout Shelter page (along with a little explanation). I haven't categorised the file itself, is there a specific category you'd want that in?
My reading is looks like Behaviour Interactive might have been caught dead to rights if Beth is right about it being work-for-hire. If I remember right you have some interest in such things so would be interesting to hear your take if you've had a chance to look. Agent c1983 (talk) 21:42, 26 June 2018 (UTC)
Indeed, those Bethesda lawyers don't play nice. I don't know if you've ever had a chance to read the Zenimax v Occulus/Facebook filings, but they're worth a good read too... although Zenimax doesn't come out looking great (it turns out helping someone improve their product without any sort of contract for your time and services is a bad idea - who knew?), it's the most thorough take down of Palmer Luckey (occulus "inventor") I can imagine... the way they tell it he didn't actually do anything - no hardware, software, anything... it was all Zenimax and Carmack. Their story makes him look like a lucky idiot.
Anyways. I just wanted to say I'm sorry if I ever upset or annoyed you. When I go in fighting for "my tribe" I go in with full heart and sometimes don't stop and think enough. I dunno what's going to happen out of this whole process, or if anything is going to happen at all, but I feel like me saying that is long overdue. Agent c1983 (

talk

) 16:01, 27 June 2018 (UTC)
Fallout world and Fallout setting
I was wondering, what's your take on the difference between the "Fallout world" and "Fallout setting" articles?--Ant2242 (talk) 15:53, 1 July 2018 (UTC)
Terminals, terminal, terminal entry
I love the new list of usable terminals in Fallout page! It's got me thinking, what exactly is the order of the wiki pages? Is it "Terminals" as the overarching main overview, then "list of usable terminals in Fallout 2/3/NV/4/etc, with links to individual terminal world models? I just want to know before I clean up the redirects.--Ant2242 (talk) 00:03, 7 August 2018 (UTC)
Yeah. That's why I tried to break up the Hacking from terminals. (Also lockpicking from lock picking, Lock picks and locks) One is a gameplay feature attached to the various terminals in game. One in which we could have a list of terminals specific to each game to hack. ....kind of an expansion on the terminals pages that I meticulously went through for those four years. Speaking of I think that we need a screenshot of the VDSG notice from (FO3/NV/4) at the top of the page. The one you get as a message box when you first enter a hacking sequence in game. I think that I have one somewhere for FO3 (I don't know if they differ per game) only I don't have time to find it.--Ant2242 (talk) 09:12, 9 August 2018 (UTC)
Rivet City's Nuclear reactor
Recently the section about Rivet City's reactor was removed from the page. I think that this might be a better edit because we don't have anything specific about them taking Rivet City's reactor. They *might* have done so, but we have nothing concrete. Only that they took a reactor from a Beached Aircraft Carrier Wreck.--Ant2242 (talk) 09:15, 20 August 2018 (UTC)
BoS Eastern Economics
I'm currently gathering Teagan's dialogue in an effort to clarify the section on the BoS seizing supplies. It should also emphasis the BoS's internal economy.--Ant2242 (talk) 09:15, 20 August 2018 (UTC)
obj_dude
Is this "OBJ DUDE.MSG (Fallout)" the generic tell-alls for the generic characters of the game? Does it also have other purposes? Or was it cut entirely? If it's used by characters then don't we have to add it to those character's pages? Also how should we add which characters said what to the front of the Reference?--Ant2242 (talk) 12:38, 31 August 2018 (UTC)
I'm not arguing to remove it, just trying to get a clarification on where and how the file is used. So... How should we indicate specific Generic Characters that would have used it then? Also how should the Note Section sentence best denote the reference in question belonging to a file not used in normal gameplay? Oh also shouldn't we add that the file is not used in normal gameplay on the file page itself?--Ant2242 (talk) 23:37, 31 August 2018 (UTC)
Yes, you need to give a character, or groups of them, a mention in the manner of the Vault's REF Policy. Quality referencing is what separates us from the fly-by-night wikis that show-up only to die.
...Unless you need to denote the scripting for said file, or perhaps the file in question is cut content or bugged. Then that section comes in handy.
No. Having a link to the file for which the reference comes from is not a backup. It's the Source of the Reference. It's Needed. Without it the reference is literally a he-said/she-said.
....Ok. Well While We're on the Subject of referencing, first I am absolutely not trying to get references removed. Only finished to our REF Policy, second could you actually reference rather than adding a character name as the reference. :( --Ant2242 (talk) 20:57, 1 September 2018 (UTC)
Jacobstown
Someone wrote in a Society and Outside relations sections to the Jacbostown page. The society section seems to be fiction while the outside relations seems.... more accurate. I am curious to your opinion on the subject.--Ant2242 (talk) 00:41, 25 September 2018 (UTC)
Some recent page updates
An anonymous user (185.49.74.145) recently touched up some prominent lore pages recently. They seem alright to me, but since those pages were - IIRC - written by you I would love your opinion on the minor touch ups.--Ant2242 (talk) 13:37, 4 October 2018 (UTC)
Fallout 2 Level Images
Hey! So, I have a question regarding how single images of entire "levels" in Fallout 2 are obtained. Such examples are the Navarro underground and the NCR Council Hall. I have Mapper2, but as far as I can tell, it's not possible to take screenshots of entire levels, since most don't fit on the screen. So, how is this done? Do you take several screenshots and stitch them together, or is there an easier way that I'm unaware of? Thanks! Vader0629 (talk) 19:01, 21 October 2018 (UTC)
Holodisk/holotape
I've noticed that nearly every holodisk page for Fallout 4 and 76 are labeled wrong with 'Holotape' supertitle when it should be 'holodisk' as the infobox is made to recognize. Could you use your bot to quickly get change all those so they're not defaulted as a miscellaneous item? Shadowrunner(stuff) 17:24, 5 December 2018 (UTC)
Trying to update the Fallout 76 page and I got a ton of time on my hands
For reasons I found myself with between 20-30 hour a week setting in front of a computer. I got nothing to do so I want to make this Fallout wiki the best it can be. I just need help fixing the portal page. As you know 76 has a level based armor and crafting system that doesn't work with the old templates so I started with leather armor and will be working my way through all of the crafting. I just want to be able to fix the PORTAL page so it will people in the right direction. In addition due to the level based crafting it may be necessary to make several page for equipment instead of one massively long page. Using some of the text and Lore from older game pages will work but I'd say about 70%-80% of the current information on 76 is in error because it was generated based on Fallout 4 or the bad strategy guide. If I can get a link to where I can learn about these edits I'll do all the ground work. Thanks man
Map location
I cannot seem to figure this out. How do you add a location's spot on the map of Appalachia to the page? I've created several new locations and I can't figure out how to get this on them. Is it some part of the header on the source? --Sablemalamute (talk) 21:38, 9 January 2019 (UTC)
Fallout 76 values
Yeh, I hated it when other people changed systems and things didn't import anymore. I used to be responsible for systems at work that depended on data imports from elsewhere as well as uploading our data to others. I can comiserate. You have a better system than other wikis; with the templates there's only one location for the data but the learning curve is much steeper for new editors. I've never looked into the back-end of the Bethesda games and usually waited for the GOTY version before even buying them. This is the first time for me that the wikis aren't fully finished. I'll do some light editing as I accumulate data but I have to take camera shots of the screen and work from the pictures so it's slow going. Thanks for the insight. For the question if the values are scaled, they are not. Five values that were all listed as 50 are actually 13/13/12/13/45/22.
Creation Club content
I have no idea how to deal with those two later contributions (January 11) … Keep 'em? --

-- You talkin' to me? -- cCContributions -- 12:13, 12 January 2019 (UTC)
NCR, Klamath, and Vault City
Do you know if there's a concrete source for Klamath and Vault City being part of the NCR? There was a post on /r/falloutlore regarding canon sources and Gamepedia was mentioned and ultimately these two cities. After looking at these three pages and the sources used, I'm having trouble understanding the logic being the claim that Klamath and Vault City being NCR-controlled.
1. Vault City - The only source is dialogue with Rose of Sharon Cassidy, but she doesn't actually state that the NCR controls Vault City, just that a) Vault City guards are pacifists and B) doesn't want to be buried in Vault City. The comment about NCR territory having spread is more-so speculation as it's not confirmed.
2. Klamath - The only source is dialogue with Klamath Bob regarding a reference to The Chosen One visiting the town and that it's a source for gecko skins and meat.
I'm just really confused on these sources, but wanted to check with someone else prior to editing. --Sablemalamute (talk) 02:29, 21 February 2019 (UTC)
Bethesda Store Merchandise Information
I was looking around on the Bethesda store, and noticed something interesting on a few of the merchandise, like the "Pick-U-Up Limited Edition", the Fusion Flea Replica, and various other gimmicky item, they have lore regarding their presence, like the Pick-R-Up utilizing a V8 Diesel-Fusion engine and a Fusion Flea newspaper regarding its presence at the Ivanpah Race Track. While I don't have any of those items, would it be in the realm of canon to create a page for merchandise on a case-by-case basis to add lore and backgrounds to certain vehicles and items within Fallout's universe, or would it go out of the boundaries of canon, since it's still gimmicky merch, and could apply to other semi to non-canon items, like the Wasteland Warfare or Fallout Board Games if not regulated? - Ss2077 (talk) 05:52, 3 March 2019 (UTC)
Wasteland 2
Sorry, didn't know talk pages existed here earlier. Anyway, I left a comment on your talk page on Wasteland Wiki about extracting inventory icon images. Please reply as soon as you can so I can use the missing images for these uncreated articles. Biggie1994 (talk) 10:35, 5 March 2019 (UTC)
Tabber for character infobox
I tried putting an if statement in the character infobox that would look for <tabber> and just let it be without encasing it in a [[File:|320px]] so I could get rid of all the footer images we have on characters in multiple games. What I tried didn't work at all, so I thought I'd ask our resident expert of HTML scripting could take a look and tell me how badly I did. Devsatatin' Dave(ZIP ZAP RAP) 15:33, 30 March 2019 (UTC)
Companion comments
On the Nuclear fission page you changed the note line of the car explosive comments to "car park". Which car park? Back when I still had access to the game, I tried in vain to find where those lines were to be spoken. I was able to confirm a good number of location comments though. If we can nail down the location we can update the companion pages.--Ant2242 (talk) 21:25, 16 June 2019 (UTC)
Twitch widget injections?
I've noticed every once in a while the FO76 weapons page gets edits to add a widget that loads someone's Twitch stream. Is that typical?
Example: https://fallout.gamepedia.com/index.php?title=Fallout_76_weapons&type=revision&diff=2123050&oldid=2121389
Sorry if this falls under the "drama" bucket