| | |
| --- | --- |
| | This is a lore summary, presenting intradiegetic or in-universe information about the subject. For game characteristics and similar data, consult the table on the right. |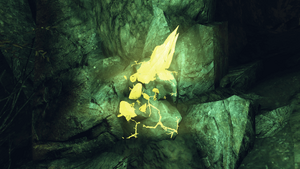 Ultracite is a unique material endemic to Appalachia, with properties as unique as they are dangerous.
Background
Ultracite is a unique, radioactive glass-like material discovered by Atomic Mining Services beneath the soil of Appalachia. Although its origins mystified AMS scientists, its properties did not: Ultracite was an incredibly potent source of energy, to the point on near inexhaustibility. Although its potency could slag reactors and cause meltdowns, when properly handled it could supply enough power to keep industrial-grade machinery working for decades. AMS fully believed it to be the future fuel source for the entire United States - and with them in control of the supply, their hegemony on the market.[1] At first, AMS started locally, powering Watoga and leasing their technology to the two major corporations on the mining market in Appalachia: Hornwright Industrial Co. and Garrahan Mining Co., as well as the energy conglomerate Poseidon Energy. The contracts came with strings attached: To power the Excavator power armor, Garrahan had to make a decade-long commitment to AMS technology.[2]
While they secured a dominant position on the market, AMS also worked to remove the obstacles to widespread adoption of ultracite nationwide: Depleted ultracite played havoc with the regular material, resulting in a corrosive reaction melting both materials, necessitating extreme care in separating and containing the two materials. However, that complication was only second to the biggest one: AMS did not understand the creation process for ultracite. This led to situations where shafts marked as failure could suddenly develop veins of ultracite, as was the case with mine shaft no. 9 near the town of Welch. The ultracite vein rapidly developed, emerging not just in the shaft, but inside the town.[3] In order to maintain their monopoly, AMS quickly secured property rights - on within twelve hours - and moved in to force everyone in the town off of their property. Unsurprisingly, the move radicalized the already angry miners.[4]
Eventually, it was determined that ultracite was the result of ore responding to extreme environmental factors. To replicate them, AMS decided to perform underground nuclear tests in order to create artificial ultracite. The "radioactive glass", as contractors came to call it, could be reliably obtained that way and made the expense entirely worthwhile.[5]
Characteristics
Ultracite is a high-level crafting material in Fallout 76, used to manufacture high-end power armor and modifications for late-game equipment.
References