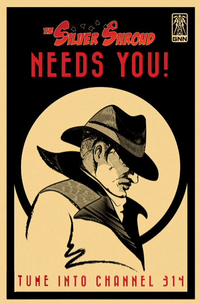 The Silver Shroud was a multimedia franchise focused on the eponymous Bostonian crime fighter. It was popularized as a radio drama by Galaxy News Radio that aired in the Boston area before the Great War. The Silver Shroud's popularity led to his inclusion in The Unstoppables comic book other Hubris Comics properties and even a televised show that was in planning stages in late 2077.
Production
The Silver Shroud was a popular radio drama, featuring a noir superhero fighting villains in modern-day Boston. Written by Tina Hopkins for Hubris Comics and Galaxy News Network, the radio show was a staple of Boston popular culture, though it lacked appeal outside the city.[1] In order to tap into these markets, Hubris Comics decided to create a television show based on the drama, bringing Aaron Babowski, a noted television producer, to aid with the shooting. The work started around October 2077, with Babowski managing to almost instantly alienate Tina Hopkins with the changes he introduced to and the method he used. He made stealth revisions to the shooting script, such as introducing an English butler for Silver Shroud. This was another in a long line of alterations that Hopkins believed would alienate the core fans of the series.[2] On October 11, Hopkins involved Vivian O'Dell in her desperate attempt to contain Babowski and his changes. O'Dell actually supported the changes in order for the series to get to the small screen, but promised her to talk with Babowski, despite believing it to be a lost cause.[1]
Her concerns were not noted by the company, which was more concerned with the general success of the series, rather than retaining their user base. When Hubris agents managed to convince Claire Redelle to accept a role as the Mistress of Mystery on October 14, Evans Richelli and Aaron Babowski decided that such a high profile actress would ensure the success of the TV series. Losing her to Wisemans or other competing companies due to Hopkins standing in the way was unacceptable, and so they would have to ensure that Hopkins would leave the project. Her contract with Hubris was ironclad, so the only way they could achieve it was by making her quit of her own accord.[3] As expected, their choice did not go down well with Hopkins once she received the news the following day. The actress did not fit the Mistress of Mystery in her opinion, no matter what the gross for The Tomb of Amun-Ra was. Apart from being a redhead (as opposed to a brunette, as Mistress was envisioned), she had a shrill, waif voice, completely unfit for a character who's supposed to be a confident match for the Silver Shroud. She preferred Shannon Rivers for the role, who voiced the Mistress in the radio series and even looked the part despite being older than Claire. She promised to quit should Claire remain on the project, much to the satisfaction of the executives.[4] O'Dell promised to intercede on their behalf, and reached out to Babowski via electronic mail to protest Redelle's casting.[5][6]
Babowski was adamant in the reply, claiming the contract with Claire is signed and it's impossible to reverse course. He also casually dismissed Shannon Rivers as unsuitable for the role, based on her age: 20 years late for the role, with a face made for radio, in his own words. Then he also asked for more romance scenes between Mistress and the Shroud. And if the lead writer won't make them, she can be replaced by one of his associates from Hollywood.[7] Peter Shiner, the executive of Hubris Comics, got involved in the project two days later, on October 18, backing Babowski's choice of Claire for the role and the alterations to the costume, while stating that both O'Dell and Hopkins were right: Redelle needed to become a brunette for the series and her voice just didn't fit the character. He proposed dubbing Claire over in post-processing, with Shannon providing the voice.[8]
Rather than acquiesce, Babowski decided to gamble. His message from October 20 was a calculated attempt to push Hopkins over the edge. Beyond adding a monkey in a wig to the script (mocking the suggestion that Redelle wear a wig to cover her fiery red hair), he suggested that the wig be dropped entirely and that Shannon Rivers be dismissed, so as to not annoy the actress (after she delivers her lines as the Mistress, of course).[9] Hopkins' response to such treatment was immediate: She quit, deciding to accept a job offer from Manticore, a competing company. All according to Hubris' plans.[10]
However, their triumph was short-lived, as on October 23, the entire world was scorched by nuclear flame. The TV pilot was never completed.
Show
The Silver Shroud consisted of 420 episodes (419 regular and one holiday special) written with Tina Hopkins as lead writer.[11] Crossovers with other Hubris properties were very popular, particularly ones in The Unstoppables continuity (the 2071 The Silver Shroud vs. Captain Cosmos is one example).[12]
It also included a number of minor characters, such as the cryonic villain Mister Abominable from Episode 83.[13][14]
Mechanist story arc
The only story arc available in Fallout 4, it is divided into six parts. It begins with the murder of Mayor Murphy in Scollay Square. Silver Shroud and Mistress of Mystery kill a pair of thugs responsible for the murder, only to be forced to flee to the Mistress' hideout after Fat Fahey, local crime boss, wounds Shroud in a confused firefight when he happens upon the scene. Although Shroud recovers from his injuries, they are forced to run as Boston Police surrounds the hideout. The duo decides to infiltrate Fat Fahey's operations to learn of his role in the Mayor's death - after all, nobody casually struts through Scollay Square in the middle of the night. Disguising herself as a bar girl, Mistress convinces one of Fahey's gangsters to lead her into his boss' hideout. Once there, she and Shroud try to interrogate the ruffian, only to be attacked by a horde of mobbots.[15]
They emerge victorious after a desperate battle. Fat Fahey turns out to be a robot. The intrepid duo track down his master's location with the help of a damaged mobbot, who craves revenge on his maker. They find the Mechanist at a pier in Boston Harbor, speaking to an army of robots and planning the wholesale destruction of the city. Before they can act, however, they are caught by robots. Suspended over a pit of fire, they are freed by the vengeful mobbot, who gnaws through the rope. The Mechanist attempts to use Silver Shroud's gun against him, but the bullets bounce off his trench coat, mortally wounding the villain. In the closing scene, the Mechanist is revealed to be none other than Mayor Murphy, who faked his own death in order to accomplish his plans.[15]
Notes
Appearances
The Silver Shroud character appears only in Fallout 4 and is mentioned in Fallout 76.
Behind the scenes
The Silver Shroud as a character, given his appearance and start as a radio program, is heavily influenced by the real-world radio drama and comic book character the The Shadow.
Gallery
References
↑ 1.0 1.1 Hubris Comics terminals; Writer's Terminal, 10-11-77: "From: Vivian O'Dell
To: Tina Hopkins
Subject: RE: Now an English Butler?!
I'll talk with Mr. Babowski, but I wouldn't get my hopes up. Pete brought him in because he gets television. We have to accept that there's going to be changes to get to the small screen. I agree our fans are important - but the Silver Shroud's numbers outside of Boston are... well, not ideal. A lot is riding on the success of the pilot. If Mr. Babowski thinks an English butler could help the show - please, hear him out.
I love the work you and Vince have done with the Shroud. We wouldn't be shooting this show without you. I know it's tough, but hang in there."
↑ Hubris Comics terminals; Manager's Terminal, 10-11-77: "From: Tina Hopkins
To: Vivian O'Dell
Subject: Now an English Butler?!
I came into work today and found another stealth revision to the shooting script. Now the Shroud has an English butler? I keep telling Babowski that we need our core fans to be our evangelists. So we can't keep making these stupid little changes. You have to talk to him before you go on vacation. Otherwise, I swear I'm bringing it up to Pete."
↑ Hubris Comics terminals; Producer's Terminal, 10-14-77: "From: Evans Richelli
To: Aaron Babowski
Subject: Claire can't wait
I tried stalling her, but things are spiraling over here. Her agent was having dinner with Maxwell over at the Derby. Not good. Claire's still on board. She loves the script. She especially loves the outfit, you got the shots of that, right? Yowza. So I don't care what's going on over there - we need to sign her before we lose her to the Wisemans... or someone else.
We looked into that Hopkins contract. It's ironclad. The only way she's out is if she walks. Her partner signed over his rights to Hubris, but she still has hers. If she even thinks of going to a lawyer, you gotta work your magic, Babo. Imagine if we needed her approval?"
↑ Hubris Comics terminals; Manager's Terminal, 10-15-77: "From: Tina Hopkins
To: Vivian O'Dell
Subject: PLEASE HELP
I want to pull my hair out. Babowski has cast and signed a contract with Claire Redelle for the role of... the Mistress of Mystery. I don't care how much The Tomb of Amun-Ra grossed. The Mistress of Mystery is a brunette. Not blonde, brown, and definitely NOT A RED-HEAD!
And have you heard Claire's voice? The Mistress of Mystery is confident, a match for the Shroud at his best day, not some half-starved waif that's known for her shrill screaming. Shannon Rivers has worked for us for decades. She is THE voice of the Mistress of Mystery - end of story. She's even a natural brunette. She's not as young as Claire, but surely we can do something with lighting to help with that.
If we don't fix this, I swear I'm walking. I won't have my name in the credits for this train-wreck."
↑ Hubris Comics terminals; Writer's Terminal, 10-15-77: "From: Vivian O'Dell
To: Tina Hopkins
Subject: RE: PLEASE HELP
Shannon is family. I promise you I will fight for this. This needs to be resolved before Sunday. I'm not cancelling my honeymoon (again) over this. Make sure Babowski doesn't sneak out before I can grab him."
↑ Hubris Comics terminals; Producer's Terminal, 10-15-77: "From: Vivian O'Dell
To: Aaron Babowski
Subject: Mistress of Mystery Casting
It has come to my attention you've hired Claire Redelle for the role of the Mistress of Mystery for the show. This is unacceptable. The Mistress of Mystery has an iconic look - she must be a brunette. The Mistress of Mystery is a strong female protagonist, not some damsel in distress. Shannon Rivers has voiced MoM for years and is beloved in the Shroud and every other radio drama she's been a part of.
I know we've had our differences, but this affects more than the Silver Shroud. The MoM and the Unstoppables are big brands. We absolutely must talk before I go on my vacation."
↑ Hubris Comics terminals; Manager's Terminal, 10-16-77: "From: Aaron Babowski
To: Vivian O'Dell
Subject: RE: Mistress of Mystery Casting
Vivi, relax. If it's that important to you, maybe we can put Claire in a wig. But the contract is signed, so this is happening. What is it with you guys and Mrs. Rivers, anyway? Maybe 20 years ago. But now, she's got a face made for radio. Am I right? Claire's got star power and that's what we need. I talked with Petey-boy and he's agreed to a couple new scenes. We need romance. And Claire's got the goods.
If Tina can't roll with this then I can fly in one of my boys from Hollywood. He's a class act.
I got a full schedule today, dress rehearsals until 8. This can't wait until you're back from the Bahamas. So if we have to meet, 8's my only window."
↑ Hubris Comics terminals; Producer's Terminal, 10-18-77: "From: Peter Shiner
To: Aaron Babowski
Subject: MoM Casting
Vivi got ahold of me before she left. I got the photos of Claire and she's dynamite. Love the alterations on the costume, it still feels like the comic but more believable. So I'll back you there. But I'm with Vivi. MoM's a brunette. Period. And her voice needs to be strong. Claire's voice isn't. Can we have Shannon dub over Claire in post (that's the word, right?) That would be the best of both worlds."
↑ Hubris Comics terminals; Writer's Terminal, 10-20-77: "From: Aaron Babowski
To: Tina Hopkins
Subject: Need lines
Tina, baby, we needed those new lines yesterday. I don't know how you do things in radio, but we got catering, foleys, best men, and actors sitting around on their tushes because of your most recent delay. We're not writing Shakespeare here. It's TV, right?
I know you don't like the new monkey, but focus loves him. He's testing better than Claire in that silly wig. Speaking of which, Claire's agent is really not loving the wig. Really, really not loving it. Claire's flying in Monday and by then I think it's best if we nix the wig. Am I right, or what? And Shannon's being a real peach standing in for her while Claire wraps up her film - but it may be best if she's not around when Claire flies in. Will you take care of that? Thanks."
↑ Hubris Comics terminals; Producer's Terminal, 10-20-77: "From: Tina Hopkins
To: Aaron Babowski
Subject: I QUIT!
Effective immediately, I quit. You can explain to "Petey" how you lost the lead writer for the Silver Shroud. And after everything Shannon has put up with if you want to fire her, do it yourself. Manticore's been wanting to hire me for years. Looks like your loss is their gain."
↑ The Sole Survivor: "What can you tell me about the Shroud?"
Kent Connolly: "

He's from the radio shows! I've listened to all 419 episodes. And the holiday special.

He's the best. Better th-than Grognak and Manta Man combined.

"
(Kent Connolly's dialogue)
↑ The Sole Survivor: "Escape? What do you mean?"
Kent Connolly: "

Reliving old memories. Like Thanksgiving 2071.

Ma made a 12 pound turkey. And then we all listened to, "The Silver Shroud vs. Captain Cosmos." Even pa was there.

You ever listen to the Silver Shroud? That's who we need. No matter how bleak things got he'd save the day.

"
(Kent Connolly's dialogue)
↑ The Sole Survivor: "I was in cryogenic storage for a long time. I only just woke up."
Kent Connolly: "

Oh man, that's amazing. You're just like Mister Abominable from Episode 83.

"
The Sole Survivor: "Who's Mister Abominable?"
Kent Connolly: "

He was a cave man. Got frozen in an iceberg from prehistoric times. When they thawed him out he went on a rampage. It took the Shroud and Manta Man combined to take him down.

Boy, if you just woke up. The world these days, must take some getting used to.

"
(Kent Connolly's dialogue)
↑ Kent Connolly: "

After all these years, the Silver Shroud is born again! But... there's just one problem.

I'm just not Silver Shroud material. I could be Rhett Reinhart or-or his butler Jarvey Blake. But the Shroud is strong, capable.

"
(Kent Connolly's dialogue)
↑ Preston Garvey: "

The Silver Shroud! I'll admit it, I've always been a huge fan.

"
(Preston Garvey's dialogue) Note: When at the studio in Hubris Comics.