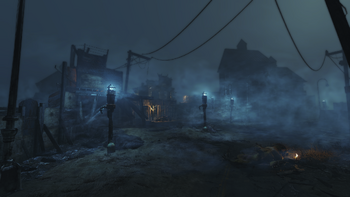 The Fog is a radioactive mass of cloud material that plagues Mount Desert Island and the surrounding islands. Known to drive people mad (as in the case of the barbarous Trappers that can be found on the island),[1] it also brings with it many dangerous creatures such as Gulpers and Anglers. The Fog has been around as long as the townspeople can remember,[2] but it can wax and wane from time to time[2] (when Old Longfellow was young it covered the entirety of the island),[1] and has been growing stronger in the years leading up to 2287; a phenomenon attributed to the Children of Atom by the people of Far Harbor.[3] Fog condensers were an invention by DiMA given to the residents of Far Harbor in an effort to protect them from the harmful effects of the Fog,[4][5] but the Children of Atom embrace it and see it as a means of their deity Atom taking over the island.[6]
When broken down condensed fog consists of oil and steel.
Deep Fog
The Deep Fog is a more dangerous portion of the Fog, composed of hard fallout, and it is where Fog Crawlers are known to stay.[1][7]
References
Expansion required

This article is too short to provide more than rudimentary information about the subject. You can help

The Vault

by

expanding it

.