The Adventures of Captain Cosmos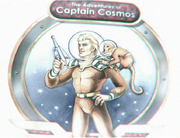 The Adventures of Captain Cosmos was a science fiction television program, radio serial, and comic book by Hubris Comics. It aired in the Capital area prior to the time of the Great War. The serial also had a crossover with the Silver Shroud.[1]
Characters
Comic books
Captain Cosmos: The Radioactive Space-Men from Space!
Captain Cosmos: Vs. the Moon-Men! (September 2077)
Notes
Appearances
Captain Cosmos and his show appear on various posters and loading screens in Fallout 3, Fallout: New Vegas, Fallout 4, and Fallout 76.
Behind the scenes
The show aired at 8:00 p.m. on Thursdays (a reference to the original series of Star Trek, which aired in the same time-slot during its first two seasons).
On the Hubris Comics receptionist terminal, under the 'release schedule' section, it says that the comic 'Captain Cosmos: Truth, justice and the Space-American way' is due for release in June. This is a reference to Superman's famous catchphrase; "Truth, justice and the American way."
The inclusion of the monkey, while a reference to the wacky plot lines of 50's TV, is most likely a homage to the first mammals in space (Albert and Albert II), also monkeys.
Gallery
References