Template:Featured article/Project V13/28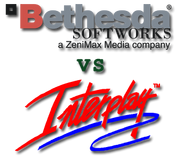 Bethesda Softworks LLC v. Interplay Entertainment Corporation was a legal dispute between Bethesda Softworks, the current owner of the Fallout franchise, and Interplay, the publisher of the original Fallout games. It concerns alleged trademark infringement in connection with past and future Fallout products.
On September 8, 2009 Bethesda filed its original lawsuit against Interplay in the Maryland District Court in Baltimore. In October 2009, Interplay filed its own counter-lawsuit, arguing Bethesda is in breach of contract and the contract to sell the rights to the series to Bethesda is null and void and Interplay owns the franchise again. Aside from disputes regarding the distribution of past Fallout games, Bethesda Softworks claims that Interplay was in breach of the Fallout MMO agreement for failure to commence full scale development by April 4, 2009 and to secure certain funding for the game. Interplay disputed these claims and that it had the right to develop Project V13, together with Bulgaria-based Masthead Studios. On January 9, 2012 Bethesda Softworks announced that the long-lasting litigation between Bethesda and Interplay, over the rights to Fallout Online ended with a settlement in which Bethesda acquired full rights to the MMO in exchange for paying Interplay $2 million. Interplay's rights to sell the original Fallout games will also expire on December 31, 2013.