Template:Featured article/Fallout 3/18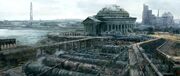 The Jefferson Memorial is a presidential memorial in Washington, D.C. that is dedicated to Thomas Jefferson, an American Founding Father and the third president of the United States.
After the Great War, the Memorial was turned into something that resembles a water filtering facility with low-tech construction all around it and many pipes going in and out. It is not known if the original statue of Jefferson stands or not.