Template:Featured article/Fallout: New Vegas/22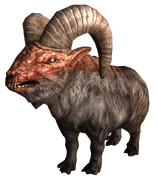 Mutated from Bighorn sheep, bighorners are dedicated herbivores which are primarily found in wild herds of three to seven members in the Mojave Wasteland. Domesticated drifts of varying size in settlements such as Goodsprings provide settlers with horns, meat and fur. According to Easy Pete, bighorners cannot be used as pack animals.
They are generally laid-back beasts with surprisingly docile dispositions. Wild bighorners growl and snort if someone gets too close, and only attack if the offender does not back away from them fast enough. Bighorners with young, however, become enraged if their young are approached, and fight to the death with very little provocation in order to protect their offspring.