Template:Featured article/Fallout: New Vegas/17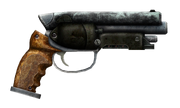 That Gun is a unique futuristic-styled revolver which fires 5.56mm caliber ammunition. It is considered the successor to the .223 pistol, though its effectiveness has been considerably reduced compared to the earlier titles.
According to J.E. Sawyer, its name is derived from the fact that players referred to it as "That Gun from Fallout and Fallout 2".