Template:Featured article/Fallout: New Vegas/15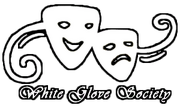 "You see? We remain the very picture of courtesy, even in the face of such impolite accusations. We have nothing to hide here."
Rumored to be a former all cannibal, ex-ghoul faction, the White Glove Society is the organization that runs the posh Ultra-Luxe hotel and casino. Once reformed cannibals, some of them now wish to return to cannibalism by abducting random casino patrons. They wear formal wear or White Glove Society attire, and most wear a White Glove Society mask and are armed with a dress cane.