Synth

Technical
Actor

Salli Saffioti

(female synths)
Synth is a common term used to refer to sentient beings manufactured within the the Institute laboratories, ranging from skeletal early models, to those virtually indistinguishable on the outside from human beings.[1]
Nomenclature
See also: Synth designation
Both android and synth are technically correct terms, used interchangeably by The Institute to refer to its creation. The former term has been deprecated at Shaun's insistence, following the introduction of third generation models.[2]
Synths are all issued a four character identification number when processed and assigned duties. It always begins with a letter, followed by a number, dash, and two more letters. The precise system governing designations is unknown. X but the M prefix identifies a known infiltrator synth (M7-62)[3] and a synth that infiltrated the structures of the Brotherhood of Steel (M7-97). The only known constant is that X designates a Courser (though there's one with a Z prefix and another with an A).[4]
History
Synths have been manufactured by the Institute for decades, with the precise date when the first generation synths were fielded to the Commonwealth remains unknown; however, it was at a time when The Institute had not yet become the bogeyman of the region, and were able to continue their work in relative peace. Further attempts to work peacefully with the native inhabitants of the Commonwealth eventually culminated in mutual mistrust that ended any possible relationship between the two entities quickly.[5]
By the 2170s, the first generation synth were no longer enough for the Institute's needs, and in order to overcome the limitations of limited and non-renewable materials, the Institute endeavored to create synthetic flesh, so that their creations could more safely traverse the above world. Research into this officially began in 2178 under the auspices of Doctor Frederick, on F.E.V. samples, despite the objections of some senior members of the BioScience division.[6] Both women and men were abducted from the Commonwealth and submerged in The Institute's modified FEV, their mutations carefully tracked and extensively investigated. Successful mutations would be monitored to ensure survivability, then tagged and discarded.[7] The research was intended to produce effective synthetic organics, but it ground to a halt in March 2224, as the research team concluded that the organic synth project could not proceed despite perfecting two FEV strains for the project. Radiation-induced hereditary damage proved too much of an obstacle.[8]
Just three years later, in 2227, the organic synth project was spun off from the FEV research initiative due to the acquisition of Shaun and his undamaged pre-War genetic code. He was recovered by Conrad Kellogg,[9][10] and his DNA became the basis of the third generation of synths in a project led by Dr. Walter.[11] The infant Shaun became Father to a whole family of engineered super-beings. Of course, tests were not without setbacks - in 2229, a defective 3rd generation infiltrator caused the Broken Mask Incident, vilifying the Institute in the eyes of the Commonwealth.[12]
Meanwhile, existing first generation units were provided with a suite of upgrades, in order to increase their functionality and allow for increased deployment into the Boston ruins. Designated as second generation synthetics, bridging the gap between the skeletal and human-like synths, these models are characterized by thick artificial skin, and yellow, glowing eyes that give them the appearance of a creepy porcelain doll. These second generation synths continued to serve the Institute well into 2287, along with the first generation remnants, although plans were made to gradually retire both the first and second generations in favor of organic synths, with the remainder of mechanical units relegated solely to surface duties.[13]
Overview
First generation
The first models created by the Institute are skeletal creatures with an unmistakable provenance. Patterned after the human silhouette, their basic chassis consists of a human-like skeleton constructed from alloys, with the power cell and additional mechanisms stored where the chest cavity would be, while visual receptors and the primary processing unit are contained within the artificial skull. Limbs are minimalist, articulated by a network of tensile fibers, simulating muscle action, like in early human prostheses.[14]
In practice, first generation synths are simple, yet effective machines. They are employed by The Institute for menial labor within the Institute, maintaining the hundreds of systems keeping the underground habitat in operation, and performing tasks that can be easily automated.[15]
However rugged they are, they have major flaws. While capable of recognizing human speech and interpreting commands given to them, they require careful programming and instructing, as well as patches to keep them in operation.[16] The most notorious functionality of first generation synths is navigational software, which requires frequent patching and fixing. Pathfinding software frequently causes first generation synths to try to walk through walls.[17]
Second generation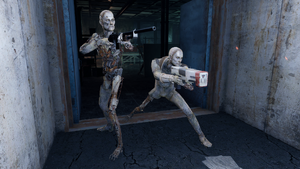 The most common variant of mechanical synth in the Commonwealth, second generation synthetics are essentially Gen 1 synths provided with a suite of upgrades to their mechanisms and programming. The most noticeable difference is the inclusion of an internal mesh that shields the mechanisms of the synth from damage and provides support for the artificial skin layer that makes the Gen 2 similar to a human. Their optical sensors are also more advanced models, being essentially mechanical eyes, as opposed to the rudimentary cameras of Gen 1s.[14]
The Gen 2 synths are primarily used on the surface, where the artificial skin layer and improved mechanics improve their performance well above that of Gen 1s. Apparently prototyped using Nick Valentine as basis, Gen 2 synths are primarily used for resourcing operations. They are feared, as they're usually witnessed stripping entire settlements down for parts and killing everything that gets in their way.[18][19] One of the latest targets of a Gen 2 stripping unit was University Point, which saw its population exterminated for resources.[20]
Of course, due to their mechanical nature, mechanical synthetics can suffer from major software bugs, for example, causing them to remain in a single room executing its duties in a loop due to faulty navigation software. Other failures are typically mechanical in nature, with their servo motors and drives breaking down due to age.[17] In fact, most second generation synths have lasted long past their projected lifespans, with all the bugs that crop up due to overuse.[21]
Third generation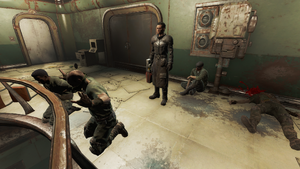 The most advanced synthetics created by the Institute are fundamentally different from their predecessors. Despite sequential numbering, they are unrelated to their mechanical counterparts, in fact. They are derived from Shaun's pre-War DNA extensively modified using the Institute's own research into the Forced Evolutionary Virus, combining the advantageous adaptations encoded into FEV with the versatility of the human body shape. This allowed the Institute to create a variety a of synths of varying races and appearances despite the base DNA coming from only one source. They are the result of nearly five decades of research, from 2178 to 2227.[6][9][22][23][24]
Third generation synthetics are unlike humans and some liberated synths do not consider themselves human at all. The reasons for this are multiple, chief among them is the assembly process.[25] Other reasons include the fact that synths do not require sleep at all to function properly, are completely immune to disease, and don't require the intake of food or water to generate energy for their bodies certainly contribute.[26]
Variants
Second generation
Name
Level
Perception
Base health
Resistances
Attack damage
XP reward
Synth
28
4
180
Variable
Variable
Variable
Variable
Institute pistol, Institute rifle, security baton
10
Synth strider
13
4
140
Variable
Variable
Variable
Variable
Institute pistol, Institute rifle, security baton
20
Synth patroller
21
4
265
Variable
Variable
Variable
Variable
Institute pistol, Institute rifle, security baton
32
Synth seeker
29
4
300
Variable
Variable
Variable
Variable
Institute pistol, Institute rifle, security baton
42
Synth trooper
39
4
425
Variable
Variable
Variable
Variable
Institute pistol, Institute rifle, security baton
55
Synth assaulter
49
4
500
Variable
Variable
Variable
Variable
Institute pistol, Institute rifle, security baton
55
Synth stormer
61
5
635
Variable
Variable
Variable
Variable
Institute pistol, Institute rifle, security baton
87
Synth eradicator
71
6
760
Variable
Variable
Variable
Variable
Institute pistol, Institute rifle, security baton
102
Third generation
Third generation synths primarily exist as distinct characters, rather than generic creatures for the player to slaughter. There are two generic variants encountered in the Institute: Institute synths and Coursers. Other third gen synths encountered are named:
Gallery
Appearances
Synths appear primarily in Fallout 4. The character Harkness in Fallout 3 is a synth but is referred to as an "android."
Behind the scenes
The design of generation 1 and 2 synths take inspiration from vintage prosthesis.[27]
References