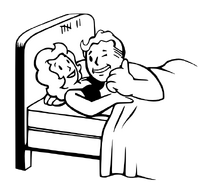 | | |
| --- | --- |
| | For an overview of sex, see Sex. |
Sexuality is the capacity to have erotic experiences and responses. In the context of this article, it refers to the sexual orientation of the inhabitants of the wasteland. The majority of sapient wasteland denizens are heterosexual, with a significant population of homosexual wastelanders. Bisexuality can be assumed to exist (and is, indeed, possible for the Chosen One, Courier, Sole Survivor, and possibly the Resident, to be bisexual if the player so desires), but there exist few references to it.
The majority of prostitutes in the wasteland cater to heterosexual clients, though most also accommodate same-sex customers. Curiously, the majority of prostitutes seems to be female.[1]
Attitudes towards homosexuality
Attraction to the same gender is an orientation not uncommon in the wasteland. However, while heterosexuality is universally accepted (and even enforced, as described above), the attitudes towards homosexuality vary. For example, while the Brotherhood of Steel has no official policy, the small size of the organization means that some members believe that procreation is the civic duty of every member of the Brotherhood, and shun homosexuals.[2] On the other hand, New California Republic is generally accepting of homosexuals, though tolerance (including many other tolerances) tends to fall off and disappear the farther one comes out to the frontier with general views of homosexuality as perversion at best.[3][4] For example, homosexual servicemen usually hide their orientation when being deployed to frontier regions, like the Mojave.[5]
On the other end of the spectrum lies Caesar's Legion. In order to maximize breeding and eliminate factors that might lower it, Caesar has decreed homosexuality a capital offence. Individual legionaries may form homosexual relationships, but they have to keep a tight lid on them, lest they incur the wrath of Caesar. In case of suspicion, legionaries may try to dispose of evidence by murdering their partners, a usual recourse if the partner is a servant, rather than legionary.[6] Curiously, foreigners who have not dealt with the Legion tend to believe that it is actually openly accepting of homosexual relations[7][8], this is likely because of misinformation spread in NCR territory as a way to mock and demonize the Legion.[9]
Indifference is also an attitude not uncommon in the wastelands. For example, anyone who does their job well for the Bishops of New Reno can expect to have their orientation accommodated without prejudice by the family head.[10]
References