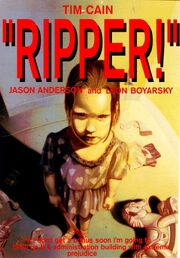 Ripper! was a pre-War motion picture, prominently featuring a young girl with a knife, perhaps the titular ripper. The poster was intended to mark the Rippers' territory in Fallout, but it was relegated to use as scenery after the Rippers were ripped out and replaced with deathclaws, establishing the deathclaw warehouse.
Behind the scenes
Although unreadable in the game, a high resolution version of the poster shows that it's a movie describing the bonus situation at the time of the game's development. With Tim Cain as director and Leon Boyarsky and Jason Anderson as stars, the film's tagline promised that "If [they] don't get a bonus soon, [they're] going to blow up the administration building with extreme prejudice."
Appearances
The Ripper! movie poster appears only in Fallout.