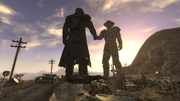 Ranger Unification Treaty was a bilateral agreement signed between the New California Republic and the Desert Rangers of Nevada in 2271 at the Mojave Outpost.
Provisions
Under the treaty, the Desert Rangers were absorbed into the New California Republic Rangers. In return, the New California Republic took on the burden of protecting Hoover Dam, New Vegas, and southern portions of Nevada against the forces of the Caesar's Legion.[1][2]
Result
The Desert Rangers brought their traditional garb, military combat armor worn underneath desert dusters, along with them (note that the NCR Veteran Rangers had their infamous suits of Black Armor long before the Desert Rangers were merged with the NCR Rangers).[3] The combination proved to be popular and by 2281, veteran Rangers of the Republic all wear a similar combination of clothing to distinguish themselves from the NCR Army and other Rangers.[4]
Additionally, a monument was erected at the Mojave Outpost to commemorate the signing of the treaty.[5]
Appearances
The Ranger Unification Treaty is mentioned only in Fallout: New Vegas.
References