Obi-Wan Finale - The Loop
Play Sound
| | |
| --- | --- |
| | This is a lore summary, presenting intradiegetic or in-universe information about the subject. For game characteristics and similar data, consult the table on the right. |
RadAway is a consumable item in Fallout, Fallout 2, Fallout 3, Fallout: New Vegas, Fallout 4, Fallout 76, Fallout Shelter, and Fallout Tactics: Brotherhood of Steel.
Background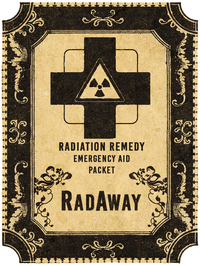 One of the marvels of pre-War medical science, RadAway is a biomedical solution designed to bond with radioactive particles and remove them from the user's system.[1] It effectively purges the body of radiation, but has nasty side effects, including nausea, diarrhea, stomach pains, and headaches.[2][3][4] It has to be applied intravenously to work, making it a scary prospect for those afraid of needles.[5][6]
Variants
RadAway
The standardized variant of RadAway, available in a variety of packagings throughout the wasteland.
RadAway: diluted
A diluted version of RadAway.
References