| | |
| --- | --- |
| | For a general article about a possible Fallout MMO, see Fallout Online. |
Project V13 (also known as Fallout Online or FOOL) was a canceled massively multiplayer online game (MMOG) set in the Fallout world that was being developed by Interplay and Masthead Studios. Chris Taylor, Mark O'Green and Jason Anderson, three of the creators of the original Fallout, were among its developers.
Interplay's rights to developing and publishing this game were the subject of a legal dispute between Bethesda Softworks, the current owner of the Fallout franchise, and Interplay. The dispute ended in January 2012 with a settlement in which Bethesda acquired full rights to Fallout Online. In December 2012 "resurrected" Black Isle Studios started a crowdfunding campaign to re-build Project V13 as a post-apocalyptic strategy RPG with no relation to Fallout series.[1]
Development team
Project history
Past attempts
According to Feargus Urquhart, when Brian Fargo was still the president of Interplay, Fargo proposed a possible Fallout MMO to be made by Black Isle, but Urquhart refused.
After Urquhart's refusal the game is believed to have been developed by Engage Games Online.
At one point, Fallout Tactics developer Micro Forté was also contracted to develop Fallout Online but the project was eventually canceled.
Interplay/Masthead project
In November 2006, Interplay, headed by Herve Caen, filed a Form 8-K filing to the United States Securities and Exchange Commission (SEC) regarding a potential Fallout massively multiplayer online game.[2] In April 2007, Bethesda Softworks, the developer of Fallout 3, purchased full rights to the Fallout IP for $5.75 million USD. While Bethesda now owned the rights to the Fallout MMO IP as well, clauses in the purchase agreement state allowed Interplay to license the rights to the development of the MMO.[3] Specific requirements were stated in the agreement that if not met, Interplay would immediately lose and surrender its license rights for Fallout. Development must have begun within 24 months of the date of the agreement (April 4, 2007), and Interplay must have secured $30 million within that time frame or forfeit its rights to license. Interplay would furthermore need to launch the MMOG within 4 years of the beginning of development, and pay Bethesda 12 percent of sales and subscription fees for the use of the IP.
In November 2007, Interplay reopened in-house development and hired Fallout developer Jason D. Anderson as creative director for an unannounced MMO.[4] Given the aforementioned facts, it's most likely that the game Anderson was working on is Interplay's Fallout MMO, given that he was the contact name of Interplay's jobs appliance and that Fallout was referred in the job requirements.[5] In March 2009, Anderson left Interplay and joined InXile Entertainment.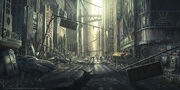 On June 30, 2008, it was announced that Interactive Game Group (created by Frederic Chesnais, former Chief Executive Officer of Atari, which now also owns MicroProse) purchased 2,000,000 shares of Interplay stock, as consideration for entering into a game production agreement, likely related to Fallout Online.
On April 2, 2009 Interplay announced a binding letter of intent with Masthead Studios, a Bulgarian-based developer, to fund the development of Project V13. Masthead and Interplay teams will work together under the direction and control of Interplay to complete development of the project.[6][7]
On June 15, 2010, the game was officially announced as Fallout Online.
Legal dispute
On April 15, 2009, it was announced that Bethesda Softworks moved to rescind the Fallout MMORPG license. Interplay received notice from Bethesda that it intends to terminate the trademark license agreement, claiming that Interplay is in breach of the agreement for failure to commence full scale development by April 4, 2009 and to secure certain funding for the game. Interplay disputes these claims.[8]
On July 15, 2009 Interplay's Project V13 developer Chris Taylor posted a reply on the Interplay website "Project V13" Forum thread refuting the claims that Interplay lost the rights to the Fallout MMORPG.
On September 8, 2009 Bethesda filed a copyright infringement lawsuit against Interplay in the Maryland District Court.[9]
On December 10, 2009 the Maryland District Court decided to deny Bethesda's request for preliminary injunction. Interplay is therefore able to continue development on the project until the case is finished.[10]
On January 9, 2012 Bethesda Softworks announced that the long-lasting litigation between Bethesda and Interplay, over the rights to Fallout Online ended with a settlement in which Bethesda acquired full rights to the MMO in exchange for paying Interplay $2 million. Interplay's rights to sell the original Fallout games will also expire on December 31, 2013.[11]
Future status
On December 20, 2012 Black Isle Studios started a crowdfunding campaign to re-build Project V13. Having lost all rights for Fallout IP, they now position it as a "post-apocalyptic strategy RPG". Right after the start the campaign was heavily criticized for being rather nontransparent and for not having a specific goal.[12][13]
Gallery
Concept art
Picture names in quotation marks denote names given to the art by Fallout Online's art director, Serg Souleiman, or another member of the development team.
Proof of concept screenshots
These screenshots are from an early proof of concept and they do not represent the appearance of the final product.
Videos
External links
References