| | |
| --- | --- |
| | For an overview of various models of power armor in the Fallout series of games, see Power armor. |
"
A self contained suit of advanced technology armor. Powered by a micro-fusion reactor, with enough fuel to last a hundred years.
"
The Eastern Brotherhood power armor, called simply power armor in the game, is a piece of armor in Fallout Tactics.
Characteristics
The ultimate armor for anyone in the squad exposed to danger (i.e. anyone). Although expensive and has a laundry list of penalties associated with it, it's nevertheless a mandatory suit for endgame missions for pretty much all members of the squad.
Locations
Availability is restricted by rank within the brotherhood. It is available at the rank of paladin but at a hefty price of $19500.
Notes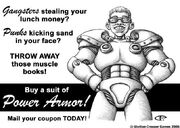 According to the cancelled Fallout d20, the Eastern Brotherhood power armor was based on a commercial variant that was available briefly before the Great War.
Behind the scenes
I would redo the sprite of the Power Armor to make it more retro. Not that there is anything technically wrong with the sprite, it's a great piece of art. It's just that it is a bit out of place in the Fallout Universe. But bear in mind that we had to design it over a year ago and Interplay approved everything we did. - Tony Oakden, producer of FOT (Freelancer interview)
Our original art estimates were based on Interplay providing the model data for most of the in-game graphics, such as all the characters and creatures that had been created in the original Fallout 1 and 2. Once the project was started, Interplay informed us that it was not possible to retrieve the art from the tape backups they had. - Tony Oakden (Gamasutra: Postmortem: Micro Forte's Fallout Tactics)
Why does the Power armor look so different from previous models? - Different group of BOS, different technology. - Ed Orman (Freelancer news)
Gallery
In-game art
Renders
Concept art
Final version concept art
Early version concept art
See also