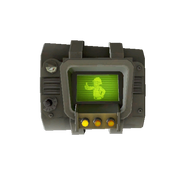 The Pip-Boy is a promotional miscellaneous item in Team Fortress 2, by Valve.
The device is modeled after the Pip-Boy 3000 series produced by RobCo Industries. When equipped, the Pip-Boy features a revised PDA HUD to match the looks of the device.
Notes
A Genuine Pip-Boy was awarded to all players who owned Fallout: New Vegas before August 8, 2011.
Update history
August 3, 2011 Patch
The Pip-Boy was added to the game.
August 4, 2011 [Item schema update]
Changed name from "Pip-Boy 1950" to "Pip-Boy".
August 9, 2011 Patch
This item can be purchased, traded, crafted, gifted and found in random drops.
Gallery
Promotional Steam pop-up for Pip-Boy offer, as well as specials for Fallout 3, New Vegas, and their DLCs.
See also
External links