Nuclear fission
Nuclear fission is a nuclear reaction or radioactive decay process in which the nucleus of an atom splits into smaller, lighter nuclei.
Overview
Originally discovered in 1938, nuclear fission was quickly discovered to be a source of large amounts of energy, unleashed both as electromagnetic radiation and as kinetic energy. These principles allowed nuclear fission to be harnessed both as a weapon, starting with the nuclear bombings of Hiroshima and Nagasaki, and as a powerful energy source. Economic pressures culminated in what is best termed a nuclear economy in the United States of the 21st century, when shortages of petroleum and other resources forced the nation to switch to nuclear fission and nuclear fusion as the primary sources of energy. Certain unscrupulous companies, like Mass Fusion, even had the audacity to sell fission products as "fusion," reaping the benefits.[1][2]
To improve their bottom line, these companies would also demonstrate a wanton disregard for environment, dumping nuclear waste in the wilderness with barely any containment. Nevada and its vast deserts was a popular choice,[3] although the aforementioned Mass Fusion would happily buy up nuclear waste and dump it in remote corners of Massachussetts.[4][5]
Uses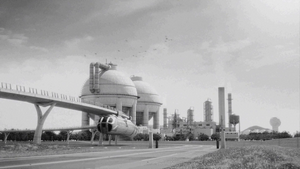 With petroleum becoming a prohibitively expensive commodity and oil restricted for strategic uses, fission became the primary source of power until the advent of nuclear fusion in 2066. Although expensive and dangerous when used improperly, fission was used widely in a broad variety of applications, including:
See also
References