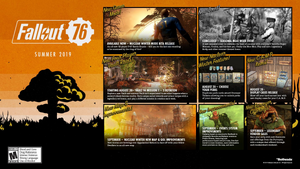 Nuclear Winter is the next content drop for Fallout 76, following the example of Wild Appalachia.
The first component added was the eponymous Nuclear Winter mode. The Battle Royale Sneak Peek began on June 10, 2019, and was to last until June 17th, until community excitement resulted in the mode being added permanently as a pre-beta mode.[1]
Planned content
June 10
New mode: Nuclear Winter, a Battle Royale between 52 players for the position of Overseer of Vault 51, as its ZAX unit searches for a new leader.

Synchronizes with Adventure mode: XP transfers to adventure mode.
July 16
Patch 11: Various improvements to power armor, the Nuclear Winter game mode, and general gameplay and other quality of life improvements and balances. (patch 1.2.1.18)
August 1
August 13
Perk Selection: In Nuclear Winter, players will be able to utilize Overseer Tickets to select perks if they receive duplicate perk cards. (Pushed back to August 20th)
August 20
New location: Vault 94 opens, with four player raids available. There are three to begin with, cycling at the end of each week.
Display Cases: Exactly what it says on the tin.
New features: Prestige! Players above level 50 can become Legendary, resetting characters, while receiving new and more powerful abilities.
September
Morgantown map for Nuclear Winter and quality of life improvements,
Changes to Event systems, reclassifying multiplayer events as Public Events, with new performance-based reward rules, free fast travel, event previews, and more. This includes Event: Encryptid!
Purveyor Murmrgh receives an upgrade, with new upgrades, discounts, and offerings, as well as unique weekly deals.
Gallery
Trailer
Dev Diary
References