Nightkin (Fallout: New Vegas)
Nightkin are a variant of Mariposa super mutants living in the Mojave Wasteland in 2281.
Background
Nightkin served as a covert force of the Master's Army in the 2150s and 60s. They acted as spies and the occasional assassin for the cause of the Unity, executing whatever was asked of them by the Master.[1] When the Master was destroyed by the Vault Dweller circa 2162, the nightkin were without guidance and drifted into the greater wasteland.
In 2277, a group led by Marcus settled in Black Mountain and broadcast a message of invitation to the settlement for all mutants to here. However, a mentally unstable nightkin named Tabitha was able to influence the unintelligent and impressionable second generation super mutants into thinking she was a prophet who knew better than Marcus. Marcus could see what was on the horizon and left Black Mountain before chaos erupted.[2]
Marcus led several nightkin into the mountains to the west of Black Mountain and founded Jacobstown. This settlement has remained a safe haven for nightkin where they can get help and rehabilitation from Stealth Boy induced schizophrenia.[3]
An entirely separate group of nightkin have taken over the REPCONN test site, following rumors that the facility holds a shipment of Stealth Boys.[4]
Characteristics
Biology
In humans, phenotypical changes brought upon by the Mariposa strain are substantial, accomplished by recursive growth patterns integrated in FEV. In order for the mutation to succeed, the subject needs to have a low level of radiation-induced damage[5] and should not have been exposed to the mutated FEV in the wasteland.[6][7] Subjects that do not meet these criteria will suffer a massive overhaul of the body's systems, leading to organ failure and an extremely painful death.[5][8]
The average super mutant is 3.2 meters tall and weighs in excess of 350 kilograms. Muscle accounts for over 75% of body mass, while bone and tissue are 10% each. Fat mass is exceedingly low, accounting for between 3-5% of body mass.[9] The increased muscle and body mass lead to a change in posture: FEV super mutants have a characteristic, hunched stance. The skin tone changes substantially and becomes gray with tints of light green, though as the mutant ages, it may become more green or even olive. The skin becomes much thicker and resistant to trauma, including cuts, bruises and damage from fire, acid or even gunfire.[9] Despite this resistance to trauma, completely destroyed tissues cannot be regrown, and will result in permanent scarring or organ loss.[10]
These changes are uniform across mutants, due to the aforementioned growth patterns and pre-programmed DNA loaded into the virus. This also has the effect of removing secondary sexual statistics, in favor of a pre-programmed masculine body shape. Primary sexual characteristics, such as the penis and testicles in males and the uterus and ovaries in females are unaffected.[11] However, super mutants are sterile, as FEV perceives gametes as damaged DNA and corrects them, resulting in sterility.[9][5]
Increased size of neural transmitters and synaptic receivers in the body give super mutants acute reflexes and heightened senses.[9] However, these changes are usually not accompanied by a similar rise in intellect. The FEV strain in Mariposa has a chance of modifying intelligence: while most people retain their pre-dipping intellect,[12] a majority of the remaining group experiences a loss (typically by 30%),[9] while the remaining minority of exceptional individuals may even experience an increase.[12] The loss is the result of damage caused by recursive growth and increase in brain mass, which may be accompanied by disfigurement and damage to existing neural patterns, causing loss of memory.[5]
The most stunning effect is practical immortality. Although theorized to only bring an approximate 10% increase in life expectancy,[9] the FEV strain in Mariposa results in a cell regeneration rate that exceeds cell death rate and prevents DNA degeneration through aging. The Hayflick limit is believed to have been completely overcome. This allows a super mutant to live for centuries, though if care is not given to exercising one's intellect, elder mutants may suffer from onset of dementia and Alzheimer's disease.[13] Death is made even more unlikely by the fact that super mutants are immune to common diseases[14] and radiation.[15]
The nightkin share all of these characteristics with their brothers. They differ in that they are the perfect fulfillment of the mutation, with the highest level of strength, resiliency, and their intelligence retained or even enhanced by the process. Subsequent alterations to their biology were caused by prolonged use of Stealth Boy technology. The stealth field caused permanent recoloration of their skin pigment, to a gray blue color. More importantly, it has caused neuro-chemical changes to occur in their brains, leading to mental instability and disorders, including schizophrenia, delusions, and even split personalities.[16][17]
Their personality is an interesting element. Their superiority resulted in the development of an arrogant, borderline chauvinist streak in many, not helped by the preferential treatment they received. As nightkin developed their mental disorders, however, their personality slowly changed. They slowly started to lose tolerance for being seen, relying increasingly on their Stealth Boy to remain invisible to the naked eye, fueling a vicious cycle of cumulative mental damage.[18][19]
Gameplay attributes
Nightkin are essentially the same to their normal super mutant counterparts, but have an innate 30% damage resistance, but possess no damage threshold. The major difference between nightkin and super mutants is the method in which they conduct combat. While super mutants rely on brute force and overpowering equipment, nightkin rely heavily on Stealth Boys to close distance undetected and strike when close to their enemy.
They are moderately rare among large super mutant populations, serving as elite reserves when normal guards fail. However, they may strike out on their own or in small groups, usually to search for Stealth Boys. A notable exception is Jacobstown where a large majority of the population consists of nightkin and attempts are being made to rehabilitate nightkin from their Stealth Boy induced schizophrenia.
Friendly nightkin will also comment on any followers the players have in tow:
Variants
Nightkin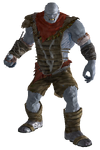 Blue mutants made from the most untainted humans, these dangerous creatures utilize Stealth Boys to sneak up on their victims. They often prefer melee weapons such as the super sledge or the bumper sword though some can be seen using firearms.
Name (Base ID)
Statistics
Behavior
Abilities
Items
Nightkin


000e7a2a




0007ea2b




0007ea2d

Aggressive: Will attack enemies on sight.

Foolhardy: Will never flee or avoid anyone.

Helps friends: Will help friends and allies.

Nightkin (Jacobstown)


0013afdc




001445bb




001445bc

Aggressive: Will attack enemies on sight.

Foolhardy: Will never flee or avoid anyone.

Helps friends: Will help friends and allies.

Melee (4 )

Radiation resistance 100%

Dead None
Nightkin jailer

This nightkin jailer guards the makeshift jail area of REPCONN test site. The only prisoner is a dead ghoul, a friend of Harland.
Name (Base ID)
Statistics
Behavior
Abilities
Items
Nightkin jailer


000bac89

Aggressive: Will attack enemies on sight.

Foolhardy: Will never flee or avoid anyone.

Helps friends: Will help friends and allies.
Nightkin master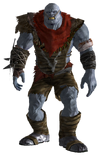 Similar to a regular nightkin, these mutants have more health and utilize better equipment. Nightkins do not have a brute variant, so they jump to masters. These master usually carry around heavy weapons like light machine guns and miniguns.
Name (Base ID)
Statistics
Behavior
Abilities
Items
Nightkin master


0007ea2c




0007ea28

Aggressive: Will attack enemies on sight.

Foolhardy: Will never flee or avoid anyone.

Helps friends: Will help friends and allies.
Nightkin sniper

A unique nightkin found standing on a radio tower outside Tabitha's station carrying a hunting rifle. Upon death it will drop the unique missile launcher Annabelle. This nightkin may also use Annabelle against the player which can be quite a challenge and almost fatal to players at a low level.
Name (Base ID)
Statistics
Behavior
Abilities
Items
Nightkin sniper


000e794e

Aggressive: Will attack enemies on sight.

Average: Will avoid/flee from threats stronger than itself.

Helps nobody: Will not help anyone.
Locations
Super mutants and nightkin are fairly rare in the Mojave Wasteland; they will never be found wandering the wasteland at random, and will only be encountered in a few specific locations.
Appearances
These nightkin appear only in Fallout: New Vegas.
See also
References