| | |
| --- | --- |
| | This is a lore summary, presenting intradiegetic or in-universe information about the subject. For game characteristics and similar data, consult the table on the right. |
Mutfruit is a mutated apple that appears in various forms throughout the Fallout series.
Background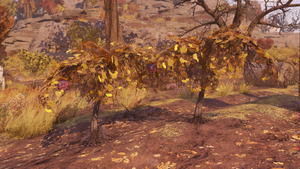 Mutfruit or Malus maatta, is a mutated species of apple.[1] Like its ancestor, cultivated worldwide for its sweet taste and culinary properties, the mutfruit has gained an enduring popularity across the wasteland thanks to the mutfruit plant's hardiness and tolerance for a broad variety of soils. Though its fruit is mutated and strangely shaped compared to the apple,[2] it remains a popular cultivar among wasteland farmers and is a staple element of many wasteland dishes.[3]
A ripe mutfruit has a sweet taste, much like the apple,[4] and is an incredibly versatile ingredient.[5] They can be consumed directly, processed into juices and teas, used to make a variety of wasteland tequila,[6] nutritious omelets,[7] and even as a source of micronutrients for ailing patients, including ghouls.[8]
One peculiar feature of the mutfruit is that it has a particular sugar compound that stimulates platelet production and can close wounds. However, when grown in the wasteland, the compound cannot be obtained due to residual radiation and the natural toxins that develop in the fruit to ward off pests. Curie's experimentation with the mutfruit in the Commonwealth can yield an unique mutafruit, strain 17, genetically bred in sterile conditions to remove both problems and create a next generation stimpak.[9] However, some wasteland chemists have come up with a way to use the citric acid from the fruit to upgrade regular stimpaks into their super variants.[10]
Varieties
Green

A version closely related to the original apple, including the green coloration. In fact, save for the aberrant growth, it would likely be indistinguishable from its ancestors.
Regular
A mauve-colored mutated apple and the most common cultivar across the wasteland.
Crunchy

A variant of the mutfruit more closely related to the original apple fruit, with a red/purple skin. Wasteland cooks have harnessed its properties for the wasteland omelet.
Gallery
References