Jurassic World: Dominion Dominates Fandom Wikis - The Loop
Play Sound
| | |
| --- | --- |
| | This is a lore summary, presenting intradiegetic or in-universe information about the subject. For game characteristics and similar data, consult the table on the right. |
Mutated flux flora is a mutated type of plant that temporarily manifests in the wake of a nuclear detonation, with unique properties. It's used as a high level crafting material in Fallout 76.
Background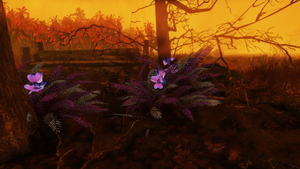 Flux flora is a type of mutated flora that briefly emerges in the wake of a missile detonation. The radiation and extreme conditions can fundamentally change the nature of the affected plant's tissue, showing exceptional versatility in manufacturing, as a fuel and component for advanced weapon and armor systems.[1] There are five types of flux, each of which emerges from a different kind of plant and requires stabilizing with chemical components for long-term storage and use. Inert flux is useless, except as an irradiated, but highly hydrating consumable item.[2]
Before the Great War, the military believed that the intense radiation would only produce hideous monstrosities only fit for extermination. The appearance of the flux, collected and researched by the Enclave in Appalachia, was a major surprise, along with their exceptional versatility and volatility. However, the relatively brief lifespan of the flux rendered them a historical curiosity, rather than a permanent element of wasteland survival.[3]
Types
Cobalt
The cobalt flux is generated by mutated bloodleaf (quantum leaf), firecracker berry (bomb berry), glowing resin (gloam sap), silt bean (neutron pod), starlight creeper (kiloton creeper), wild corn (aftershock stalk), and wild mutfruit (wild fission fruit).
Crimson
This flux type is generated by mutated asters (red hot bloom), blight (bright blight), brain fungus (enlightened fungus), cranberry (blast berry), firecap (blast cap), mothman eggs (ionized crackleberry), and wild gourd blossoms (boom blossom).
Fluorescent
The unusually glowing type of flux is generated by mutated glowing fungus (glowing mutshoot fungus) and rhododendrons (raydodendron).
Violet
This type of flux is generated by mutated giant pitcher plants (irradiated pitcher plants), ginseng (nuka root), mutated ferns (flash fern), snaptails (crackletail), strangler pods (glow pod), wild razorgrain (gigagrain), wild tarberry (half-life hips), and wild tato blossoms (decay vine).
Yellowcake
Named after the impure uranium oxide obtained during processing of uranium ore, yellowcake is deposited by mutated ash roses (rad roses), blackberries (radberry), bleach dogwood (gamma dogwood), soot flowers (geiger blossom), and wild melon blossoms (megaton melon blossom).
Gallery
Behind the scenes
Some components of flux are references to actual nuclear material, such as Yellowcake and Cobalt, and the term flux itself refers to Neutron flux.
References
↑ Flux in Fallout 76.
↑ Automated training 4: "

Due to the region's advanced missile installations, there is a high chance of a retaliatory nuclear strike touching down somewhere in Appalachia.

The intense radiation released by such a blast can have devastating effects on local flora and fauna,mutating them into hideous monstrosities fit only for a quick death.

"
MODUS: "

To the contrary, general, our memory banks suggest quite the opposite.

"
MODUS: "

Our previous residents managed to acquire samples of some materials created shortly after the first bombs fell and what they found was ... illuminating, to say the least.

/

The material samples our previous residents collected after the initial nuclear exchange are impressive things.

/

We have records of the harvests our previous residents gathered from these nuked zones, and what they found was ... impressive to say the least.

"
MODUS: "

Materials of exceptional versatility ... and volatility.

However, if you can stabilize them fast enough, a jaunt into a blast zone, it seems, could be a productive one. /

Versatile ... and volatile. But with proper stabilization, their uses are many.

/

Materials of exceptional power and versatility. If you are feeling courageous, a jaunt into a fallout region, it would seem, can be a fruitful one.

"
MODUS: "

But wherever you nuke, do make sure to don power armor ... or at least a hazmat suit before popping by. Documentation related to these materials can be found in the archives.


MODUS: "

As well, the fissures that have cropped up around the region seem promising as possible sources of materials... along with some added pest control.

/ The map in this room contains the locations of these fissures if you're looking for a target. /

The region's fissures appear particularly intriguing as targets for transformation.

"