| | |
| --- | --- |
| | For the location/alien ship, see Zeta. |
Mothership Zeta

Release date
PC
August 3, 2009
Xbox 360
August 3, 2009
PlayStation 3
October 8, 2009
"
Defy hostile alien abductors and fight your way off of the massive Mothership Zeta, orbiting Earth miles above the Capital Wasteland. Mothership Zeta takes Fallout 3 in an entirely new direction – outer space. Meet new characters and join with them in a desperate bid to escape the aliens' clutches. To do so, you'll wield powerful new weapons, like the alien atomizer, alien disintegrator, and drone cannon, and deck yourself out in brand new outfits, like the Gemini-Era spacesuit and even samurai armor.
"
— Official description
Mothership Zeta is the fifth and final add-on for Fallout 3, developed and published by Bethesda Softworks.
Release and availability
Mothership Zeta was initially released exclusively as downloadable content on Xbox Live and Games for Windows Live on August 3, 2009. It was made available for PlayStation Store on October 8, 2009. For Xbox 360, download codes for Xbox Live are also available in retail.
Like all add-ons, it is included in the Fallout 3: Game of the Year Edition, released on October 13, 2009 for all platforms.
For Steam users, Mothership Zeta, along with all the other Fallout 3 add-ons, is available, released on July 16, 2010.
Overview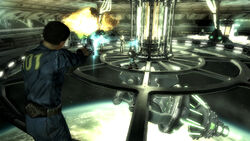 In this add-on, the Lone Wanderer finds themselves abducted by extraterrestrials and taken them aboard their alien mothership after stumbling upon the source of an unintelligible radio transmission and exotic piece of alien technology. Orbiting high above the Earth's atmosphere, the Lone Wanderer must adapt to using alien technology to defeat their alien captors... with the help of some fellow abductees, of course.
The abductees all have special talents and backgrounds from every walks of life. A little girl, a U.S. Army medic from the Anchorage Reclamation, a post-War slaver, a cowboy from the Wild West and a Japanese samurai all aid the Lone Wanderer in their combined mission to escape the foreign environment. After defeating the alien captors, the Lone Wanderer takes control of the mothership, but is able to return to Earth at anytime, leaving this ship in the hands of a capable crew.
Characters
Enemies
Items
Armor and clothing
Weapons
Ammunition
Edibles
Other items
Locations
Perk
Name
Level req
Other requirements
Ranks
Description
Code
Xenotech Expert
-
completion of the raider firing range where you obtain the Destabilizer
1
+20% damage with alien weapons

xx

00abb0
Quests and achievements
Main quests
Other achievements
Bugs
Gallery
Screenshots
Trailer screenshots
Videos
External links