Jurassic World: Dominion Dominates Fandom Wikis - The Loop
Play Sound
Mini nuke

Mini nuke, Big Kid (GRA)
Weight
3 (Hardcore mode only)
Value
500
base id

xx

000868

Mini nuke, low yield (GRA)
Weight
3 (Hardcore mode only)
Value
125
base id

xx

000866

Mini nuke, timed (GRA)
Weight
3 (Hardcore mode only)
Value
250
base id

xx

000867

Mini nuke, Tiny Tots (GRA)
Weight
3 (Hardcore mode only)
Value
100
base id

xx

000a09
The mini nuke is a type of ammunition in Fallout: New Vegas.
Background
Developed at Fort Strong as part of the M42 Fat Man project, the mini nuke is one of the most powerful conventional weapons ever devised. Though the project was plagued by design issues from the beginning, caused by the weight of the micro-nuclear warhead and the resulting low range, the designers eventually happened upon a break through: Instead of trying to reduce the weight of the warhead or the power of the launching system, one researcher proposed falling back on the spigot mortar system, used over 130 years before in PIAT launchers. The ingenious solution was just what was needed to complete the project and by September 2077 the first M42 Fat Man weapon systems were sent to ordnance depots across the United States.[1][2][3]
The mininuke consists of four principal components. The detonator shell on the bottom contains a conventional sub-charge that detonates when struck by the M42's striking pin, catapulting it out of the launcher. Four stabilizer fins attached to it ensure a stable trajectory and prevent tumbling in flight, increasing accuracy (a necessary feature, as the projectile is not spin-stabilized). The hemisphere core is screwed onto the top, containing the nuclear core. Finally, the weapon is fitted with a beryllium contact fuse that starts the nuclear reaction on impact.[4][5][6]
Characteristics
Mini nukes are much less common in Fallout: New Vegas than in Fallout 3: there are only 14 in the base game (12 with the Wild Wasteland trait). They weigh 3 pounds each in Hardcore mode and are shaped like the WWII atomic bomb "Fat Man". Their explosion is powerful, causing a characteristic mushroom cloud and leaving residual radioactivity, initially 40 rads/sec., but which quickly drops to low levels that linger for quite a while. The Lonesome Road add-on introduces the possibility of mini nukes randomly spawning in duffel bags and other containers.
Weapons using this ammunition
Variants
Mini nuke, low yield (GRA)
Added with Gun Runners' Arsenal, it has less explosive power and a smaller kill radius than a standard mini nuke, but increased ballistic range.
Mini nuke, Big Kid (GRA)
Added with Gun Runners' Arsenal, this type is significantly more powerful than a standard mini nuke and produces more residual radiation. The increased damage comes at the cost of reduced range, which can cause serious harm to an unprotected player.
Mini nuke, tiny tots (GRA)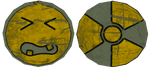 Added with Gun Runners' Arsenal, this type can be used for cluster bombing, with each tiny tots round releasing 9 miniature mini nukes, similar to an experimental MIRV shot. While descending, they make noise similar to incoming Boomer artillery.
Mini nuke, timed (GRA)
Added with the Gun Runners' Arsenal, this type has a 5-second fuse and will not detonate on impact. The time-only fuse allows the round to ricochet off objects or be bounced around corners.
Comparison
Name
DMG
DT
CND
SPRD
Other
Craftable
Empty Casing
Mini nuke
600
x 1
x 1
x 1
10
1700 unit radius
for 12s
No
None
Mini nuke, low yield (GRA)
400
x 1
x 1
x 1
6
Gravity has 20% less influence
1500 unit radius
for 12s
No
None
Mini nuke, Big Kid (GRA)
800
x 1
x 1
x 1
30
Speed decreased from 2500 to 1800
2200 unit radius
for 20s
No
None
Mini nuke, Tiny Tots (GRA)
125
x 1
x 1
x 20
9 projectiles
25 for 12s
Gravity has 60% less influence
Speed decreased from 2500 to 1250
500 unit radius
No
None
Mini nuke, timed (GRA)
600
x 1
x 1
x 1
10
5 second fuse, no detonation on contact
1700 unit radius
for 12s
No
None
Locations
Fixed locations
Fixed locations for mini nukes only, there are no fixed locations for any of the variants.
Vendors
Notes
The GRA mini nukes can only be used with the GRA Fat Man or Esther from the Gun Runners' Arsenal add-on, which also adds an infinite quantity of the new type of ammunition.
Be careful with the Big Kid mini nuke on level ground; its reduced range and increased blast radius can hurt or kill you (along with your target). If you're too close to the explosion, you may have nearly no chance of survival, even with high DT/DR, health, skills and applicable perks.
Mini nukes are the main component of a Fat mine.
When detonated in the air, a mini nuke creates a mushroom cloud rather than a round fireball.
Bugs
alien blaster and almost if not all other ranged weapons.
There is a glitch where sometimes if you kill an enemy and equip the Fat Man, then go pick up the dead enemy's gun, the ammunition from the gun will be converted into mini nukes and will remain in your inventory. This can also be done with the
When using the Tiny Tots mini nuke in buildings it may cause the game to freeze in place.
When using Tiny Tots, the noise they make when falling may not play or endlessly play if shot straight up, not always the case though.
References
Italics denote ammunition added through add-ons
Items
Weapons (Non-unique)
12.7mm Submachine Gun

 ·

25mm grenade APW

 ·

5.56mm pistol

 ·

Anti-materiel rifle

 ·

Assault carbine

 ·

Baseball bat

 ·

Battle rifle

 ·

Chainsaw

 ·

Fat Man

 ·

Fat mine

 ·

Hunting revolver

 ·

Katana

 ·

Laser pistol

 ·

MFC cluster

 ·

MFC grenade

 ·

Nuka-grenade

 ·

Plasma Defender

 ·

Plasma pistol

 ·

Power fist

 ·

Ripper

 ·

Time bomb, high yield

 ·

Tin grenade

 ·

Tri-beam laser rifle
Weapons (Unique)
Bozar

 ·

Cleansing Flame

 ·

Embrace of the Mantis King!

 ·

Esther

 ·

Gehenna

 ·

Greased Lightning

 ·

Li'l Devil

 ·

Medicine Stick

 ·

MF Hyperbreeder Alpha

 ·

Nuka Breaker

 ·

Paciencia

 ·

Sleepytyme

 ·

Sprtel-Wood 9700

 ·

The Smitty Special

 ·

Two-Step Goodbye
Ammo
12 gauge dragon's breath

 ·

12 gauge 4/0 Buck

 ·

12 gauge flechette

 ·

12 gauge pulse slug

 ·

20 gauge shotgun shell, 3/0 buck

 ·

20 gauge shotgun shell, pulse slug

 ·

Hive missiles

 ·

40mm Plasma grenade

 ·

40mm grenade, pulse

 ·

25mm Plasma grenade

 ·

25mm grenade, pulse

 ·

25mm grenade, timed

 ·

12.7mm JHP

 ·

5.56mm match

 ·

5mm JSP

 ·

9mm JHP

 ·

.50 MG, explosive

 ·

Energy cell, optimized

 ·

Microfusion cell, optimized

 ·

Electron Charge Pack, optimized

 ·

Flamer fuel, optimized

 ·

Mini nuke, Big Kid

 ·

Mini nuke, low yield

 ·

Mini nuke, timed

 ·

Mini nuke, tiny tots

 ·

Missile, hive
Weapon mods
12.7mm SMG Laser Sight

 ·

12.7mm SMG Stacked Magazine

 ·

12.7mm SMG Suppressor

 ·

25mm Grenade APW Expanded Drum

 ·

25mm Grenade APW Long Barrel

 ·

25mm Grenade APW Upgraded Internals

 ·

Anti-Materiel Rifle Carbon Fiber Parts

 ·

Anti-Materiel Rifle Custom Bolt

 ·

Anti-Materiel Rifle Suppressor

 ·

Assault Carbine Extended Mags

 ·

Assault Carbine Forged Receiver

 ·

Assault Carbine Light Bolt

 ·

Baseball Bat Cork Core

 ·

Baseball Bat Maple Body

 ·

Baseball Bat Nails

 ·

Chainsaw Alloy Frame

 ·

Chainsaw Carbide Teeth

 ·

Chainsaw Heavy-Duty Chain

 ·

Hunting Revolver Match Barrel

 ·

Hunting Revolver 6-Shot Cylinder

 ·

Katana Authentic Blade

 ·

Katana Balanced Grip

 ·

Katana Protective Sheath

 ·

Laser Pistol Combat Sights

 ·

Laser Pistol Focus Optics

 ·

Laser Pistol Recycler

 ·

Plasma Defender Hi-Capacity Terminal

 ·

Plasma Defender Scope

 ·

Plasma Defender Sheath Stabilizer

 ·

Plasma Pistol Hi-Energy Ionizer

 ·

Plasma Pistol Magnetic Accelerator

 ·

Plasma Pistol Recycler

 ·

Power Fist Chromed Tubes

 ·

Power Fist Hi-Capacity Valves

 ·

Power Fist Ported Chambers

 ·

Ripper Carbide Teeth

 ·

Ripper Heavy-Duty Chain

 ·

Tri-beam Laser Rifle Focus Optics

 ·

Tri-beam Laser Rifle Heavy-Duty Capacitors

 ·

Tri-beam Laser Rifle Hi-Capacity Terminal