Maria
Maria

Requirements
Skill
Guns 0
Strength Req.
2

Attack statistics

Dmg/Attack
20 (

28.8

)

DPS
75 (

151.2

)

DPS (reload)
50.6 (

100.5

)

Crit Dmg
20

Crit % Mult
x2

Attacks/Sec
3.8 (

5.3

)
AP
15
Projectiles
1
Spread
0.2

Ammo & reloading
Ammo Type
9mm round

Ammo/Shot
1

Shots/Reload
13
Ammo Cap.
13

Reload Time
1.7 (

1.3

)
Maria is a unique weapon in Fallout: New Vegas and also appears in the graphic novel All Roads.
Background
The M&A 9mm pistol is a semi-automatic handgun manufactured by M&A Guns Manufacturers.[1] It is a recoil operated, locked breech pistol with a linkless barrel-to-slide locking system and an external hammer. It is a single action pistol, meaning the slide must be pulled manually to cock the weapon and make it ready to fire. The most common wasteland variant of the weapon has a dark grey finish and checkered wooden grip panels, with staggered magazines offering a tremendous 13 round capacity.[2]
Thanks to its low price and ruggedness, it is the standard sidearm of the New California Republic Army and a common sight in the Mojave Wasteland in 2281.
A heavily customized model owned by Benny, head of the Chairmen, Maria is a true work of art. The entire body of the weapon is damascened with decorative floral patterns and a polished nickel finish. The normal checkered grips were replaced by pearl panels, with the image of Our Lady of Guadalupe, considered as a representation of the Woman of the Apocalypse. The weapon has also been reassembled with the use of improved internal parts, giving it improved performance and durability.
It, along with Chance's knife, was responsible for a great amount of Fiend deaths in the pages of the graphic novel All Roads. It is also the gun used by Benny to shoot the Courier in the Fallout: New Vegas introduction cutscene.
Characteristics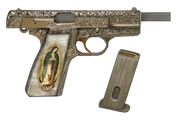 Maria is the unique variant of the 9mm pistol. Apart from the unique appearance, it offers greater accuracy, a higher rate of fire, improved damage per shot, and, of course, it is more durable. The downside is that it cannot mount any weapon modifications.
It is considered an improved holdout weapon (requires Sneak skill 50 or greater).
Variants
Comparison
| Name | Type | Dmg/shot | DPS | Att/sec | Crit mult | Crit dmg | Spread | AP cost | Ammo | Ammo cap | Weight | Item HP | Value | Stat Req. |
| --- | --- | --- | --- | --- | --- | --- | --- | --- | --- | --- | --- | --- | --- | --- |
| 9mm pistol | Semi-auto pistol | 16 | 50 | 3.1 | x1 | 16 | 0.7 | 17 | 9mm round | 13 | 1.5 | 150 | 100 | Guns:0 Strength:2 |
| Maria | Semi-auto pistol | 20 | 75 | 3.8 | x2 | 20 | 0.2 | 15 | 9mm round | 13 | 1.5 | 200 | 998 | Guns:0 Strength:2 |
Location
The Tops: Benny carries it. The weapon can be pickpocketed from him in the Casino or the presidential suite. Alternatively, killing works just as well.
Note that it is possible to obtain two copies of Maria in both of the above encounters.
Related challenges
Gallery
Sounds
References
↑ "Crafted by M&A Guns Manufacturers" is engraved on the slide of the 9mm pistol and Maria in Fallout: New Vegas. [1]
↑

Weapon appearance and behavior.
Parentheses () denote unique weapon variants, italics denote weapons available through add-ons, * denotes holdout weapons.