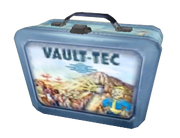 Lunchboxes are a rare bonus item available in Fallout Shelter as rewards for completing objectives and as a purchasable option in the game.
Overview
When opened, a lunchbox provides five Fallout Shelter cards at random (of which at least one card is guaranteed to be rare or better):
Earning lunchboxes
Lunchboxes can be acquired in four ways:
Reward for completing certain objectives.
Reward for completing certain quests.
Special promotions (i.e. commemorating the launch of Far Harbor).
In-app purchases.
Purchase
Lunchboxes are an in-game purchase option for the game. They are not necessary for playing, but can provide a great boost. Lunchbox prices are typically discounted during certain holiday seasons or for other promotional purposes.
| Quantity | Price | Per unit |
| --- | --- | --- |
| 1 | $0.99 | $0.99 |
| 5 | $3.99 | $0.80 |
| 15 | $9.99 | $0.67 |
| 40 | $19.99 | $0.50 |