Love Sets Sail!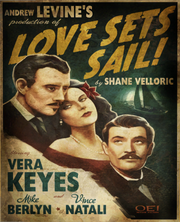 Love Sets Sail! is pre-War romance movie produced by Andrew Levine and written by Shane Velloric and published by OEI Motion Pictures. It stars Vera Keyes, Mike Berlyn, and Vince Natali. Not much is known about the plot of the movie, as most copies were probably destroyed during and after the Great War, but it is known Love Sets Sail! performed well at the box-office when released, drawing the largest crowds of any of Vera's other movies; however, because of its poorly written script it was panned by critics and reviewers.[1] Although Love Sets Sail! has been lost, Vera Keyes' audition plays one of Vera Keyes' lines from the movie.
Appearances
The Love Sets Sail! movie poster appears in the backstage of the Sierra Madre theater in the Fallout: New Vegas add-on Dead Money, as well as the Z-38 lightwave dynamics research building in Old World Blues. It is also mentioned by name in Far Harbor by Gilda Broscoe, citing Vera's uncle being the producer for Gilda not getting the part.[2]
Behind the scenes
Names appearing on the poster were mostly based on inspirations for Dead Money[3]:
The design of the poster is based on the poster design for Lifeboat directed by Alfred Hitchcock and written by John Steinbeck.
References