Lasergrafter

Company data
Industry
Facial reconstruction
Lasergrafter was a pre-War brand of medical equipment, more specifically, facial reconstructers.
Known products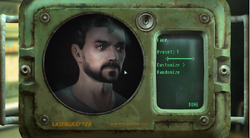 Appearances
Lasergrafter appears in Fallout 3 and in the Fallout: New Vegas DLC, Old World Blues. The name is seen when getting a facial reconstruction from Pinkerton on the facial reconstructer, and the Sink Auto-Doc cosmetic surgery.
Biotech & Medicine
Arktos Pharma Company

 ·

Greenetech Genetics

 ·

Greenway Hydroponics

 ·

HalluciGen, Incorporated

 ·

Lee Rapid Pharmaceuticals

 ·

Livermore/Broansoun Laboratories

 ·

Med-Tek

 ·

West Tek
Business
Acme Realty

 ·

Burnside Bank & Loan

 ·

Cambridge Savings and Loan

 ·

Concord Savings and Loan

 ·

Friendly Lending Company

 ·

Happy Liberty Imports

 ·

Isla Negra Holdings
Computer & Software
Apricot

 ·

Banckom

 ·

Brainpower

 ·

Cyberbrain

 ·

Diamond, Inc. (Skeks Corporation, Computechtron)

 ·

Macrosoft

 ·

PagSoft LLC (PagMem LLC)

 ·

SoftLock Solutions, Inc.

 ·

Think Machine

 ·

Virtual Strategic Solutions, Inc.
Entertainment & Media
Big Daddy Billiards

 ·

Big Ranch Nevada State Lotto

 ·

BKM Recording Company

 ·

Boston Bugle

 ·

Broadway Cinema

 ·

Capitol Post

 ·

Cat's Paw

 ·

Charleston Herald (company)

 ·

Don't Be Bored Games Company

 ·

El Periódico de las Aburridas

 ·

Fantastique Cinema

 ·

Galaxy News Network

 ·

Hubris Publishing (Hubris Comics, Hubris Software)

 ·

Imperial Records

 ·

OEI Motion Pictures

 ·

Planned Diversion Programming

 ·

Radiation King

 ·

Sanders Brothers

 ·

Timlist

 ·

Vault-Tec Game Studios
Industrial manufacturing
Abraxodyne Chemical

 ·

Atomic Mining Services

 ·

Bumbalo's

 ·

Daisy Outdoor Products

 ·

DeepFreeze Kitchen Storage Corporation

 ·

Dunwich Borers LLC

 ·

Garrahan Mining Company

 ·

H&H Tools, Inc.

 ·

Hornwright Industrial Mining Company

 ·

LGJG

 ·

M&M Construction Incorporated

 ·

Radiation King

 ·

Red Racer

 ·

Schlocket Industries

 ·

Schoelt

 ·

Snap-Off

 ·

Stihl

 ·

Washo

 ·

Wilson Automatoys

 ·

Eckhart Unlimited
Refreshment
Bawls Guarana Corporation

 ·

Big Boss

 ·

Big Horn Saloon

 ·

BlamCo

 ·

Dandy Boy

 ·

Fancy Lads

 ·

Greasy Prospector

 ·

Grey Tortoise

 ·

Mama Dolce's Food Processing

 ·

Nuka-Cola Corporation

 ·

Olde Royale

 ·

Pyramid

 ·

Saddle Up

 ·

San Francisco Sunlights

 ·

Spring Valley

 ·

Sunset Sarsaparilla Company

 ·

Supa Yum!

 ·

T.V.G.

 ·

Vim! Pop Incorporated

 ·

YumYum
Retail
A Cuppa Joe

 ·

Blades

 ·

Buck's Steak House

 ·

Cornucopia Fresh Groceries

 ·

Dot's Diner

 ·

Fallon's Department Store

 ·

Freddy Fear's House of Scares

 ·

Joe's Spuckies

 ·

Mary May

 ·

Nifty Thrifty's

 ·

Pioneer Café

 ·

Red Rocket

 ·

Rita's Cafe

 ·

Slocum's Joe

 ·

Solitare

 ·

Super-Duper Mart

 ·

The Jerk
Technology & Robotics
Acme

 ·

Big MT

 ·

BosCom

 ·

Bysshe Company

 ·

Calpower

 ·

Cambridge Polymer Labs, LLC

 ·

Codac

 ·

General Atomics International

 ·

GDA Fusion (Verdant-Air Wind Power)

 ·

House Industries (RobCo Industries (REPCONN Aerospace))

 ·

Lasergrafter

 ·

LightLife

 ·

Mass Fusion

 ·

National Electric

 ·

Nuka-Advantax

 ·

Poseidon Energy (Hermes Communications, Inc.

 ·

Petró-Chico, Poseidon Gasoline, Poseidon Oil, Prometheus Coal)

 ·

ProSnap

 ·

Pulowski Preservation Services

 ·

Rok-Solid Brand

 ·

Steam Whistle

 ·

Sure Power

 ·

Universal Electric, Incorporated

 ·

Vault-Tec Corporation (Future-Tec)

 ·

Versicorps

 ·

Wattz Electronics