Language
Cleanup (Sort phrases)

To meet

The Vault'

s quality standards, this article or section may require cleanup. Please help by

improving

the article.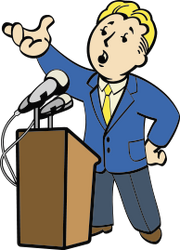 Language in the Fallout series consists of a combination of pre-War languages from across the world to new post-War dialects and languages that could be considered their own.
Note: Not all foreign language phrases have perfect translations, and the translation given may have other variants or possible meanings.
Pre-War languages
Chinese
The official language of the People's Republic of China, Chinese or Mandarin unsurprisingly not appear often in the post-War world. It is spoken by the Shi of San Francisco, and small fragments of Chinese are also spoken by the moored submarine pilot Zao in the Boston harbor.
Phrases
English
The English language, arising first in medieval England and eventually becoming a lingua franca, is the prevailing language in post-War America. It is the standard for business and daily life throughout the wasteland.
French
A near-rare language to come across in the post-War world, French is still utilized by some.
Phrases
| | |
| --- | --- |
| | Section needed |
Phrase
Translation
Appearance
Mon Dieu
My god

Latin

Latin, a classical language used by the ancient Romans and considered dead even before the Great War, made a resurgence as inspiration for the society known as Caesar's Legion. Latin phrases are also present in the Brotherhood of Steel, including their commonly used rallying cry ad victoriam.

Phrases

| | |
| --- | --- |
| | Section needed |

Norwegian

A Germanic language and official language of Norway, Norwegian dialogue can be heard from the survivors of the Wreck of the FMS Northern Star in Fallout 4. The passengers on the ship ghoulified and became raiders, but they retained their Norwegian language continuing into 2287.

Phrases

| | |
| --- | --- |
| | Section needed |

| Phrase | Translation | Appearance |
| --- | --- | --- |
| | | |
| | | |
| | | |
| | | |
| | | |
| | | |

Spanish

Spanish or Castilian is a Romance language originating in Spain and eventually being in Mexico, from where its influence in the Fallout series is visible. Fallout: New Vegas' Petró-Chico company's name and slogans are Spanish. The pre-War film Adios Muchachos seen at Fantastique Cinema in Fallout 3 is also Spanish.

Phrases

Tribal languages

Dead Horses

Sorrows

White Legs

See also

References