Joshua Graham

The Malpais Legate
The Burned Man
"
I have been baptized twice, once in water, once in flame. I will carry the fire of the holy spirit inside until I stand before my Lord for judgment.
"
Joshua Graham, known as the Malpais Legate to the Legion and the Burned Man after his defeat at the First Battle of Hoover Dam, is a legendary figure in the history of the Mormons, the Legion, and tribes of former northwestern United States. Born in New Canaan, Graham experienced both the lofty heights of power and the depths of despair, first as the military commander of the Legion under Edward Sallow, then as the fallen Burned Man and a prodigal son. His stubborn refusal to die after being cast into the Grand Canyon elevated him to mythical status, striking fear into the hearts of superstituous legionaries[1] and members of tribes of Utah and neighboring states.[2]
Although he constantly suffers from the burns sustained at the hands of Caesar, Graham continued along the path of a warrior, fighting to protect New Canaanites. After the fall of New Canaan, he took up residence among the Dead Horses as their acting war chief, determined to shield survivors and tribes of Zion from the White Legs.
Background
Early life
Joshua Graham was born in New Canaan, a Mormon community established in what remained of the city of Ogden, Utah. He grew up in peaceful times, learning the trade of a missionary and an interpreter, due to his natural aptitude for languages. By the time he left his home in 2246, to spread the good news to the people of the wasteland, he was already fluent in several tribal dialects. His knowledge made him a natural choice when the Followers of the Apocalypse asked for assistance in their expedition to the Grand Canyon. Graham departed Canaan, following the Long 15 and Highway 89 south towards Arizona, meeting Calhoun and Sallow on the way, sent by the Followers to provide education to local tribes and study their dialects.[3]
The Blackfoots were their first stop in the Canyon. Joshua proved to be a capable interpreter, though eventually the hospitality of their hosts was replaced with hostility. Whether it was an error in translation that Joshua mad or some unrelated misunderstanding, the Blackfoots decided to hold the entire expedition for ransom.[4][5] This was a problematic situation, as the Blackfoots were at war with seven other tribes in the Grand Canyon, and losing fast. Against Calhoun's objections, Sallow decided to take charge of the situation: He taught the tribes how to care for their weapons, make explosives, work as a combat unit, with Graham continuing to serve as interpreter and the first war leader of the Legion. Graham was indispensable to Sallow's plan, who turned the disorganized tribe into a capable fighting force, trained in small unit tactics, weapon use and maintenance, and the manufacture of arms and weapons.[6]
Malpais Legate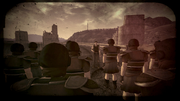 Thanks to his teachings and Graham's skills, the Blackfoots prevailed over the other tribes, becoming the nucleus of the Legion. Graham became a commander, training the forces of the fledgling army and leading them in battle. His leadership position soon entailed retaliatory raids and terrorizing local tribes prior to assimilation into the Legion. When Sallow crowned himself Caesar, Graham became his first Legate, the Malpais Legate.[7] [8] For thirty years he helped Caesar conquer the tribes of Utah, Colorado, Arizona, and New Mexico, forging the Legion. But all great men eventually end. For Graham, the end came at the First Battle of Hoover Dam.[9]
Caesar's obsession with uniting the wasteland under the banner of his Legion resulted in him attacking the New California Republic in 2277. After a series of skirmishes east of the Colorado, Caesar's 68[10] attacked the Dam. Graham's tenacity was legendary at this point: Despite efforts by both the NCR Rangers and 1st Recon east of the Colorado and five kill reports on Graham, the Legate remained a menace at large. [11] However, Graham underestimated the enemy while overestimating his own skill as a commander. He deployed his legionaries in the usual fashion, trying to defeat the Republic as he fought the tribes out east. Chief Hanlon anticipated this move, drawing the legionaries into a trap.[12] As General Lee Oliver's soldiers held the line, Rangers and Army sharpshooters targeted their commanders, sowing chaos in Legion ranks. When the Legate ordered his elite forces to punch through and pursue Rangers decimating his officers and sowing chaos in the ranks, the Rangers and 1st Recon sharpshooters retreated into Boulder City. Elements of the Army and Rangers kept the Legion engaged long enough to allow the most experienced legionaries to enter the city. When they did, the Republic's forces pulled out of the city. Once most of them were safe (soldiers and Rangers trapped behind Legion lines had to be abandoned, they triggered explosives packed into the buildings in advance. Chief Hanlon's plan went off without a hitch: The exploding buildings acted as giant fragmentation bombs, killing and maiming most of the legionaries and leaving the rest in a state of shock. The Army and Rangers followed the detonation with a counter-attack, destroying the Legion on the western side of the Colorado and forcing the Malpais Legate to retreat from the Dam. Flanking attacks at Camp Golf and other camps in the Mojave were similarly repulsed.[13]
The Malpais Legate returned to Caesar in shame. To demonstrate that failure is not tolerated, even at the highest of ranks, Caesar ordered Graham to be burned alive. The former Legate was covered in pitch, lit on fire, and thrown into the Grand Canyon, for leading the Legion into its worst defeat in Legion's history.[14]
Prodigal son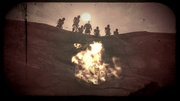 "
I survived because the fire inside burned brighter than the fire around me.
"
Graham survived the fall. He woke up the following day, burned, broken, but alive. Eventually, the fallen Legate crawled out of the northern edge of the Grand Canyon and began his journey home. It took him three months to reach New Canaan, three months of suffering. Graham's immunity to modern medicine made it impossible for him to dull the pain and he had to replace the bandages covering his burned, twisted skin each day to prevent infection. But he persevered and upon reaching New Canaan, he was welcomed like one of their own, like a prodigal son returning home. Thirty years of separation, atrocities, and shame, were irrelevant to them.[15][16] Legends of the Burned Man stalking the wastelands began to spread and eventually reached the ears of Caesar. He forbade legionaries from speaking Graham's true name, only enhancing the myth of the Burned Man,[17] and issued a kill order to his frumentarii. Wherever he was, his agents would find and destroy him.[18] For his part, Graham decided to forgive Caesar, in keeping with the idea that you hate the sin, but love the sinner.[19] Graham is acutely aware of Caesar's desire to see him dead, thanks to the sheer number of frumentarii and assassins that came looking for him.[20]
By 2281, Graham's past finally caught up with the fallen Legate. The White Legs, whipped into a frenzy and equipped by Ulysses, attacked New Canaan while Joshua was away from the city, in a bid to ingratiate themselves with the Legion by destroying the tribe of Canaan and Graham along with it. Survivors scattered into the wilderness, with the bulk of them escaping into Zion Canyon. In order to defend them and the tribes that made their home in the canyon, Graham assumed the position of war chief among the Dead Horses, while Daniel, another missionary and survivor from New Canaan, joined up with the Sorrows.[21]
While Daniel would have Graham fight a delaying action to allow the Sorrows and Dead Horses to safely evacuate Zion and lose White Legs in the wilderness, Graham desires nothing more than bringing God's justice to those who would bring harm to others. The desire for vengeance on those who butchered his people, killing all who could not run away fast enough - the elderly, the ill, children, those who stopped to help - burns within him, a fire stoked further by his own personal demons and desire for redemption.[22] It is only fitting that he break them in Zion, in a natural temple and monument to the glory of his god.[23]
Personality
"
I pray for the safety of all good people who come to Zion, even Gentiles, but we can't expect God to do all the work.
"
— Joshua Graham and his two sides
Joshua Graham is a conflicted man. Originally a zealous missionary from Ogden, he steadily betrayed everything he held dear in service to Caesar. Caught up in maintenance of a brutal, nomadic army of reconditioned tribals, and the conquests out East, Graham slowly became a monster. Small compromises turned increasingly sinister and brutal, with Graham rationalizing them as making the best of a bad situation and doing what needed to be done. In the end, however, he and Caesar had built a society on a foundation of fear and brutality, with Graham turned into a monster by three decades of warfare and atrocities. Joshua eventually believed his own lies and rationalizations, but when the defeat at Hoover Dam came, he lost all momentum. Abandoned by Caesar and his people, the fallen Legate was forced to reflect on his life and face the monster that he became. Unlike most, Joshua chose not to blame Caesar, but himself, and journeyed to seek forgiveness from the people he abandoned three decades prior.[24]
Their acceptance rekindled Graham's faith, creating a zealot plagued by uncertainty as to the nature of the fire burning inside him, whether it illuminates or destroys. The destruction of New Canaan and war with the White Legs have done little to help Graham come to terms with his paths, instead of fueling the worst impulses he learned during his time with the Legion. His thirst for vengeance and extermination puts him at odds with Daniel, who fears what the long term consequences of stoking this kind of flame could be: Graham unwittingly creating a war cult not too dissimilar from the Legion, clothed in the guise of Christian faith, but entirely devoid of its principles.[25]
Interactions with the player character
Interactions overview
This character is a temporary party member.

This character is a merchant.
Caps: 1500-2000
Sells: ammunition
consumables
weapons
weapon mods

This character can repair items.
Repair cap: 100

This character starts quests.

This character is involved in quests.
Quests
Effects of players actions
If the player killed Caesar, they can mention it to Graham. Joshua will be surprised that he outlived his former friend and express hope that the collapse of the Legion won't result in suffering for the tribes in the lands it conquered.
Endings
#
Slide
Voice-over narration
In-game condition
1
After a long and troubled life, Joshua Graham finally found rest in Zion. In the end, his unswerving militancy had accomplished what the NCR's finest sharpshooters and Caesar's wrath could not. The New Canaanites took comfort in the belief that their brother's soul would again dwell in Zion at the end of days.
Kill Joshua Graham.
2
The threat of the White Legs ended, Joshua Graham helped the Sorrows and Dead Horses tend to their fallen comrades and secure Zion. The Courier's words had stayed Joshua's wrath in his darkest hour, and in sparing Salt-Upon-Wounds, he was changed. While he continued to advocate militant opposition to the enemies of New Canaan, he sometimes showed quarter to those who crossed his family. Eventually this new spirit would diminish the myth of the Burned Man in distant lands - a small price for the peace it brought to Joshua Graham.
Help Joshua Graham defend Zion Valley and exterminate the White Legs, then convince Joshua Graham to spare Salt-Upon-Wounds.
3
With the White Legs crushed, Joshua Graham led the Sorrows and Dead Horses in tearing apart and burning the corpses of their enemies. He set about training his army in the "Way of the Canaanite," and soon the New Canaanites and tribes of Zion were feared well into the Mojave. Legends of the Burned Man grew even more depraved, and terrifying.
Help Joshua Graham crush the White Legs and then allow Joshua Graham to execute Salt-Upon-Wounds.
4
Though the Courier had stopped Joshua Graham from executing Salt-Upon-Wounds, the war chief still fell in battle. The White Legs defeated at Three Marys, Joshua led the Sorrows and Dead Horses in tending to their comrades and burning the corpses of their foes. He continued to advocate militant opposition to the enemies of New Canaan and showed little quarter to those he fought. And yet he was changed. He no longer reveled in the brutality and cruelty for which he had been known in his former life. His inner demons, if not extinguished, were at the least...

appeased

.
Help Joshua Graham crush the White Legs and kill Salt-Upon-Wounds yourself.
Inventory
Notable quotes
"I have been baptized twice, once in water, once in flame. I will carry the fire of the holy spirit inside until I stand before my Lord for judgment."
"I don't enjoy killing, but when done righteously, it's just a chore, like any other. Practiced hands make for short work. And the good Lord knows there's much to be done here."
"I survived because the fire inside burned brighter than the fire around me. I fell down into that dark chasm, but the flame burned on and on."
"I want to have my revenge. Against him. Against Caesar. I want to call it my own, to make my anger God's anger. To justify the things I've done."
"Any society that derives its power and authority from the will of man alone lives apart from God and will crumble in the end."
"Lastly, waging war against good people is bad for the soul. This may not seem important to you now, but it's the most important thing I've said."
"It is one thing to forgive a slap across my cheek, but an insult to the Lord requires... no, it demands correction."
"Happy are those who do the work of the Lord. Zion belongs to God and the people of God. It is a natural temple and monument to his glory."
"Make the first shot count, you won't get a second one."
"When our Lord entered the temple and found it polluted by money-changers and beasts, did he

ask

them to leave? Did he cry? Did he simply walk away? No. He

drove

them out. It is one thing to forgive a slap across my cheek, but an insult to the Lord requires... no, it

demands

correction."

"Love the sinner, hate the sin. With Caesar, it's often very difficult to see through all of that sin to the person inside."

"They're still God's children, but if they turn against their brothers and sisters, won't listen to reason... If they pollute the Lord's temples on Earth, like Zion, who are we to stand by and let them continue?"

"Living in willful ignorance is an ugly thing, but God often speaks loudest in the wild places of his creation, like Zion. Zion is a place, and a state of being, that has been lost to us several times in the past. Each loss is a new fall of man."

"In the Great Basin and Colorado Plateau, all tribes are known for a specific weapon. White Legs are known for their big submachine guns, "storm drums." They broke into an armory near Spanish Fork and have been using them for years. Of course, the Dead Horses have their wooden war clubs and even the Sorrows have their Yao Guai gauntlets. This type of .45 Automatic pistol was designed by one of my tribe almost four hundred years ago. Learning its use is a New Canaanite rite of passage."
Behind the scenes
Developer quotes
"
It's not as simple as being "set on fire". After suffering a terrible failure, he was humiliated by his superior and the people he commanded. He was cast out and left for dead. His entire reason for living was gone. When your entire way of life is completely destroyed, it has a profound impact on how you view yourself and your place in the world. Because all momentum is lost, the experience causes you to evaluate and re-evaluate how you have reached this point -- and how to move forward.
There are thousands, if not millions, of examples of soldiers in history who engaged in ruthless -- often cruel -- behavior in times of war only to either return to an "ordinary" civilized life later. Some of them have no problem with what they did, others repress their memories as much as they can, and still others suffer strong crises of conscience that force profound changes in them. As Graham describes, his path to becoming the Malpais Legate was made up of many small compromises that turned increasingly sinister and brutal. At first he thought he was making the best of a bad situation and doing what needed to be done, but in the end he and Caesar had built a society on a foundation of fear and brutality. Caesar had a more grand vision for where the Legion was going, but Joshua Graham was caught up in the day to day maintenance of a tribal army engaged in bleak and often monstrous behavior. It was not until he was removed from that environment that he was able to reflect on his past. He could have chosen to blame Caesar, but in the end he blamed himself. The only people he knew in the world who could possibly accept him were the New Canaanites, so that's where he headed.
"
— J. E. Sawyer
"
Speaking of Kurtz, was that character in any way a direct influence for Graham in Honest Hearts?
Only slightly. Graham and Caesar were in it together, in different ways. While Caesar never had a radical shift in his approach and ideology, Joshua Graham had a slow slide followed by a dramatic fall and "rebirth". Joshua Graham was inspired by characters like Rodrigo Mendoza from The Mission and T.E. Lawrence.
That said, Honest Hearts has a lot to do with personal motivations and why being honest to yourself about them is important. In many ways, Caesar is dispassionate -- or at least less passionate than someone like Joshua Graham, or even Lanius. Caesar is an odd sort of philosopher; Joshua Graham is a zealot. Caesar is also hypocritical or at least "bends" his own rules when it suits him. Joshua has to lie to himself to rationalize what he does. He can't live with an internal contradiction.
They are also very different types of leaders. Caesar leads by telling people what to do and wowing (or terrorizing) them with the results. Joshua Graham leads by personally doing things that (typically) terrify both his allies and his enemies. As Joshua says himself, he's effectively a war chief of the Dead Horses. He's not the sort of guy you ask for opinions on how to repair a road or develop infrastructure.
"
— J.E. Sawyer
"
Yes, that's always there for Crush the White Legs. Before you go in, Joshua tells you that you're about to engage in an extermination. Many of Daniel's fears have less to do with war and violence themselves and more to do with the path of warfare and the type of warfare in which Joshua engages. At some point, I think Daniel states that Joshua is (paraphrased) the poster child for the worst effects that a life of war can have on a person. Life on the warpath with Joshua Graham is more about slaughter than vigilance.
"
"
I had wanted to develop a religious conflict in an RPG for a while, one that wasn't presented as pro-religion vs. anti-religion. I didn't want to use a proxy/fictitious religion and I didn't want to use religion as the set-up for a series of jokes. My first idea for Honest Hearts was a direct conflict between Joshua and Daniel where Joshua was more like his pre-fall self, but I didn't think the characterization would be particularly interesting and I didn't think players would struggle much with the decision of whom to support. It didn't take long for me to change the main conflict to one about Joshua and Daniel vs. an external threat, with the player's choice revolving around which leader to support. I think we often present players with a choice between two bad solutions and we ask them to decide which one is least bad. With Honest Hearts, I wanted the player to decide which solution would produce the most good.
I wanted the player's first encounter with Joshua to be very reductive. In way, I wanted the player to be initially disappointed. They hear legends of this fearsome, terrible, demonic figure and when they first see him, he's doing the equivalent of putting his pants on one leg at a time: sitting at a table maintaining a stack of guns. Even internally, some people complained about his appearance. They wanted him to be huge and monstrous or they wanted his first encounter with the player to involve him brutally gunning down White Legs. I believed that for his character to feel right in the context of the story, he needed to be a man first and the monster later. But that expressed desire on the team made me ask for the graffiti players see on the way to see Joshua: an entire cliff face dominated by the image of Joshua with tiny White Leg corpses falling down below him. In the image, he's like Goya's Saturn, dwarfing and destroying everyone around him.
Presenting the conflict with Daniel posed some challenges because Daniel is not a living legend, i.e. he is even more of a normal man than Joshua is trying to be. Additionally, Mormonism is not a pacifistic religion (and its soteriology does not depend on pacifism), so the conflict could not reasonably by framed around violence vs. non-violence even in the post-apocalyptic version followed by the New Canaanites. Daniel's concern was about larger issues than fighting or not-fighting; he was concerned that Joshua's lapsed nature would cause a whirlwind of warfare that would pull everyone far away New Canaanite traditions to the point where religion was virtually abandoned in favor of a war cult surrounding Joshua.
I had expected that most people would support Joshua, in part because of Joshua as a character but also because of the nature of gameplay in Fallout (i.e., violence is almost always a solution). I did not expect that the Survivalist's logs (written by John Gonzalez) would push so many more people toward supporting Joshua. I think it's an interesting example of players finding their own connections between the two stories and making an emotional connection that pushes them in a particular direction.
"
— J.E. Sawyer
"
I didn't sit down and think "gonna make this dude a Greek tragic hero". I knew that Joshua had to be in an unresolved state, moved on from his life with the Legion but in a state of denial about his current motives. Joshua's struggle is about what burns inside him -- light that illuminates or fire that consumes.
"
— J.E. Sawyer
"
I think it's worth noting that in even Van Buren's documents, a lot of the references to the Hanged Man's "evil" refers to past acts. In VB, he was seemingly a man without purpose. While his characterization by others and his tendency to laugh off/ignore attempts by others to control him could have been interesting, it really ended at "nasty guy who says and does creepy stuff and is a badass". There were specific instances (such as at New Canaan) where he would specifically avoid conflict and showed some additional depth, but he effectively had no character arc within the story.
Personally, I think the "wow so crazy" type characters aren't particularly interesting or insightful because they only exist in pure fantasy and, as such, can't really be related to. I think it's important for characters who are influencing player opinions to be more-or-less human. If you can't put yourself in the character's shoes, it's hard to empathize with him or her.
Joshua was inspired by a lot of different characters and things. The apostle Paul, Rodrigo Mendoza (Robert DeNiro's character from Roland Joffé's "The Mission"), T.E. Lawrence aka Lawrence of Arabia, and others. His outfit was designed to feature body armor but look somewhat "old west"/preacher in style -- hence the low-collar white shirt, sleeve garter, and the cut of the ballistic vest. The rattlesnake skin on his belt, shoes, and gun are symbolic but also intended to reflect that "western" feeling. The stitched patterns in his shirt were supposed to be tribal markings from the Dead Horses and were inspired by a scene from The Mission where Mendoza receives patterned body paint from the Guarani. I remembered a white dress from PJ Harvey's White Chalk tour where she had lyrics stitched into the cloth in black thread and I just put the two ideas together.
"
— J.E. Sawyer, Formspring response from May 27, 2011
Behind the scenes
Design
Trivia
A malpaís is a landform characterized by eroded rocks of volcanic origin in an arid environment. This describes many areas, but is strongly connected to the southwestern United States because of the Spanish settlers that gave the landform its name (malpais means "badland" in Spanish).
Technical content
Due to technical limitations, Graham's appearance in the game differs from that on the cover of Honest Hearts. A dirty raider texture with an ashen skin color is used to simulate burns visible around his eyes, quite dissimilar to the melted flesh on the cover.
References remain in the game, pointing to a map above the cliffs of the Colorado river designated "MalpaisLegionCamp", indicating that such a location once existed in an earlier version of New Vegas but was later removed. Notably, a reference for Benny is found there, should he survive the events that took place at the Fort.
Gallery
Appearances
Joshua Graham appears in Honest Hearts, and is mentioned in Fallout: New Vegas, in a loading screen in Dead Money, and by Ulysses in Lonesome Road. He was originally designed as a companion for the Prisoner in Van Buren.
References
Italics denote unmarked and/or interior locations.