Honest Hearts

Release date
Xbox 360
May 17, 2011
PC
May 18, 2011
PlayStation 3
June 2, 2011 (North America)
June 5, 2011 (Europe)
Honest Hearts is the second add-on for Fallout: New Vegas, developed by Obsidian Entertainment and published by Bethesda Softworks.
Release and availability
Honest Hearts was released on May 17, 2011 for Xbox Live and May 18, 2011 for PC and later on June 2, 2011 for PlayStation Store due to the store being hacked in May. It costs $9.99.
Like all add-ons, Honest Hearts is included in the Fallout: New Vegas Ultimate Edition, released on February 7, 2012 for all platforms.
Overview
Honest Hearts takes you on an expedition to the unspoiled wilderness of Utah's Zion National Park. Things go horribly wrong when your caravan is ambushed by a tribal raiding band. As you try to find a way back to the Mojave, you become embroiled in a war between tribes and a conflict between a New Canaanite missionary and the mysterious Burned Man. The decisions you make will determine the fate of Zion National Park itself.
Zion National Park is an expansive and diverse natural area filled with slot canyons cut by rivers and tributaries as well as numerous caves that dot the hillsides. As wild plants and animals (and a couple mutated ones, as well) thrive in the park, so too does the Courier with dozens of new crafting recipes, including new edibles, medicines and even new armors that can be created from searching the park for ingredients.
Characters
Creatures
Factions
Items
Ammunition
Armor and clothing
Consumables
Weapons
Weapon mods
Other items
World objects
Locations
Quests
Perks
Regular perks
Name
Level req
Other requirements
Ranks
Benefit
Base ID
Eye for Eye
20
1
For each crippled limb you have, you do an additional 10% damage.

xx

00b2f4
Fight the Power!
10
1
+2 Damage Threshold and +5% Critical chance against anyone wearing NCR, Legion or Brotherhood of Steel armor.

xx

00f67c
Grunt
8
Guns 45, Explosives 20
1
25% more damage with 9mm pistols and SMGs, .45 pistols and SMGs, service rifles, assault and Marksman carbines, light machine guns, frag grenades, grenade rifles and launchers, and combat knives.

xx

00f677
Home on the Range
8
Survival 70
1
Whenever you interact with a campfire, you have the option of sleeping, with all the benefits that sleep brings.

xx

00b2f3
Sneering Imperialist
8
1
+15% Damage and +25% accuracy in V.A.T.S. to various tribal and raider characters.

xx

00f67b
Tribal Wisdom
8
Survival 70
1
-50% limb damage from animals, mutated animals, and mutated insects, +25% to Poison resistance, ability to eat mutated insects in Sneak mode.

xx

00f679
Companion perks
Achievements/Trophies
Notes
Honest Hearts, like all add-ons, raises the level cap by 5.
Honest Hearts features weather, adding rain/overcast to the game.
After completing the add-on's main story, you will be unable to start or finish the side quests as most of the main characters will have left Zion.
Installing Honest Hearts will remove the ability to use the campfire during combat. This is due to the implementation of the Home on the Range perk.
Skill books are only found as random loot in Honest Hearts. See Fallout: New Vegas skill books for details.
Like Dead Money, you are not allowed to take companions with you in Honest Hearts. However, unlike Dead Money, Honest Hearts does not force them out of your party, you must do this yourself if you wish to proceed.
Equipment is not taken from the player at the beginning of the add-on, but the maximum weight limit is decreased due to the length of the journey. 100 pounds of equipment can be taken if you have the Strong Back or Pack Rat perks, and have a minimal Survival skill of 50, or pass the Speech check when talking to Jed Masterson, or Ricky. Without these perks/skill levels, you will have a weight limit of 75.
The player is able to return to Zion after completing the add-on, but followers still cannot accompany you. They also cannot be left waiting at the Northern passage, and instead will return to their home (ED-E back to Primm, etc.). This is due to the 14 day length of the trip into Zion.
When the add-on is completed, you can purchase the new weapons from the add-on such as, the tomahawk, the fire bomb, the war club, the yao guai gauntlet, the .45 Auto pistol and the .45 Auto submachine gun and their respective mods, as well as the ammunition from shops around the Mojave Wasteland.
The only merchant in Honest Hearts is Joshua Graham (passing a Speech check will allow you to purchase medical supplies from Daniel, however his caps and items are limited).
Behind the scenes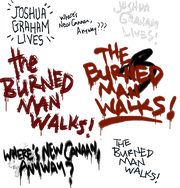 Bugs
If you have not found all of the locations in Zion Canyon and leave, the tick marks on your compass indicating undiscovered locations may disappear when you move close to them upon returning to Zion. You can still discover these locations, however tick marks on your compass for these locations will not be visible even after discovering them.
Saving inside Zion National Park, quitting the game and trying to reload from that save will cause the game to get stuck at the loading screen. Loading a save from before you entered Zion and then loading the save from within Zion will allow you to bypass this problem.
When returning to Zion National Park after traveling back to the Mojave Wasteland, the game will become stuck in a permanent loading screen, leaving the previous autosave glitched.
Honest Hearts does not show in the starting screen menu. The radio signal does not come up either and the Northern Passage is still blocked. The game may not be recognizing that the add-on was installed. This could be caused by file corruption from PSN outages.

The bonus pack add-ons disrupt the installation. Uninstall the Classic Pack and download/reinstall the Canadian version (which says French but is actually in English). The file is called "Fallout: New Vegas - (CA)". Honest Hearts will appear as well as everything else that may have disappeared (i.e. Dead Money).

After installing Honest Hearts, the radio signal for Northern Passage may not appear if "ED-E My Love" has not been completed. The only fix is reverting to a previous save file.
Dead Money when you download and install Honest Hearts, you will not hear that radio transmission during Dead Money, or after you finish Dead Money and are back in the wasteland. Basically the game will not at all recognize that Honest Hearts has been installed.
If you are playing through
Some cliffs in Zion may not be properly structured, causing the player to fall through and render the player's movement to a standstill. A possible location is the yao guai cave. To the right of the entrance, a small cliff overlooks the canyon (confirmed once on the PS3).
Honest Hearts main quest and returning to the Wasteland, your Honest Hearts DLC will fail to load, causing you to have to reinstall the add-on, resulting in loss of all items, quest progression in Zion National Park and perks you may have obtained that became available in Honest Hearts. The only thing you do not lose is the extra 5 levels you gained from originally installing Honest Hearts.
Sometimes after completing the
Gallery
Videos
References