Jurassic World: Dominion Dominates Fandom Wikis - The Loop
Play Sound
Deathclaws are mutated creatures in Fallout Tactics: Brotherhood of Steel.
Background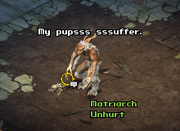 An entirely separate species that was termed deathclaw due to the similarity in behavior and, of course, the fearsome claws, the eastern hairy deathclaw is an unique creature that emerged in the territories belonging to the states of Illinois, Missouri, and Kansas.[1]
There is only one known extant brood of these deathclaws, which was controlled by the Beastlords in 2197 by imprisoning Mother, the matriarch of the brood.
Characteristics
Biology
These deathclaws are mammals[2] covered in a thick layer of fur, providing them with excellent protection from the elements, while their thick, leathery skin grants them excellent protection from projectiles and melee weapons. They are easily distinguishable by a crest of five horns protruding from their skull and a single nasal horn. The eponymous claws are also much less pronounced than in reptile deathclaws.[3]
Hairy deathclaws have developed a natural intelligence and sapience, as well as the ability to mimic human speech. They are self-aware and sapient, though precisely when the transition occurs is unknown.
Gameplay attributes
In Fallout Tactics patched to 1.27, deathclaws are deadly. They are highly resistant to regular ammunition. The non-player character's in each bunker often say "I have some AP ammunition for those deathclaws." but they will not trade it. Even an Anti-Vehicle mine does only medium damage.
In Quincy, a player is confronted with two deathclaws and around five Baby deathclaws. However, they can be seen in a random encounter before that mission.
Behind the scenes
"
Was it always a big scaly lizard thing? Nope. My initial design for this terrible creature was a the apex predator of the wasteland, a mix of wolverine and brown bear, mutated by the FEV. It could survive any environment and feared nothing; a legendary force of nature that struck terror into the hearts of men! Unfortunately, the artists took one look at my concept sketch and said, 'Dude, that's way too much hair.' It was true. The Wolverine-bear was very furry, and there was just no way around it.
So here's what happened: the newly formed Black Isle started work on what would be Planescape: Torment. One of the first art pieces was a monstrous creature called a Terrasque. It was sculpted in clay and was then point-by-painstaking-point digitized into a 3D model. As Planescape moved forward, it turned out that the Terrasque wouldn't actually be featured in its design, leaving that tasty model in disuse. Thus, the furry wolverine-bear became a hairless reptilian biped. (Take a look at page 339 of the D&D second edition Monster Manual. Holy cats! It's a Deathclaw!)
"
— Scott Campbell, Origins of Fallout No Mutants Allowed
The deathclaw name is derived from Shadowclaws in Wasteland.
In Scott Campbell's original concept art, deathclaws were mammals covered with fur and were meant to be a mix of wolverine and brown bear, created by FEV.[4] The reason it lost the hair from concept to production was a technical limitation of the rendering software, which couldn't get all the hair to move properly. The hairy deathclaw in Fallout Tactics was inspired by the original concept.[4][5]
According to the Fallout Bible[6] and Scott Campbell,[4] deathclaws were modelled visually on the Tarrasque of Dungeons & Dragons after a D&D computer game made by Interplay was cancelled (according to Fallout Bible) or after the creature was cut from Planescape: Torment (according to Scott Campbell), as a Tarrasque clay model was already made and this way the work would not go to waste. However, according to Chris Taylor, while they do look Tarrasque-like, it was not intentional and the clay model was supposed to be a deathclaw from the start.[5]
"
I met my first Deathclaw in middle school, playing Fallout on a friend's machine, and I fell instantly in love with these "Dragons of the Waste." It was an honor to tackle them for Fallout 3 - sourcing from both the originals and the concept art of Adam Adamowicz - but I'm proudest of my Fallout 4 redesign.
To improve upon their F3 counterparts, I gave the newer ones thicker, more armored skin; shorter, strong-looking claws and hands; a bull-like redesign to the horns (to suggest the ability to ram); and a thicker tail - heavy enough to act as a counter-weight when it ran. It's important to note, too, that the Deathclaw is not a mutant, but a hybrid bioweapon created by the US military. To that end, I incorporated chameleons, alligators, bulls, panthers, serpents & lizards into their design.
I love him.
"
— Jonah Lobe
Gallery
Appearances
Hairy deathclaws appear only in Fallout Tactics: Brotherhood of Steel.
References