| | |
| --- | --- |
| | This is a lore summary, presenting intradiegetic or in-universe information about the subject. For game characteristics and similar data, consult the table on the right. |
Giant wasps are mutated versions of various species of wasps, found in the Midwest and the Mojave Wasteland.
Variants
Yellowjacket wasp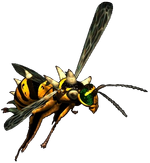 These giant wasps are found mostly in the Midwest. They are nasty, hostile creatures that travel in groups of three and go out of their way to find things to kill. They hate seeing humans and animals in their territory and will sting such targets mercilessly until they die from their powerful venom. Giant wasps were among the critters controlled by the Beastlords.
Cazador
Mutated and enlarged in the laboratories of Big MT, cazadores are the offshoot of DNA experiments, performed by Dr. Borous on tarantula hawk wasps and can be found in the Mojave Wasteland. The resulting creatures have distinctive amber-orange wings, a blue-black carapace and blood-red eyes. They have a fast and rather erratic flight movement and a venomous attack which can lead to a quick death if it succeeds in poisoning the target. The spikes on their back inflate and deflate when idle and attacking, likely being a form or respiration.
Behind the scenes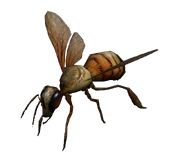 Giant wasps were to appear also in the canceled Van Buren.