Obi-Wan Finale - The Loop
Play Sound
Ghoul

Ghouls have an incredibly varied appearance, ranging from semi-skeletal zombies to almost human-like

Type
Humanoid
Location
Throughout the United States mainland - likely worldwide
"
Zombies? Fuck you! We're ghouls. Zombies are a type of undead with no free will. Although we share certain physical characteristics -- most notably, the rotting flesh and characteristic morbidity -- we are creatures of free will.
"
— Wooz
Necrotic post-humans,[1] commonly referred to as ghouls, are humans or animals who were subjected to fatal levels of radioactive poisoning, but did not die.[2] Due to unknown factors, rather than suffer organ failure, their bodies mutated and adapted to radiation, resulting in immunity and an extended lifespan. The drawback is that the adaptation also caused widespread necrosis of the skin, lesions, and rot, resulting in a horrifying appearance that has been likened to that of undead creatures from pre-War horror films. This is also the primary cause of ghoul discrimination in the wasteland, with its mildest being racial slurs like zombie.[3]
History
The history of ghouls is a mixture of suffering and plight. The bulk of ghouls emerged as a result of the Great War, although there are a cases of some men using controlled exposure of radiation to ghoulify themselves and ride out the upcoming war.[4][5] There was also an experimental radiation drug being tested somewhere in the Commonwealth.[6] It's known side effects were why Hancock sought out the last remaining dosage.[7]
New California
In California, ghouls were the first group of survivors to begin rebuilding civilization – the inhabitants of Vault 12 beneath Bakersfield founded the Necropolis in Summer 2083.[8] Less than a year later, in 2084, Set wrestled control of the settlement from the original Overseer and instituted his own reign, characterized by delusions of grandeur.[9] The city would eventually decline, starting with the attack by Unity in 2157, who expected to find an unopened Vault in the ruins of the city. After many ghouls were killed in the assault, Set negotiated peace with the super mutants, after explaining that the ghouls are indeed the vault dwellers. The recovery operation failed, but Unity established a stronghold in the town to ensure Set's cooperation and watch for humans.[10]
It would finally be destroyed and most of its population killed in a retaliatory expedition by the super mutants, sent to the city after the Vault Dweller raided the Vault and recovered the water chip, eliminating the super mutant garrison in the process.[11] This has led to a Great Migration and the eventual founding of a number of ghoul and ghoul-friendly[12] settlements, including Broken Hills in 2185,[13] the NCR state of Dayglow around 2189,[14][15] and Gecko in 2235. Though problems with equality continue, ghouls are increasingly seen as equal members of society, though their numbers steadily dwindle.[16]
One of the most terrifying developments in ghoul history took place in 2277, at the Divide, where the nuclear warheads triggered by the Courier's delivery of an automated nuclear launch device exploded and triggered rapid ghoulification of the Legion and NCR forces engaged in battle there. Worse yet, the terrifying storms of the Divide flayed them alive, causing them to become dead men walking – marked for death, sustained only by the intense radiation that permeates the Divide.[17] As they never appear outside the Divide, due to the necessity of staying near radiation sources to remain alive, the marked men became a legend in the wasteland, like the Sierra Madre, the Burned Man, or the Big Empty.[18]
East Coast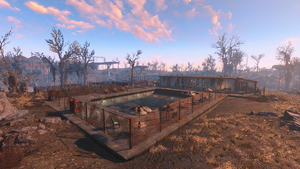 The densely urbanized East had a great concentration of American population and was strongly affected by the nuclear fallout. People who took shelter in areas affected by it experienced radiation poisoning; those who did not die became ghouls. Within a year, the first ghouls began to appear and with them, the first fledgling settlements, like Underworld in Washington, D.C., which existed as late as 2277.[19] Although in areas like Appalachia, ghouls were quickly sought out and exterminated, no matter what relation they may have had with others before they became Ghouls.[20] Another population of ghouls, transformed Chinese operatives stranded on American soil, chose to sequester themselves from the wasteland. The Chinese Remnant remained stuck in the United States for over two centuries.[21]
In other areas, like the Commonwealth, ghouls cohabited with humans. The most noticeable example was Diamond City. Ghouls were a part of the city's population from its foundation in the 2130s to the 2282 election. Diamond City was gripped by a wave of racism, thanks to a candidate by the name of McDonough. He ran for the city's mayor on the Mankind for McDonough platform and won the election thanks to the votes of the Upper Stands citizens. The anti-ghoul decree of 2282 was enacted in his inaugural speech, leading to a pogrom of ghoulish citizens. Entire families were thrown out of the City by their human neighbors, straight into the surrounding ruins to perish without a cap to their name.[22]
Most of them perished, killed by raiders, Commonwealth wildlife, or Goodneighbor warlords. The minority that survived scattered across the region. In one notable instance, a refugee called Wiseman founded the Slog, the foremost tarberry farm in the Commonwealth.[23]
Biology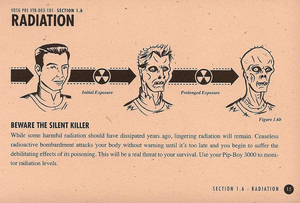 Origins
The precise origins of ghouls are not fully understood. High levels of radiation are a crucial factor, but radiation poisoning typically results in death, rather than ghoulification. Humans who become ghouls must, therefore, possess some additional property that prevents their organs from succumbing to radiation.[24] It is possible that ghouls develop when additional genetic material is incorporated into a human's DNA before irradiation, preventing them from dying.[25]
There are two primary ways in which ghouls can develop from a human. Irradiation and gradual transformation result in ghouls who retain their general human shape, but with a high degree of skin deterioration: Exposed muscle, flaking skin, and damaged connective tissue characterized by the absence of nose and ears.[26] Another is surviving a nuclear blast relatively close to ground zero, suffering burns both thermal and radiation-induced, but surviving. The latter transformation is typically faster and substantially more traumatic for the victim and results in a generally much more horrifying appearance, with exposed bone, asymmetric deformations, and extensive unhealed wounds.[27]
The vast majority of ghouls of both types have developed as a result of exposure during the Great War, but ghoulification is also possible after the War. Camp Searchlight is one such example, with an attack that transformed a majority of the NCR troopers stationed there into ghouls.[28] Camp Searchlight also emphasizes the fact that the nature of the transformation may lead to mental problems. The trauma of transformation can cause a mental breakdown in the victim, causing a rapid degeneration of higher thought processes, causing them to become feral.[29] Moreover, particularly severe irradiation can lead to the creation of luminous necrotic post-humans, or glowing ones with a permanently damaged brain: feral glowing ones are almost invariably hostile to nearly all life forms.[26]
Overview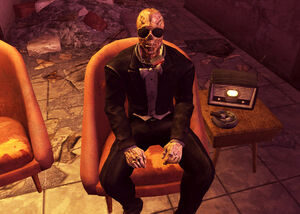 The transformation can take anywhere from hours,[30][31] to weeks,[32] to as much as a year, depending on exposure levels.[19] Once it is completed, the ghouls take on the aforementioned appearance, at a rate influenced largely by the manner of their exposure: the more radiation received in a short amount of time causes drastic changes, while symptoms of ghoulification are more gradual with acute exposure. Ghouls generally experience loss of skin and connective tissue in a manner similar to leprosy, resulting in exposed muscle, blood vessels, and in extreme cases even bone and internal organs.[33] As a rule, ghouls generally lose hair along with the skin, though mileage may vary due to the unpredictable nature of the change.[34][35][36] Vocal cords and the larynx are also usually affected by the change, resulting in a raspy voice – though again, mileage may vary.[37]
Other notable results of the change are widespread necrosis,[24][38] rot,[27] and other degenerative conditions like arthritis,[39] cataracts, glaucomas,[40][41] and more. All are seemingly permanent conditions, whose damaging effect is offset by the regenerative properties of a ghoul organism.[42] The older a ghoul is the more these symptoms crop up and become a nuisance, but younger ghouls might not have all or any of the symptoms, but feralization and dementia can happen immediately.[43][44] In fact, this necrosis can be exacerbated by a phenomenon whereby rotting flesh around sweat glands exudes macronutrients, which attract detritivorous scavenging insects that further digest and consume the tissue of the ghoul.[45] Some ghouls may also experience loss of appendages, but the radioactive regeneration allows for them to be reattached and retain functionality.[46] Unfortunately, this also means that ghouls tend to smell like a rotting corpse.[47]
Ghoulification and its effects are not fully understood. There is a great deal of variation in appearance between ghouls, who can look like semi-skeletal corpses,[48] burn victims,[49] or decomposing cadavers with exposed bone, muscle, and sinew.[50] All of these horrifying changes accompany two major traits that can be considered as beneficial to necrotic post-humans:
Exposure to ionizing radiation with wavelengths below 10 picometers triggers a mutation in the spinal cord, halting decay in neurotransmitters and triggering permanent regeneration. Cardiac and respiratory functions continue to function regardless of other damage, extending the lifespan indefinitely unless either system is damaged beyond repair.[24][51]
Regenerative effects of radiation – in fact, the altered ghoul physiology is boosted in the presence of radiation, resulting in an increased rate of regeneration.[52][53] In certain cases, such as with the marked men of the Divide, intense radiation can help a ghoul survive even lethal injuries, such as flaying.[54][55]
The mutated physiology still requires ghouls to provide adequate nourishment for their systems, including providing water[56] and food. The loss of the sense of smell allows ghouls to eat food humans would consider repulsive,[57] which coupled with the resilience of their digestive tract allows them to subsist on any edible foodstuff.[58][59] As an added benefit, a ghoul is also immune to most common diseases that affect unmutated humans. However, that doesn't mean ghouls are immune to all diseases, and diseases of the mind (not just feralization) can still affect a ghoul.[60] A side-effect of the mutation is that recreational drugs like Jet have a diminished effect on their physiology, requiring double doses or increased potency to work.[61] This is likely because of the regenerative properties of ghoulification. The neurotransmitters that would be firing at an accelerated rate during the use of a drug like jet in a normal human would be quickly dealt with in the ghoul's body. This likely applies to all types of drugs that aren't radiation cures or preventers.
While ghouls require food and water, the regenerative properties of their mutated bodies can sustain them in the absence of either. In most cases, this coincides with the transformation into a feral ghoul (see below). However, there are three known cases where prolonged isolation with no air, food, or water had no deleterious effects on the ghoul: Coffin Willie was buried in a coffin for months and was no worse for the wear,[62] Woody was exhibited as a mummy for weeks while in a state of deep sleep,[63] and perhaps most shockingly, Billy Peabody survived the Great War by locking himself in a refrigerator, and has stayed alive for 210 years.[64]
Ghouls retain their normal cognition and are generally no different than humans in terms of intellect. In fact, many ghouls benefit from their extreme lifespan and are capable of amassing skill and knowledge far beyond the ability of regular humans.[65][66] By extension, ghouls retain their sexual drive, though for obvious reasons, sexual partners are usually ghouls,[67] though some humans do have a ghoul fetish.[38] Regardless of their capacity for intercourse, ghouls are sterile and cannot procreate. Any children they may have are either adopted[68] or were mutated into ghouls alongside their parents.[69]
Complications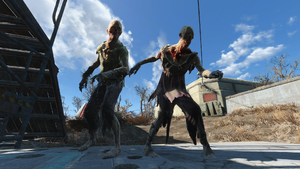 However, turning into a ghoul can bring about severe complications. The degeneration into a feral state (referred to as ferocious post-necrotic dystrophy) is not fully understood. It is known that it is a result of a degeneration of the brain (which is not affected by the regenerative mutation of the spinal cord) and emerges following the atrophy of higher brain functions, accompanied by an increased level of aggression and appetite. When the loss of capacity for thought is complete, a ghoul is considered feral. The factors that may cause a ghoul to enter this state are unclear, but anti-social or isolated ghouls are more susceptible to it.[29]
Exposure to intense radiation may also be a factor – feral ghouls have no body heat and emit lethal levels of radiation, indicating that feral ghouls are for all intents and purposes dead, their functions sustained only by their high irradiation. This allows them to survive for centuries, relying only on the energy provided by radiation – at the expense of a horrifying, emaciated appearance. Understandably, the process is irreversible.[70][71]
The transformation of a ghoul into a luminous necrotic post-human (Glowing One), which occurs when the organism of a ghoul ceases filtering radioactive particles from the blood, resulting in bioaccumulation and the gradual appearance of bioluminescence as a result.[72] Luminescent ghouls are usually heavily irradiated, due to the accumulation of radiation in their bodies[26][73] and some can even violently discharge the accumulated radiation in what is termed a "radiation blast" by wastelanders.[74] Luminous ghouls are usually feral, due to the damage to their nervous system and the time it takes to accumulate the radiation,[72] though ghouls uncommonly develop luminescence before degenerating into a beast-like state, like the glowing ones of Necropolis, the Gecko reactor, Jason Bright, Oswald Oppenheimer, and Hank.[75]
However, the topic is poorly researched and complex, with many exceptions. As stated above, intense radiation may turn ghouls into glowing ones without making them go feral, while isolation need not cause the same for exceptional individuals. The aforementioned Oswald Oppenheimer managed to survive over two centuries while isolated in Kiddie Kingdom, surrounded by his former co-workers who suffered degeneration into a feral state. Oswald's single-minded dedication to protecting his fellows until Rachel Watkins returned with a way to reverse the process is likely to have played a factor.[76] The same is true for Dean Domino, who haunted the Sierra Madre for over 200 years, seeking to achieve victory over Frederick Sinclair.[77]
Non-human ghouls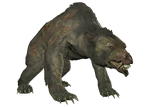 Ghoulification is not unique to humans and is a possible mutation for various families of animals. Animal ghouls seem to share all the disadvantages and advantages of becoming a ghoul as a human does, this includes rapid hair loss, the deterioration of the epidermis, severe cataracts of the eyes, elongated life-spans, as well as transforming into glowing ones through extended exposure to radiation. The one difference between human and animal ghouls is the ability to reproduce, as ghoulified animals seem to have no particular trouble with producing offspring.[78] Examples of affected species can be found throughout post-war America from New California to the East Coast. Known pre-war animals include Ruzka, a circus bear that was performing around the Point Lookout area, and roaming Alpha Mongrels can also be found to be wearing dog collars from their previous domesticated lives. A final example dwells in the creature known as the "Ghoulrilla", an aptly titled Ghoulified Gorilla.
Discrimination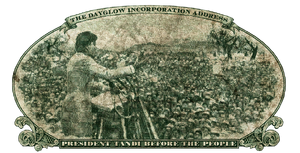 The attitude towards ghouls in the wasteland varies from acceptance, through apathy, to outright hostility. This is predicated on a variety of factors – for example, in New California of the mid-22nd century, ghouls were almost legendary creatures, as their population had isolated itself within Necropolis, leading to the rise of rumors about terrifying zombies living within its borders.[79] The fact that patrols that entered the city rarely returned alive (as was the case with two patrols Killian Darkwater sent into it) did not help.[80] Of course, some daring souls (like Keri Lee of Crimson Caravan) managed to make inroads and secure lucrative trade relationships with the ghouls of the city (or skags, as the Hubbers referred to them).[81]
Vault City is a textbook example of racial prejudice at work. Since the atomic reactor in Gecko did not operate properly,[82] waste from the power plant started leaking into the local groundwater around 2239[83] and it eventually led to serious poisoning of the whole reservoir.[84] Harold learned that a hydroelectric magnetosphere regulator was needed for the repair job, but no such part could be found in Gecko, so attempts were made to contact Vault City but the messengers were shot on sight by the Vault City Guard, marking the beginning of an official policy to shoot all ghouls on sight.[85] The situation became worse, when Vault City residents started to believe that the ghouls had deliberately poisoned the groundwater, accusing them of terrorism against Vault City and demanding that they should be punished.[84] The First Citizen of Vault City, Joanne Lynette, even tried to hire someone who was willing to help stopping the Gecko problem by any means necessary.[86]
In regions away from New California, ghouls likewise experience a variety of attitudes. For example, in the Mojave Wasteland, ghouls are generally seen as equals and share both the misery of poverty[87] and the prominence of the stage[88] on equal terms with humans. Of course, not everyone is as egalitarian as the people of Freeside and New Vegas. The New Vegas Strip doesn't permit the entrance of ghouls or other mutants unless under the supervision of a human visitor[89], or with permission from a higher up.[90] The Bright Brotherhood is a cult centered around Jason Bright, formed in response to suffering its members experienced at the hands of humans.[91] In some areas, ghoul lynchings also happen,[92] while in others ghouls are considered a possible threat and are fired upon – like in Washington, D.C., where Lyons' Brotherhood of Steel members will routinely open fire on ghouls sighted in the city.[93]
A lot of anti-ghoul sentiment is caused by inexperience and ignorance. For example, some believe ghouls to be carriers of disease, without ever having examined one,[94] while others believe that all ghouls are inevitably bound to become feral and pose a threat to people around them, a sentiment with a lot of truth to it. [95] This was the basis for the Anti-ghoul decree of 2282 in Diamond City, that saw their ejection from the city based on prejudice.[96]
Sometimes, the situation is not helped by the ghouls themselves. Of particular note was the cause of Roy Phillips, a disgruntled ghoul from the Capital Wasteland, obsessed about seizing Tenpenny Tower for himself. His increasingly threatening behavior, when refused entry by Chief Gustavo, led to suspicions that he might attack the Tower directly,[97] only confirming the security chief's belief that all ghouls are walking ticking bombs.[98]
That said, misconceptions and prejudice are not unique to humans.[99] Apart from the hateful Roy Phillips, even the seemingly tolerant inhabitants of the Underworld have shown a racist side when some of them threatened Doctor Barrows over his research into ghoulification and its causes, claiming that "ghouls are ghouls and humans are humans."[100] Fortunately, not all ghouls are like that and many long for their pre-mutation life and seek ways to reverse the changes, no matter how unlikely the means.[101]
Legal protection
Some polities take steps to protect ghouls and other mutants, like the New California Republic, which extended legal protection to them in 2205 (though enforcement of these laws is notoriously spotty)[102] and allowed a significant number of ghouls of both genders to serve in the ranks of the New California Republic Rangers, with the bulk of them being accorded veteran status due to their resilience and experience in combat.[103]
Types
Necrotic post-human (Ghoul)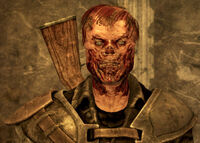 Commonly referred to as ghouls, these men and women are no different from regular humans when it comes to intellect or personality. They are as stupid and as intelligent as regular humans – and share their capacity for compassion and cruelty as well.[104]
Luminous necrotic post-human (Glowing One)
A highly irradiated ghoul that has absorbed enough radiation to develop bioluminescence. Glowing Ones are predominantly feral, due to the time it takes to acquire that much radiation. Although uncommonly they may transition into this state before losing their faculties.[105] See this section for more details.
From Fallout 3 onwards, Glowing Ones are particularly difficult in combat due to their resilience and the ability to suddenly discharge radiation from their body in a room sized "blast" that harms non-ghoul targets and heals ghouls.
Ferocious necrotic post-human (Feral ghoul)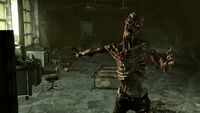 The eventual fate of ghouls. These are ghouls who have irreversibly transitioned to a feral state, sustained only by radiation they absorb. Ferals are invariably hostile to living creatures (with the exception of other ghouls) and tend to cluster together in packs. They are roughly divided into groups according to the danger they pose:
Regular feral ghouls wear torn, shredded civilian clothes and are very easy to dispatch.
Feral ghoul roamers are clad in worn-out suits of combat armor, which make them more resistant to damage – but do not slow the ghoulified soldiers down one bit.
Feral ghoul reavers are the most deteriorated form of a feral ghoul, wearing bits of metal armor and metal flight suits. Radiation has melted and fused entire segments of their body, making them incredibly tough to dispatch. Even worse is the fact that reavers have no self-preservation instinct and will readily rip out its radioactive guts and throw them at their targets.
Marked men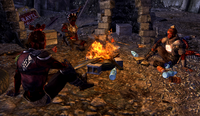 An unique subtype of the ferocious necrotic post-human, marked men are indigenous to the Divide area. Wounded by the subterranean nuclear detonations of 2277 and flayed alive by the storms of the Divide, marked men are sustained only by the high radiation that permeates the Divide, which keeps the regeneration going despite otherwise fatal damage to their bodies. As a result, the marked men cannot leave the Divide and have developed an unique culture due to retaining a semblance of cognition.[54]
Behind the scenes
Ghouls were originally called Bloodmen in early Fallout concept art and were depicted as flayed humans. The idea was eventually revisited for the purposes of Lonesome Road, where the concept was reborn as Marked Men.
In Van Buren, a new type of ghoul would be introduced: The born ghoul, created not through irradiating a human, but by birthing a living ghoul from a female host.
The precise origins of ghouls were a topic of some debate between the developers of the original Fallout, with Tim Cain stating that ghouls develop as a result of radiation, while Chris Taylor supported the idea that they are a result of a combination of radiation and FEV. Chris Avellone initially supported the latter view,[106] before ultimately deciding in favor of the former.[107] Bethesda Game Studios and Obsidian Entertainment ultimately concluded that radiation is the only external factor at play.[108]
Gallery
Fallout and Fallout 2

Fallout 3
Fallout: New Vegas
Fallout 4
Fallout 76
Fallout Tactics
Fallout: Brotherhood of Steel
Other
Appearances
Ghouls appear throughout the entire Fallout series.
References