Get Chip's spleen.

Chip needs his spleen back.
Get Chip's spleen is a side quest in Fallout 2.
Walkthrough
You can find Chip standing south-east of the General Store on the PMV Valdez. Speak to him, and you'll find out that he lost his spleen in a bet against Lao Chou.
Find a spleen.
Speak to Lao Chou, at the Flying Dragon 8 general store, and he'll inform you that he gave the spleen away to Dr. Wong Yi Tze. He had no use for a spleen, after all.
Ask Dr. Wong about Chip's spleen. He intends to eat it with fava beans and a light chianti. Complete the Hannibal Lecter reference, and tell him that the spleen is human. You'll receive 2000 XP.
Note that you only get one chance to get this right; if you just tell him Chip wants the spleen back you won't get it. Also, he won't give it to you if you angered him previously with the "shoved a gun under your nose" dialogue option.
Go back to Chip, then he will want you to ask Dr. Fung out in Chinatown to put his spleen back in for him. Talk to Dr. Fung, and ask him to put it back. You'll need to pay $1000 for Chip to get the surgery.
Talk to Chip again - he'll tell you to wait for a day, then get back to him. Afterwards, he'll leave the tanker.
Visit the same place again, Chip will be there (with his spleen intact) and you'll get another 3000 XP.
Note that this quest is timed, and Chip will die of his spleenless condition if the quest is unresolved five days after you first agree to help.
No, grasshoppa. Holliday is the mastah.
If you've spoken to Doc Holliday in Broken Hills about his friendship and mentorship with Fung, and mentioned it to Fung before, he'll put the spleen back for free.
Reward
Behind the scenes
The whole spleen dialogue with Dr. Wong is a reference to The Silence of the Lambs.
Bugs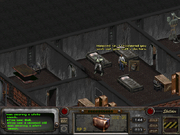 If you have joined the Hubologists after you talked to Chip and got the quest, Dr. Fung will refuse to chat with you.