Obi-Wan Finale - The Loop
Play Sound
"
General Atomics International has the finest industrial robots in the world. Buy two or more GAI robots and save! Special deal on 'Mr. Handy' models!
"
— Advertising applet
General Atomics International (GAI) was a pre-War company specializing in industrial robotics, energy, weapons, and software.
Overview
One of the most prominent manufacturers of industrial robotics in the world,[4] General Atomics was one of the first companies to introduce modern robots to the market, starting with the Mister Handy model in 2037, as a general purpose construction and maintenance unit. Used widely on both the American and Mexican markets (especially after the Mexico City earthquake of 2042), it was a rugged, reliable design, which received just one major hardware update in 2039, to eliminate a bug causing interference in the operation of the multiple arms.[5]
Although the model was vastly successful, it was still a design rooted in the technology of the 2030s, with a compact computer brain that was incapable of learning or executing complex tasks without extensive programming. By the 2070s, it was an automaton surrounded by more advanced designs utilizing cutting edge neural networks. In order to maintain their market share, General Atomics entered into a joint venture with RobCo Industries, combining its talent with General Atomics' experience in robotics.[6][7] The resulting model was a sleek, elegant design capable of self-programming and initiative, more than making up for halving the number of arms to just three. Despite its sophistication, it was also cost-effective, making it the perfect domestic servant robot.[8][9] The success of the joint venture resulted in the US Army tapping GAI and RobCo to create Liberty Prime around 2072[10] and spearhead the creation of Robobrains at RB-2851 in Boston, MA.[11]
Beyond their robots, GAI also manufactured nuclear reactors for various purposes, such as providing backup power for Vaults (eg. Vault 13),[12] wave/particle diverters for laser weapons,[1] and even experimented with autonomous, automated robot networks supposed to maintain a facility independently. However, their Director Management System proved to be a disaster,[13] resulting in numerous fatalities at General Atomics Galleria that forced a shutdown of the facility[14][15] until firmware updates could be delivered to the affected robots. The casualties included the human supervisor who was legally required to be present on site.[16] That the corporation did not go under can be chalked up to their official policy of bribing any survivors into silence (called "immediate financial settlement" in corpospeak).[14]
Products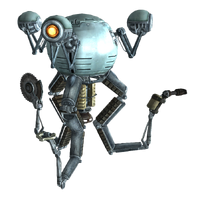 Robotics
Other
Software
Organization
Legal Affairs Division
The legal arm of the corporation, chiefly responsible for dealing with the fallout from various mishaps, such as the General Atomics Galleria debacle. Legal Affairs was responsible for the gag order imposed on robots and employees, to avoid any further legal liability as a result of the events at the Galleria.[18]
Gallery
Energy weapons division ad advertising the AER9 laser rifle.
Appearances
General Atomics International is mentioned in Fallout, Fallout 3, Fallout: New Vegas, Fallout 4, and Fallout 76. The company's products appear in all Fallout games.
Behind the scenes
References
Biotech & Medicine
Arktos Pharma Company

 ·

Greenetech Genetics

 ·

Greenway Hydroponics

 ·

HalluciGen, Incorporated

 ·

Lee Rapid Pharmaceuticals

 ·

Livermore/Broansoun Laboratories

 ·

Med-Tek

 ·

West Tek
Business
Acme Realty

 ·

Burnside Bank & Loan

 ·

Cambridge Savings and Loan

 ·

Concord Savings and Loan

 ·

Friendly Lending Company

 ·

Happy Liberty Imports

 ·

Isla Negra Holdings
Computer & Software
Apricot

 ·

Banckom

 ·

Brainpower

 ·

Cyberbrain

 ·

Diamond, Inc. (Skeks Corporation, Computechtron)

 ·

Macrosoft

 ·

PagSoft LLC (PagMem LLC)

 ·

SoftLock Solutions, Inc.

 ·

Think Machine

 ·

Virtual Strategic Solutions, Inc.
Entertainment & Media
Big Daddy Billiards

 ·

Big Ranch Nevada State Lotto

 ·

BKM Recording Company

 ·

Boston Bugle

 ·

Broadway Cinema

 ·

Capitol Post

 ·

Cat's Paw

 ·

Charleston Herald (company)

 ·

Don't Be Bored Games Company

 ·

El Periódico de las Aburridas

 ·

Fantastique Cinema

 ·

Galaxy News Network

 ·

Hubris Publishing (Hubris Comics, Hubris Software)

 ·

Imperial Records

 ·

OEI Motion Pictures

 ·

Planned Diversion Programming

 ·

Radiation King

 ·

Sanders Brothers

 ·

Timlist

 ·

Vault-Tec Game Studios
Industrial manufacturing
Abraxodyne Chemical

 ·

Atomic Mining Services

 ·

Bumbalo's

 ·

Daisy Outdoor Products

 ·

DeepFreeze Kitchen Storage Corporation

 ·

Dunwich Borers LLC

 ·

Garrahan Mining Company

 ·

H&H Tools, Inc.

 ·

Hornwright Industrial Mining Company

 ·

LGJG

 ·

M&M Construction Incorporated

 ·

Radiation King

 ·

Red Racer

 ·

Schlocket Industries

 ·

Schoelt

 ·

Snap-Off

 ·

Stihl

 ·

Washo

 ·

Wilson Automatoys

 ·

Eckhart Unlimited
Refreshment
Bawls Guarana Corporation

 ·

Big Boss

 ·

Big Horn Saloon

 ·

BlamCo

 ·

Dandy Boy

 ·

Fancy Lads

 ·

Greasy Prospector

 ·

Grey Tortoise

 ·

Mama Dolce's Food Processing

 ·

Nuka-Cola Corporation

 ·

Olde Royale

 ·

Pyramid

 ·

Saddle Up

 ·

San Francisco Sunlights

 ·

Spring Valley

 ·

Sunset Sarsaparilla Company

 ·

Supa Yum!

 ·

T.V.G.

 ·

Vim! Pop Incorporated

 ·

YumYum
Retail
A Cuppa Joe

 ·

Blades

 ·

Buck's Steak House

 ·

Cornucopia Fresh Groceries

 ·

Dot's Diner

 ·

Fallon's Department Store

 ·

Freddy Fear's House of Scares

 ·

Joe's Spuckies

 ·

Mary May

 ·

Nifty Thrifty's

 ·

Pioneer Café

 ·

Red Rocket

 ·

Rita's Cafe

 ·

Slocum's Joe

 ·

Solitare

 ·

Super-Duper Mart

 ·

The Jerk
Technology & Robotics
Acme

 ·

Big MT

 ·

BosCom

 ·

Bysshe Company

 ·

Calpower

 ·

Cambridge Polymer Labs, LLC

 ·

Codac

 ·

General Atomics International

 ·

GDA Fusion (Verdant-Air Wind Power)

 ·

House Industries (RobCo Industries (REPCONN Aerospace))

 ·

Lasergrafter

 ·

LightLife

 ·

Mass Fusion

 ·

National Electric

 ·

Nuka-Advantax

 ·

Poseidon Energy (Hermes Communications, Inc.

 ·

Petró-Chico, Poseidon Gasoline, Poseidon Oil, Prometheus Coal)

 ·

ProSnap

 ·

Pulowski Preservation Services

 ·

Rok-Solid Brand

 ·

Steam Whistle

 ·

Sure Power

 ·

Universal Electric, Incorporated

 ·

Vault-Tec Corporation (Future-Tec)

 ·

Versicorps

 ·

Wattz Electronics