Jurassic World: Dominion Dominates Fandom Wikis - The Loop
Play Sound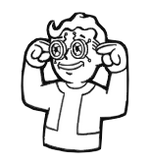 Hello and welcome to the first of The Vault's articles on Fallout. We have retired out old Wikilog system in favor of the official Twitter accounts for the series providing a live feed of current events. Articles are the second component of this system, trading frequent updates for higher value content, as with our coverage of Fallout 4's announcement.
This article is devoted to a commonly raised issue: Just how large is Far Harbor?
The basic facts
Before we delve into the meat of this article, let us point out a few facts:
All maps within are standardized to the size of a single cell (4096x4096 units, represented by a square roughly 15x15 pixels; the margin of error is roughly 5-7%). Fallout: New Vegas has been used as reference.
The only exception is Morrowind, as the map cell was 8192x8192 in Net Immerse.
Cell size has remained constant ever since Morrowind and NetImmerse. Compare the data for Oblivion's Creation Set and Creation Engine games.
Scale is approximately the same for different generation games: 128 units correspond to roughly a height 1.0 human: Creation and Oblivion.
Texture files containing the pre-rendered world maps are, however, of a different scale in Fallout 3, Fallout: New Vegas, Fallout 4, and its DLCs. Each grid square contains a different amount of cells as a result. Maps have been colored red to signify unplayable or unreachable areas.
The Vault does its best to provide accurate comparisons, however, the nature of graphics software and adjusting maps of different sizes makes this a challenge. Corrections are welcome.
We excluded DLCs with non-existent or difficult/impossible to analyze world maps from, Operation: Anchorage, The Pitt, Mothership: Zeta, Dead Money, and Lonesome Road, as their structure makes it impossible to make any kind of comparison that would have merit.
Comparison
Fallout 4 world map files with the correct region borders are provided by FloorBelow. Thank you!
Fallout 4
Game
Image
Notes
Fallout 4

The basic worldmap. Each square on the grid corresponds to four cells (2x2).
Far Harbor

Map of Far Harbor, to scale. As is the established convention for DLCs, each square on the grid corresponds to one cell.

As can be seen, it adds a landmass comparable to about 20% of the Commonwealth.
Fallout 4 and other Fallout games
| Game | Image | Notes |
| --- | --- | --- |
| Fallout 4 | | The basic worldmap. Each square on the grid corresponds to four cells (2x2). |
| Fallout: New Vegas | | Map of the Mojave, the subject of infinite controversy among players, based on a simple misunderstanding: Each square on the grid corresponds to no less than sixteen cells (4x4), with the map having a smaller scale than either Fallout 4 or Fallout 3s maps. |
| Fallout 3 | | The Capital Wasteland is presented at a scale half-way between 4 and New Vegas: Each square grid represents nine cells (3x3). |
Fallout 4 DLC and other Fallout DLCs
| Far Harbor | Old World Blues | Honest Hearts | Point Lookout | Broken Steel |
| --- | --- | --- | --- | --- |
| | | | | |
Bonus stage: Elder Scrolls vs. Fallout games
All map images and cell data for The Elder Scrolls games provided by The Unofficial Elder Scroll Pages.
| Fallout 4 | Skyrim |
| --- | --- |
| | |
| Fallout: New Vegas | Oblivion |
| | |
| Fallout 3 | Morrowind |
| | |
Bonus stage: Elder Scrolls DLCs vs. Fallout DLCs
Far Harbor
Old World Blues
Honest Hearts
Point Lookout
Broken Steel

Dragonborn
Shivering isles
Bloodmoon
Gallery
All raw images used in this comparison.