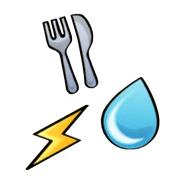 Resources are a core gameplay component of Fallout Shelter. Managing them properly is essential to maintaining the well-being of a Vault.
Primary resources
There are three basic resources in the game:
All three basic resources are depleted at a constant rate and replenished by completing a production cycle in the appropriate rooms.
They continue to be depleted for a short time after turning the game off. To prevent problems with your dwellers, keep a surplus of all three when turning Shelter off.
Production
The speed at which these resources are produced is determined by the sum of the SPECIAL attributes of all the dwellers assigned to the room.
Production efficiency (based on Reddit research)
Total SPECIAL
1
2
3
4
5
6
7
8
9
10
20
30
40
50
60
Time reduction (base time divisor)
0
0.5
0.667
0.75
0.8
0.833
0.857
0.875
0.889
0.9
0.95
0.967
0.975
0.98
0.983
As can be seen, the biggest reduction is achieved when the total sum of SPECIAL in a given room is 20, with increasingly diminishing returns as the score increases. As such, aim for having 20 SPECIAL at minimum in any given room.
Secondary resources