Fallout Online, nicknamed FOOL by the fans, is a commonly used name for a massively multiplayer online game set in the Fallout world. There have been several canceled attempts at making such game (the most recent one being Interplay's Project V13) before the release of Fallout 76 by Bethesda Softworks.
Background
Early attempts
According to Feargus Urquhart, when Brian Fargo was still the president of Interplay, Fargo proposed a possible Fallout MMO to be made by Black Isle Studios, but Urquhart refused:
"
The reason at the time, because I would have loved to have made a Fallout MMO, was that I believed that Interplay was just not in a situation where they had the resources to do it. When you go off to do an MMO it's going to cost $100 million before you get it on the shelf; you've gotta buy servers and you've gotta have service people, and you have to have Game Masters. It's an undertaking, and on top of that, it means that you do have to do all that stuff so what else are you going to focus on? What other games are you going to be able to make?
"
— [1]
After Urquhart's refusal the game is believed to have been developed by Engage Games Online, an online entertainment company formed by Interplay in 1996. Tim Cain remembers this time:
"
I didn't interact much with Engage, but I do remember warning them that a game built around the player being solitary wanderer in a lonely wasteland might not be the best choice for an MMO. That and the name Fallout Online had an unfortunate acronym: FOOL. This development went nowhere due to Interplay's financial difficulties.
"
— [2]
At one point, Fallout Tactics developer Micro Forté was also contracted to develop Fallout Online but the project was eventually canceled.
Project V13
In November 2006, Interplay, headed by Herve Caen, filed a Form 8-K filing to the United States Securities and Exchange Commission (SEC) regarding a potential Fallout massively multiplayer online game.[3] In April 2007, Bethesda Softworks, the developer of Fallout 3, purchased full rights to the Fallout IP for $5.75 million USD. While Bethesda now owned the rights to the Fallout MMO IP as well, clauses in the purchase agreement state allowed Interplay to license the rights to the development of the MMO.[4] Specific requirements were stated in the agreement that if not met, Interplay would immediately lose and surrender its license rights for Fallout. Development must have begun within 24 months of the date of the agreement (April 4, 2007), and Interplay must have secured $30 million within that time frame or forfeit its rights to license. Interplay would furthermore need to launch the MMOG within 4 years of the beginning of development, and pay Bethesda 12 percent of sales and subscription fees for the use of the IP.
In November 2007, Interplay reopened in-house development and hired Fallout developer Jason D. Anderson as creative director for an unannounced MMO.[5] Given the aforementioned facts, it's most likely that the game Anderson was working on is Interplay's Fallout MMO, given that he was the contact name of Interplay's jobs appliance and that Fallout was referred in the job requirements.[6] In March 2009, Anderson left Interplay and joined InXile Entertainment.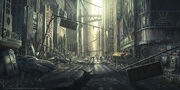 On June 30, 2008, it was announced that Interactive Game Group (created by Frederic Chesnais, former Chief Executive Officer of Atari, which now also owns MicroProse) purchased 2,000,000 shares of Interplay stock, as consideration for entering into a game production agreement, likely related to Fallout Online.
On April 2, 2009 Interplay announced a binding letter of intent with Masthead Studios, a Bulgarian-based developer, to fund the development of Project V13. Masthead and Interplay teams will work together under the direction and control of Interplay to complete development of the project.[7][8]
On June 15, 2010, the game was officially announced as Fallout Online.
Legal dispute
On April 15, 2009, it was announced that Bethesda Softworks moved to rescind the Fallout MMORPG license. Interplay received notice from Bethesda that it intends to terminate the trademark license agreement, claiming that Interplay is in breach of the agreement for failure to commence full scale development by April 4, 2009 and to secure certain funding for the game. Interplay disputed these claims.[9]
On July 15, 2009 Interplay's Project V13 developer Chris Taylor posted a reply on the Interplay website "Project V13" Forum thread refuting the claims that Interplay lost the rights to the Fallout MMORPG.
On September 8, 2009 Bethesda filed a copyright infringement lawsuit against Interplay in the Maryland District Court.[10]
On December 10, 2009 the Maryland District Court decided to deny Bethesda's request for preliminary injunction. Interplay is therefore able to continue development on the project until the case is finished.[11]
On January 9, 2012, it was announced that the litigation ended with a settlement, in which Bethesda acquired full rights to the Fallout MMO for $2 million.[12]
Fallout 76
On May 30, 2018, Bethesda announced Fallout 76, a multiplayer online game[13] set in the Fallout world.
The game retains much of Fallout 4's basic gameplay, with one major difference: The entire game is online, allowing for multiplayer gaming with up to three other players in your party and an upper limit of "dozens" of players per server. The game saves character progression automatically and retains it across all servers, allowing for a seamless experience. As with other Bethesda games, 76 can also be played solo, without the interference or aid of other players.
References
| | | |
| --- | --- | --- |
| Future games | | Fallout Online |