Obi-Wan Finale - The Loop
Play Sound
Infobox incomplete (missing info in infoboxes)

The infobox template in this article is missing some required data. You can help

The Vault

by

filling it in

.
Cleanup (general cleanup; image, info, links all must be checked)

To meet

The Vault'

s quality standards, this article or section may require cleanup. Please help by

improving

the article.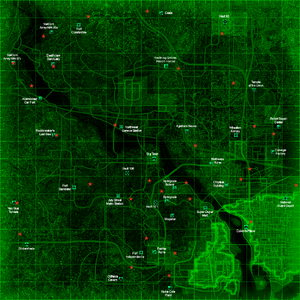 Once the Enclave have made their first appearance in The Waters of Life quest, checkpoints, camps and outposts will be established at various locations throughout the Capital Wasteland. These outposts are usually manned by an Enclave officer, accompanied by several Enclave soldiers and other forces ranging from sentry bots to defense turrets and mind controlled deathclaws.
Approximately 30 outposts are found scattered throughout the Capital Wasteland, and they are commonly found on the remnants of the pre-War roading system giving them the appearance of a checkpoint patrol network.
A smaller sub-section of the sites are used by the Enclave for conducting research or for testing technology. Such sites can be identified by locating an Enclave Field Research terminals, which can be accessed to determine the nature of the research being carried out.
Many of the sites are used for exterminating wastelanders, with an Enclave soldier using a flamer or heavy incinerator to carry out the task.
An outpost near Old Olney is the site where the player can carry out the optional component of the Shock Value quest; to take control of an Enclave-controlled deathclaw.
Main units
Enclave officer
Enclave soldier
Enclave Hellfire troopers
Enclave Hellfire troopers are a variant of soldier added by Broken Steel. They wear Enclave Hellfire armor and are equipped with heavy incinerators. They also carry plasma pistols as sidearms.
Enclave main Camps
Crater Camp
Overlooking the Bannister crater, east of Fort Bannister and south of the VAPL-58 Power Station, Crater Camp in Sector 762 is tasked with retrieving samples from the crater.
An Enclave scientist can be found exploring the area, and 96 alien power cells can be located under the overturned truck in the crater.
A deathclaw may be found in a destroyed building slightly to the West killing wastelanders.
Camp RHO
Southwest of the Robot Repair Center and Canterbury Commons.
Springvale power plant outpost
East-northeast of Springvale School, on the coast at the bombed out power plant.
An Enclave field research terminal can be found here with references to mirelurks and giant American cockroaches.
Hilltop Outpost
West-northwest of Temple of the Union on a rock-lined hilltop northeast of Minefield, due east of The Roach King.
A Field Research terminal can be found here with references to wild dogs, large scorpions and molerats.
Silo Outpost
Northwest of Super-Duper Mart, half way to Springvale School, at the house with the silo.
Other Enclave outposts
Detailed below is a map and an alphabetized list containing all the Fallout 3 locations (calculated by the nearest world map marker) where the Enclave have set up, with reference made to the size and type of Enclave force likely to be encountered.
Locations noted with a [1] indicate that a portion of the Enclave outpost force (typically a single Enclave soldier) may be encountered at any time prior to The Waters of Life.
Agatha's House
Southeast of Agatha's House, south-southwest of Scrapyard, by a white trailer.
A flamer-equipped Enclave unit will be found exterminating wastelanders in the trailer.
Capitol Building
On the western ledge of the Capitol Building the Enclave set up a small outpost.
A flamer-equipped Enclave unit will be found exterminating wastelanders in the trailer.
Chryslus Building
Nestled between two buildings east of the Chryslus building, with a communications tower visible on the roof of the adjacent building.
This Enclave outpost will be attacked by local raiders, who will be seen equipped with looted equipment such as power armor and Energy weapons. There should also be two dead, empty Enclave soldiers. There is a bug, as the soldiers may spawn floating dead in the air. To loot them, shoot the bodies and they will fall back to the ground.
Corvega Factory
Half way between the Corvega Factory and the Chryslus building, under an overpass.
Deathclaw Sanctuary[1]
Up on a hill to the right of the entrance to Deathclaw Sanctuary.
There are likely to be a number of wild deathclaws in the vicinity in addition to any Enclave-controlled ones.
An Enclave scientist may also be found at this location.
Dukov's Place[1]
Immediately northeast of Dukov's Place, just out the door.
Enclave soldiers may be found tackling an infestation of radroaches.
A Vertibird will appear after a minute or so and drop off additional soldiers to investigate the camp if the Enclave forces there are killed.
Fairfax Ruins[1]
A bit east of the Fairfax Ruins, under a water tower.
Fort Bannister[1]
A good bit east of Fort Bannister and south of the VAPL-58 Power Station, overlooking the Fort Bannister Ground Zero site.
The Field Research terminal names this site as crater Camp, and it is located in Sector 762.
An Enclave scientist can be found exploring the crater.
96 alien power cells are located under the overturned truck.
Fort Constantine
On the hills to the northeast of Fort Constantine, by the water tower there.
It is possible to run into one to three additional Enclave soldiers between this outpost and SatCom Array NN-03d. Great care should be taken when entering this area as both detachments may converge upon you at once.
Fort Independence
North
On the curving road due north-northeast of Fort Independence. The camp holds two basic fortifications, a cage, communications array, supplies, and a portable fusion generator.
Wastelanders will be found being exterminated by a heavy incinerator-equipped Enclave unit.
Southwest
On the major highway south-southwest of Fort Independence, between it and the Cliffside Caverns.
Girdershade
Visible to the northwest from the fast travel arrival point in front of Ronald Laren's house at Girdershade.
Bugs
Observing the outpost from Girdershade via a scope while the Enclave soldiers are under attack, then entering one of the houses in Girdershade can cause issues when the cell is re-entered; the location of characters may not match up to the mesh and textures of said characters.
Jury Street Metro Station
Directly east along the road from Jury Street Metro Station.
National Guard Depot
Northeast of the National Guard Depot along the eastern border. The camp includes a cage that doubles as an infirmary/examination lab and an old house being used as a burn site to dispose of the bodies of wastelanders that did not pass the genetic compliance check.
Northwest Seneca Station
At the end of the collapsed highway opposite Arefu near Northwest Seneca Station.
Nuka-Cola Plant
Just a bit to the north of the Nuka-Cola Plant. Three Enclave trainees are stationed here under an officer.
Oasis
In the ravine below the wooden bridge on your way out of Oasis.
Old Olney
Section needed

This section is needed but has not been written yet. You can help

The Vault

by

writing it

.
On the hill southeast of Old Olney.
Reclining Groves Resort Homes
East of the Reclining Groves Resort Homes.
Also contains two additional ammo crates.
Robot Repair Center
Southwest of the Robot repair center and Canterbury Commons. Quite close, should be visible from a distance.
This site is Camp RHO, and the Experimental Rho ID can be found here.
The onsite terminal contains an entry on Camp RHO Orientation.
Enclave units patrol the area between here and the camp located closer to Wheaton Armory, so the numbers found may vary.
Rockbreaker's Last Gas
At Rockbreaker's Last Gas: 2 tall barricades face east, 2 short barricades face south.
The number of units found at this site may vary, as an Officer and 1 or more Soldiers perform a patrol.
SatCom Array NW-05a[1]
Directly southwest of the SatCom Array NW-05a tower.
A group of wastelanders is found being exterminated by Enclave units at this location.
A large group of carrion birds can be seen circling above the area.
SatCom Array NW-07c[1]
Outside and inside SatCom Array NW-07c.
In addition to units stationed at the entrance, more may be found inside, or up the tower.
Fast-traveling to this location will place you in the midst of waiting Enclave units.
Springvale
North-northwest of Springvale and northeast of the Vault 101 entrance.
A Vertibird may be seen and permanently stay here.
Springvale School
A small camp set up by a field research team to study the mutated creatures in the area.[2] Between Springvale School and Vault 106, south of Big Town.
A flamer-equipped Enclave soldier will be found exterminating wastelanders here.
Super-Duper Mart
Northwest of Super-Duper Mart, half way to Springvale School, at the house with the silo.
Temple of the Union
West-northwest of Temple of the Union - On a rock-lined hilltop (past the highway), northeast of Minefield, due east of The Roach King.
Vault 92
South-southwest of Vault 92 towards the Greener Pastures Disposal Site, referenced in the optional Shock Value objective.
An Enclave soldier will be using a flamer in the trailer to exterminate wastelanders.
Wheaton Armory
East-northeast
East-northeast of Wheaton Armory and due west of Robot Repair Center, at a crossroad.
A Enclave Field Research Terminal with a number of weapons on the desk can be found here.
This location regularly sees battles between raiders, Enclave forces and radscorpions.
Enclave units patrol the area between this outpost and the one closer to the Robot Repair Center, so numbers at each base may vary.
Northern Gate
From the northern gate of Wheaton Armory, two soldiers enter the base to attack raiders. They do not maintain an established outpost.
↑ 1.0 1.1 1.2 1.3 1.4 1.5 1.6 A single Enclave soldier may be found here before completing The Waters of Life
↑ Fallout 3 Official Game Guide Game of the Year Edition p.358: "Camp E5.07 (LAT 01/LONG -01)
A field research team is studying the mutated creatures in the nearby area. A field terminal has two field entries: "Mirelurk" and "Great American Cockroach.""
Scripted Events
Scripted Events are Enclave appearances that involve some kind of dynamic event. These events usually involve a Vertibird.
Location
Event
Image
Alexandria Arms
After approaching Alexandria Arms from Arlington Library, a VB-02 Vertibird will land and drop off a contingent of Enclave soldiers (3-6) all in Tesla armor. They will commence attacking any raiders around the building. Even if they are killed off, a Vertibird will come to pick them up a few hours later, or once the player exits Alexandria Arms. They are dropped in the middle of three or four cars.
Arlington Library
Following an alleyway on the right side of this building, there's a scripted event where one Vertibird will drop two mini nukes on a group of Talon Company mercs upon entering the camp, then another will bomb the place coming from the opposite direction after exiting the camp towards the water then re-entering it.
Broadcast Tower KT8
Approaching from the north, through a ravine, 2 Vertibirds fly overhead with missiles following them. At least one of the missiles lands, destroying one of the Vertibirds, whose wreckage lands in the ravine in front/on top of you. Super mutants hold the high ground, equipped with missile launchers and small arms.
Hill north of Canterbury Commons
After approaching the house near the water tower, a Vertibird lands and drops off 1 Enclave soldier in Tesla armor and 1 Enclave soldier in Enclave power armor. There may also be 3 Talon Company mercs that they engage.
Capitol Building
Coming from the west may cause a Vertibird to land and disgorge troops.
Chryslus building
From the fast travel point head directly south past the ruined building. Head east along the road (beware of a super mutant master/overlord, depending on player level) battling a Talon Merc and a sentry bot next to a truck. Head west under the bridge (this is where the shelter is located). As soon as you passed under the bridge, a Vertibird drops a sentry bot and two Enclave soldiers, presumably with plasma rifles in normal Enclave power armor. However, this author had Broken Steel installed and found Enclave Hellfire armor equipped soldiers, one with plasma rifle, one with a heavy incinerator.
L'Enfant Plaza
A Vertibird drops 3 Enclave soldiers in Tesla armor with plasma rifles just north of Madame Jealle's. They proceed to fight the super mutants there unless they spot you.
Rockbreaker's Last Gas
To the west of Rockbreaker's Last Gas is a hill with an abandoned shack. This shack contains the Victory rifle in a Very Hard safe, the Keller Family Transcript part 4 of 5, two unusually small pet radroaches named Fluffy and Jitters and some ammunition. Upon exiting the shack, a Vertibird flies over, lands on a lower hill to the northwest, and disgorges a sentry bot and an Enclave soldier in Tesla armor.
Rockopolis
Head straight to Rockopolis from Smith Casey's Garage then walk between the cliffs heading towards Girdershade from Rockopolis. Two fly over head going east one at a time.
SatCom Array NW-07c
On the very top of the unlocked SatCom tower, there is a scripted scene in which at least one Vertibird will fly over the player towards the Enclave base.
Seward Square northwest
A large fight between a half dozen Talon Company mercs with Mister Gutsies and a few super mutants is suddenly interrupted as a Vertibird flies over the Capitol building and carpet bombs all participants with mini nukes. Any survivors will continue the scuffle unperturbed.
Seward Square southeast
As you approach the Metro station at Seward Square Southeast, a Vertibird will land and drop off a sentry bot and Enclave soldier wearing Enclave Hellfire armor.
Seward Square
A Vertibird will fly over if you approach the Metro entrance
The Silver Lining Drive-In
Looking southeast a Vertibird apppeared on the horizon landed just across a gully, and disgorged an Enclave soldier in Tesla armor and a sentry bot.
Temple of the Union (on the highway to the northwest)
As you travel on the road that runs under the highway, a Vertibird lands on the highway above and disgorges 4 troops. There were 2 Enclave soldiers and 2 sentry bots. If you take your time moving up the off-ramp, the Enclave troops will combat the raiders. Distracted, they are easier to take out. It appears that, if you wait long enough, the sentry bots disappear or run off the edge of the highway, destroying themselves on impact. It also seems possible to trigger at least a second Vertibird landing, though no additional troops appear to be released. It is possible this is meant to be an Enclave raid and that the second landing is intended to pick up the Enclave forces that remain from the first landing.
Vault 87
Vertibird will drop off 3 Enclave soldiers all in Enclave power armor armed with laser rifles. They will proceed toward the player along the very outskirts of the radiated area. This can be setup using the nearby super mutant spawn.
VAPL-84 power station
Looking northeast, just beyond the collapsed highway, a Vertibird dropped off 2 Enclave soldiers, one in standard Enclave power armor and another in Tesla armor. They proceeded to head down an incline and set an ambush behind a pillar of the collapsed highway.
Vault 108
Vertibird drops of 2 Enclave soldiers just south of Vault 108
Vault 101
Just north of Vault 101. Look for parked Vertibird.
Notes
All Enclave checkpoints will be repopulated after 72 hours. This is not true of scripted Vertibird drop-offs.
Random Wasteland encounters (i.e. yao guai or robots) respawn 72 hours after being killed at the exact location of their corpse. It's therefore possible to lure enemies into an Enclave camp, then kill them there. When you come back 72 hours later, both the Enclave soldiers and the monsters will be alive again and fighting each other. The same is true of respawning raiders and Talon Company mercs, whose corpses can be dragged into Enclave camps (or vice versa). A good example of this is at the Deathclaw Sanctuary where the outpost is almost always under attack from the deathclaws living there.
With Broken Steel, certain Enclave troops previously equipped with Enclave power armor will be equipped with Enclave Hellfire armor, and certain troops with flamers will be replaced with Enclave Hellfire troopers using heavy incinerators.
A very useful bug occurs when a player waits at any Enclave checkpoint. Waiting causes 1-3 Enclave troops to spawn, creating an endless amount of weapons/armor.
At some places, the outposts are completely overrun before the player arrives. For example, At yao guai tunnels there are remains of an outpost littered around the nearby area, presumably destroyed by the yao guai. Also, there is an outpost near the Chryslus building which is unmanned and covered in raider graffiti, with some raiders nearby using Enclave equipment.
One Enclave outpost has an eyebot in the form of a container.
Some Enclave camps spawn at exactly the same locations as random encounters. Other camps occur in the path of, or very near, random encounter patrol routes.