We're Getting Mutants in the MCU - The Loop
Play Sound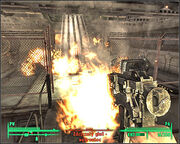 Explosive gases are commonly encountered in enclosed areas such as underground locations and buildings, such as Warrington Trainyard. It has also been encountered in few outside locations usually near ovens or gas lines.
Characteristics
The gas ignites when any ignition source is triggered within it. Projectiles or beams from energy weapons included in the original game, the firing of any bullet-based weapon when within the gas (flying bullets will not trigger the gas, but the impact of bullets from the Zhu-Rong v418 Chinese pistol create gas-igniting flame), any explosive or explosion and the presence of any open-flame weapon (Shishkebab, flamer, heavy incinerator) are all ignition sources. When ignited, the room will burst into flames.
Gas leaks are easily noticeable by noting the distortion or "waviness" of the air as you stand still and see through the gases. You additionally can find the point source, which is often a pipe that has been broken/cut.
Gas leaks can also be used as a weapon, since your enemies and all other characters will experience the same effects. They are often used as traps to weed out enemies. Gas leaks are used by Mr. Pinkerton and Reilly's Rangers for this use.
Notes
Flames will spread through closed doors if there is gas on the other side. Since doors are not airtight, the flammable molecules are capable of carrying through the cracks in the door and explode through the door. Therefore, closing a door after igniting a leak isn't always a good strategy if the gas is also in your room.
Bio gas canisters found in Point Lookout create a plume of explosive gas in a concentrated area that the player can take advantage of.
Appearances
Explosive gases appears in Fallout 3, Fallout: New Vegas, Fallout 4.
Bugs