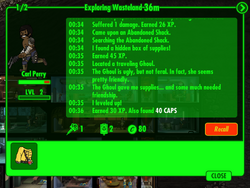 Exploring is an assignment you can give in Fallout Shelter. It sends out the selected Vault dweller out into the hostile wasteland to scavenge for supplies.
Overview
Sending Dwellers on excursion to the Wasteland will allow them to find outfits, weapons, and, of course, caps. The longer a Dweller survives in the Wasteland, the better gear they will find.
Dwellers with high SPECIAL stats have a much better chance of surviving and finding helpful items out in the Wasteland. Before you send a Dweller on an excursion, make sure you equip them adequately with outfits and weapons and items. Outfits increase their statistics and ability to survive, weapons improve their chance to defeat enemies, while Stimpaks and RadAway ensure that they can heal damage and remove any radiation they absorb. If a dweller dies while on an excursion, you can revive him at a significant cost in caps.
Dwellers sent outside of the Vault to explore the Wasteland, are removed from the current Vault roster and made for assignment until they return. The Vault dweller logs their travels and experiences as they go, allowing you real time monitoring. You can recall the dweller at any time, though they will take half the time they were exploring to return to the Vault and bring back the spoils of their excursion. Dweller does not suffer damage or radiation when returning from the Wasteland.
How S.P.E.C.I.A.L Attributes Affect Exploring
In Fallout Shelter, each SPECIAL attribute has a unique positive effect on how each vault dweller performs while exploring the wasteland. The following list contains the effects that come with each attribute.
Attribute
Effects
S
Strength
Increased Strength gives a dweller a better chance to open locked things and inflict more damage.
P
Perception
Increased Perception increases the chance of a dweller finding better items.
E
Endurance
Increased Endurance results in your dweller taking less damage in fights, and able to sustain more radiation.† It is also a necessary statistic for working in the Nuka-Cola room.
C
Charisma
Increased Charisma increases the chance of your dweller being able to meet non-hostile people in the wasteland who can give them free supplies.
I
Intelligence
Higher Intelligence increases the chance of your dweller being able to help people and be rewarded.
A
Agility
Increased Agility increases a dwellers chance of running away from enemies that are too strong to fight, resulting in less damage taken. It also indicates how quickly they return fire when in combat of any kind.
L
Luck
Increased Luck results in dwellers finding caps more frequently and in larger quantities, as well as increasing the number of critical hits.
† An Endurance level of 11 or higher (by using gear) results in negative radiation levels and thus removes the need of RadAway.
Fixed-time events
Certain events occur only after exploring for a certain amount of time. These events occur within a 15 minutes window of their trigger time.[1]
Time
Event
Success
XP CAPS ITEM
Failure
XP DMG
00:00
Fugitive Slave
10
25
1
00:00
Broadcast Tower
25
norm
1
1
00:15
Raiders
35
norm
1
1
00:30
Wounded Sheriff
20
30
2
00:30
Refrigerator
55
norm
3
2
00:45
Abandoned Shack
45
norm
01:15
Travelling Goul
30
40
3
1
01:15
Locked safe
65
norm
4
3
02:30
Wandering Merchant 1
40
50
4
1
02:30
Super Duper Mart
75
rare
5
3
05:00
Talon Company Mercs
50
65
4
2
05:00
Escaped Slaves
85
rare
10:00
Hunter Help
60
80
15:00
Liberate Slave Camp
95
norm
20:00
Drunken Drifter
70
100
20:00
Gas Station
105
rare
30:00
Abandoned Diner
115
rare
40:00
Lost Farmer
90
155
60:00
National Guard Depot
125
rare
75:00
Wandering Merchant 2
80
125
75:00
Mr. Handy
100
195
References