Jurassic World: Dominion Dominates Fandom Wikis - The Loop
Play Sound
The experimental deathclaw is a creatures in Fallout: Brotherhood of Steel.
Background
The experimental deathclaws are a group of deathclaws unique to Secret Vault, a Vault-Tec installation which served as the company's ticket to a life after the apocalypse. Aside from many scientific projects that were to insure the company's power, some research with radioactive materials and FEV took place there. When the Initiate of Brotherhood of Steel visited the Vault, he encountered unique variants of the beast known all over the wastes.
The Vault-Tec scientists apparently obtained a sample of the deathclaw bioweapon and tried to improve it, using FEV, radiation and technology. The new species become larger, stronger, gaining extra muscle mass and a type of exoskeleton with many protruding spikes. However, the mutation led them to become blind, leaving the deathclaws to rely on their other senses. The longer they live, the bigger they become, so their mutation and the FEV effect could be very similar to that of Capital Wasteland East Coast-type super mutant. The eggs of these deathclaws are also unique, as they appear more like a pile of flesh nearly the same size as human.
Variations
Baby deathclaw
Experimental baby deathclaws are easy to kill. They are dark brown, small and their claws are weak and their skin still has no exoskeleton.
Deathclaw

The standard version. This experimental deathclaw looks at least a bit like his normal relatives from the West Coast and Capital Wasteland, but much heavier and stronger. This is the version most common in the Secret Vault, between the Baby and the Elder.
Elder deathclaw

The oldest of the experimental deathclaws. They are grey, brutish, and slow. It's much stronger and cause more damage than the normal deathclaw.
Chameleon deathclaw

Chameleon deathclaw are slightly more evolved than the standard variety. Their adaptive hides help them blend in with their surroundings, rendering them invisible in dark passages. It's weaker than the Elder variety but is much harder to locate and faster.
Adolescent deathclaw

An extremely unusual prototype variant of an experimental deathclaw. This particular young deathclaw was the subject of an experiment that made him a living colossus. He is the biggest of all deathclaws, possibly all creatures; larger, even, than a super mutant behemoth. It looks exactly like the standard version but three times bigger and stronger. It's presumed that a unique experimental regimen of FEV is to blame, and that the results are intentional. It would seem apparent that the Vault-Tec FEV experimental protocol for this specimen was markedly different from all the others, to result in such a variance of scale and spectrum evident in this multi-story juggernaut. This gigantic deathclaw is known to be a juvenile. FEV also has demonstrated a tendency to cause hosts to continue to grow in bulk and size over a lifetime, a trait evident in the elder experimental deathclaws as well. When taken in consideration with the typical lifespans of both unaltered deathclaws and human mutants, these facts begin to paint a clear and sobering picture of the potential size, power, and destruction that this creature contains, and that the Secret Vault science team attempted to exploit.
Mother deathclaw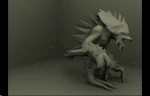 The Secret Vault deathclaw mother is grey, big, with highly developed exoskeleton. Her head is protected by a natural crown and she has a lot of spikes coming out from her back. She also has a strange ability to regenerate from radioactive pools found in her den, which is probably is result of modified FEV's regenerative features.
Behind the scenes
"
Was it always a big scaly lizard thing? Nope. My initial design for this terrible creature was a the apex predator of the wasteland, a mix of wolverine and brown bear, mutated by the FEV. It could survive any environment and feared nothing; a legendary force of nature that struck terror into the hearts of men! Unfortunately, the artists took one look at my concept sketch and said, 'Dude, that's way too much hair.' It was true. The Wolverine-bear was very furry, and there was just no way around it.
So here's what happened: the newly formed Black Isle started work on what would be Planescape: Torment. One of the first art pieces was a monstrous creature called a Terrasque. It was sculpted in clay and was then point-by-painstaking-point digitized into a 3D model. As Planescape moved forward, it turned out that the Terrasque wouldn't actually be featured in its design, leaving that tasty model in disuse. Thus, the furry wolverine-bear became a hairless reptilian biped. (Take a look at page 339 of the D&D second edition Monster Manual. Holy cats! It's a Deathclaw!)
"
— Scott Campbell, Origins of Fallout No Mutants Allowed
The deathclaw name is derived from Shadowclaws in Wasteland.
In Scott Campbell's original concept art, deathclaws were mammals covered with fur and were meant to be a mix of wolverine and brown bear, created by FEV.[1] The reason it lost the hair from concept to production was a technical limitation of the rendering software, which couldn't get all the hair to move properly. The hairy deathclaw in Fallout Tactics was inspired by the original concept.[1][2]
According to the Fallout Bible[3] and Scott Campbell,[1] deathclaws were modelled visually on the Tarrasque of Dungeons & Dragons after a D&D computer game made by Interplay was cancelled (according to Fallout Bible) or after the creature was cut from Planescape: Torment (according to Scott Campbell), as a Tarrasque clay model was already made and this way the work would not go to waste. However, according to Chris Taylor, while they do look Tarrasque-like, it was not intentional and the clay model was supposed to be a deathclaw from the start.[2]
"
I met my first Deathclaw in middle school, playing Fallout on a friend's machine, and I fell instantly in love with these "Dragons of the Waste." It was an honor to tackle them for Fallout 3 - sourcing from both the originals and the concept art of Adam Adamowicz - but I'm proudest of my Fallout 4 redesign.
To improve upon their F3 counterparts, I gave the newer ones thicker, more armored skin; shorter, strong-looking claws and hands; a bull-like redesign to the horns (to suggest the ability to ram); and a thicker tail - heavy enough to act as a counter-weight when it ran. It's important to note, too, that the Deathclaw is not a mutant, but a hybrid bioweapon created by the US military. To that end, I incorporated chameleons, alligators, bulls, panthers, serpents & lizards into their design.
I love him.
"
— Jonah Lobe
Gallery
References